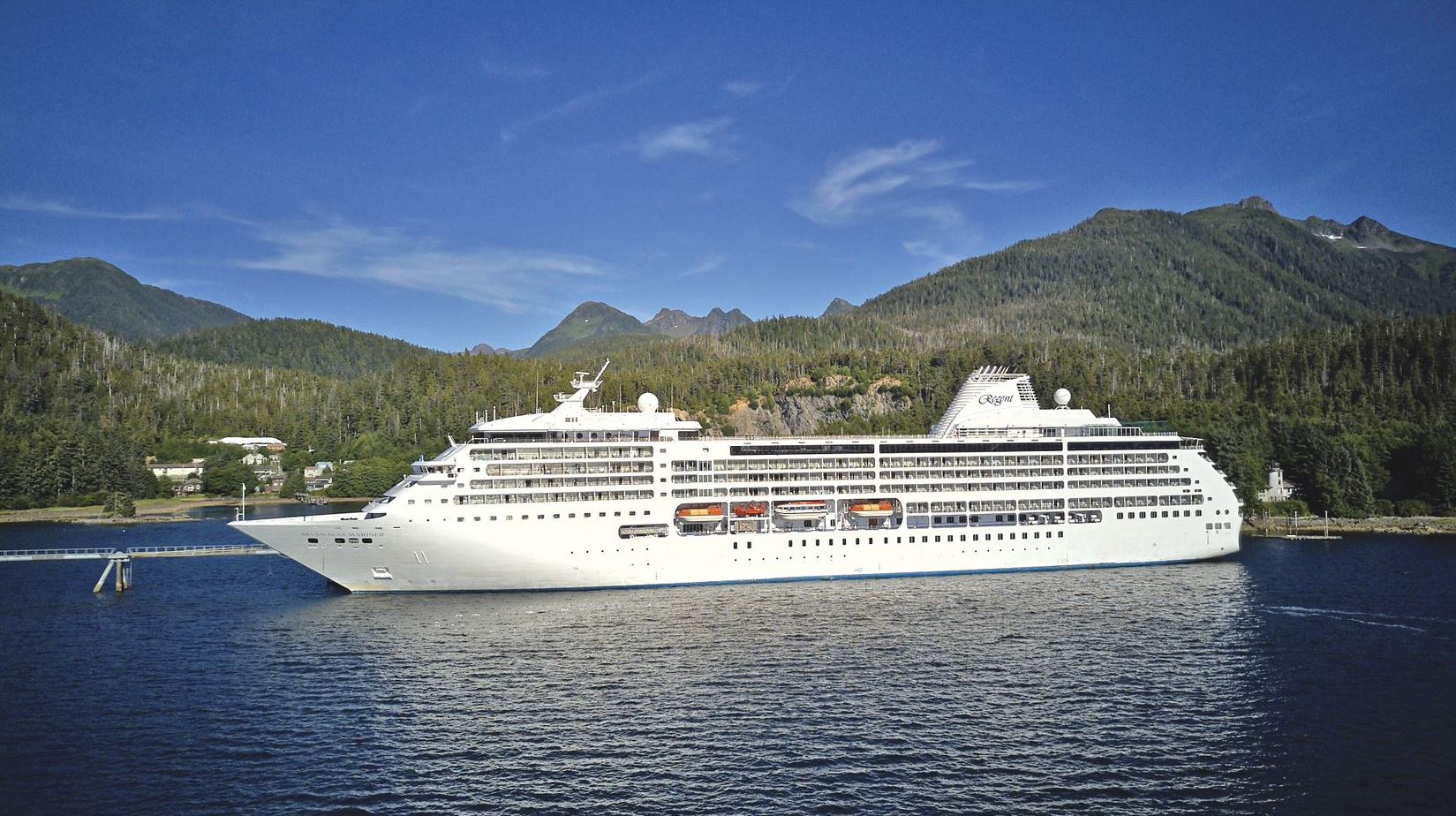 Photo credit: Regent Seven Seas Cruises
For those adventurous luxe travelers who desire to explore and discover the world, Regent Seven Seas Cruises takes their guests to some of the most beautiful faraway lands, to learn about the mystique of early cultures, while staying in beautifully appointed suites, and tasting celebrated local wines and cuisine at each diverse region.
The Seven Seas Mariner was constructed as the first all-suite, all-balcony ship when built in 2002. During the summer months, she sails along the coast of Alaska in comfort and style. In the beginning of 2020, she is about to sail on an exotic around the world voyage.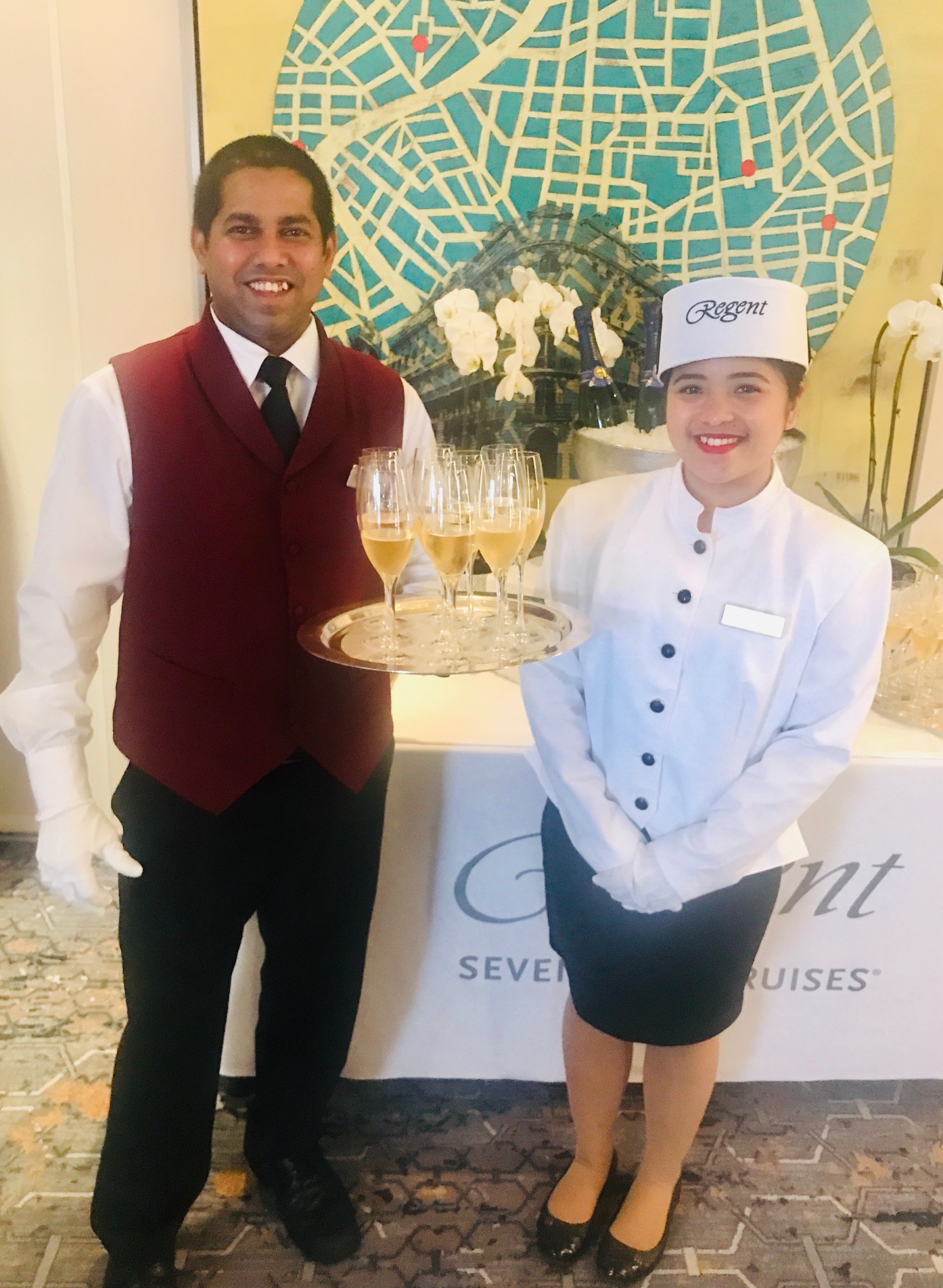 Jill Weinlein
Grand Voyages this 350 suite ship will sail include exploring South America for 66 days departing November 1, 2019. This cruise stops in over 40 ports while circling the continent starting and ending in Miami.
On Janurary 24, 2020, passengers will spend 131 nights onboard the Seven Seas Mariner starting in San Francisco to see 6 continents, while exploring the wonders of South America, Australia, New Zealand, the South Pacific, Asia, and Europe. This special cruise will travel through 3 oceans, 30 countires, over 60 different ports, and visit 56 UNESCO World Heritage Sites. Passengers will sail 33,474 nautical miles and may participate in over 330 free shore excursions before arriving back in San Francisco on June 4, 2020.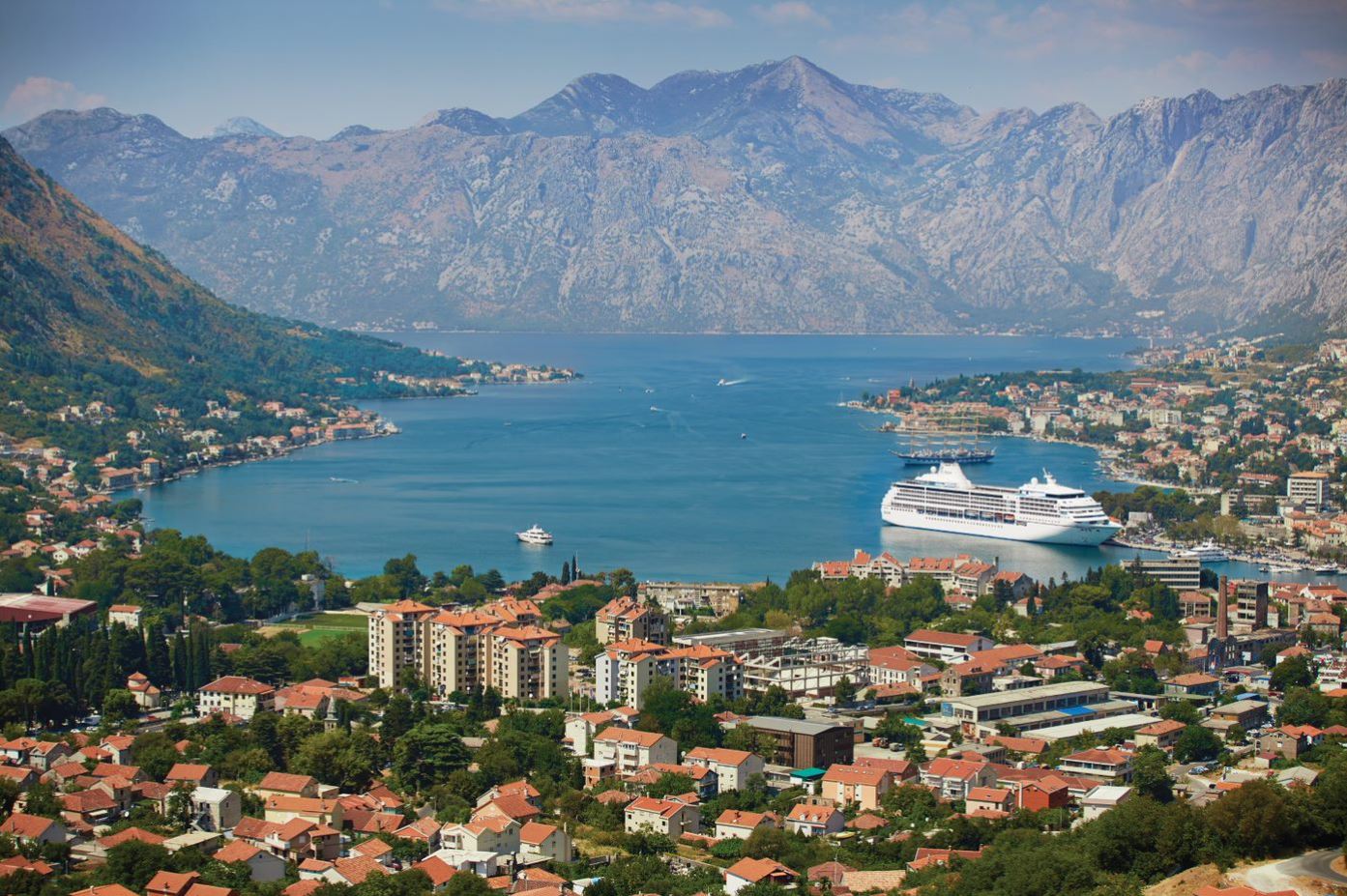 Photo credit: Regent Seven Seas Cruises
Recently refreshed in March, 2018, all of the suites measure from 301 to 2,002 sq. ft. Guests discover a chilled welcome bottle of champagne with two glass flutes, and an in-suite full liquor bar, plus mini-bar with complimentary beer, soft drinks and Vero filtered water replenished daily inside. 
Passengers sleep in either a European king-size Slumber bed or twin bed configuration with European linens and duvet. The huge walk-in-closet has cozy robes hanging and white slippers for guests to use. The marble-appointed bathrooms have either a glass-enclosed shower with a large mirror or full bathtub, some of the larger suites offer both. Other amenities in the suite include a safe, interactive flat-screen television with a media library and complimentary movies-on-demand.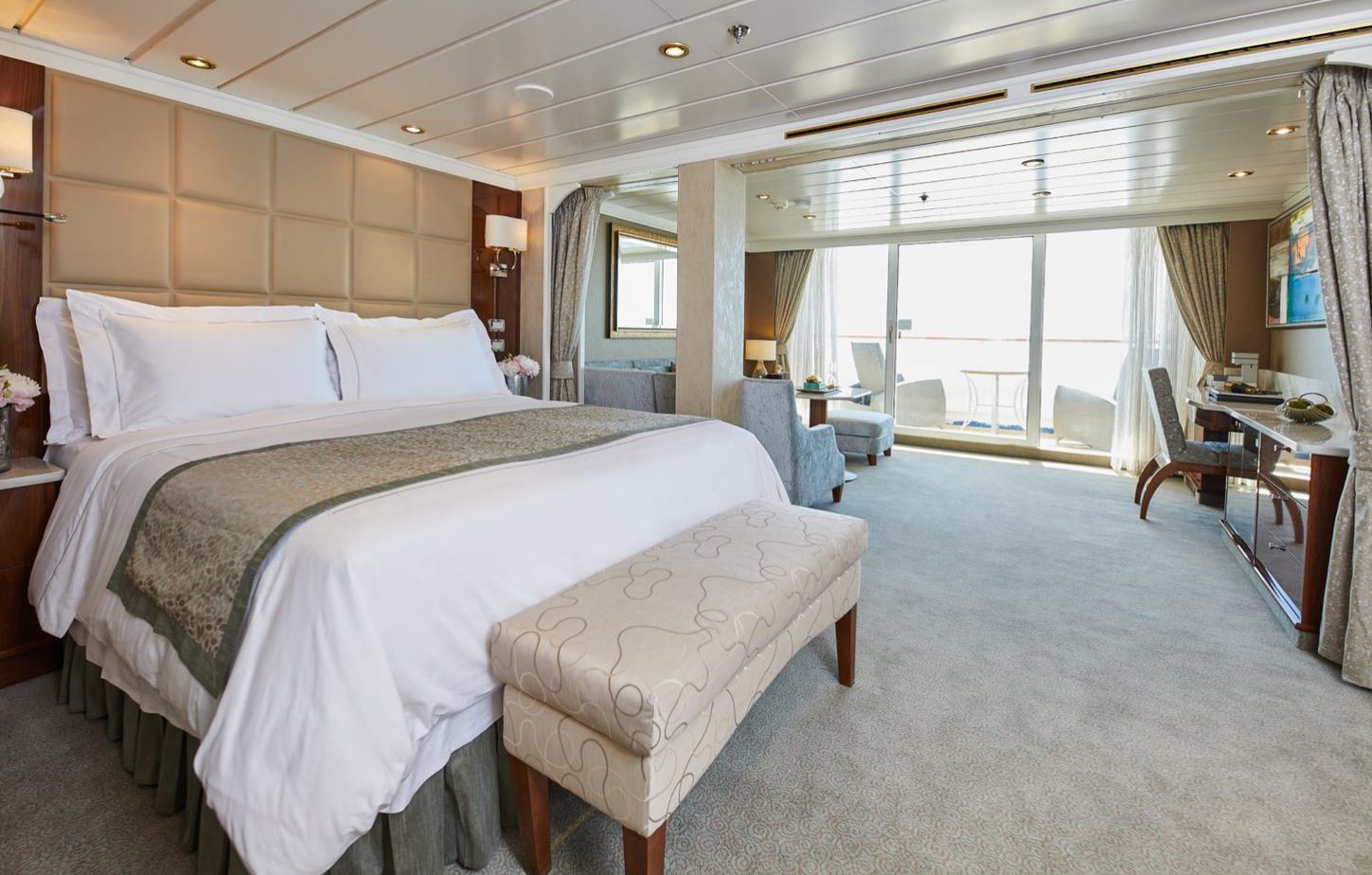 Photo credit: Regent Seven Seas Cruises
Located on Deck 9 are two of the largest suites, the Master Suites with wrap-around balconies in the front of the ship. Stepping inside the two bedrooms and two-and-a-half marble enhanced bathroom is similar to an elegant Beverly Hills high rise apartment. Elegant rosewood furniture, luxe fabrics and curtains, and a crystal chandelier add a bit of sophistication. Passengers staying in this stateroom receive a personal butler to assist with any request. The large living room and dining area is ideal for dinner parties. Glass doors lead out to a forward and side balcony with lounge chairs, table and chairs. In total this suite offers 2,002 sq ft., of indoor and outdoor space.
The Seven Seas Mariner was the first cruise ship to offer famous Le Cordon Bleu of Paris formal dining in her restaurant Chartreuse. Another dining option, Compass Rose is the largest specialty restaurant onboard. Tables are decorated with elegant Versace dinnerware including matching vases designed exclusively for Regent Seven Seas.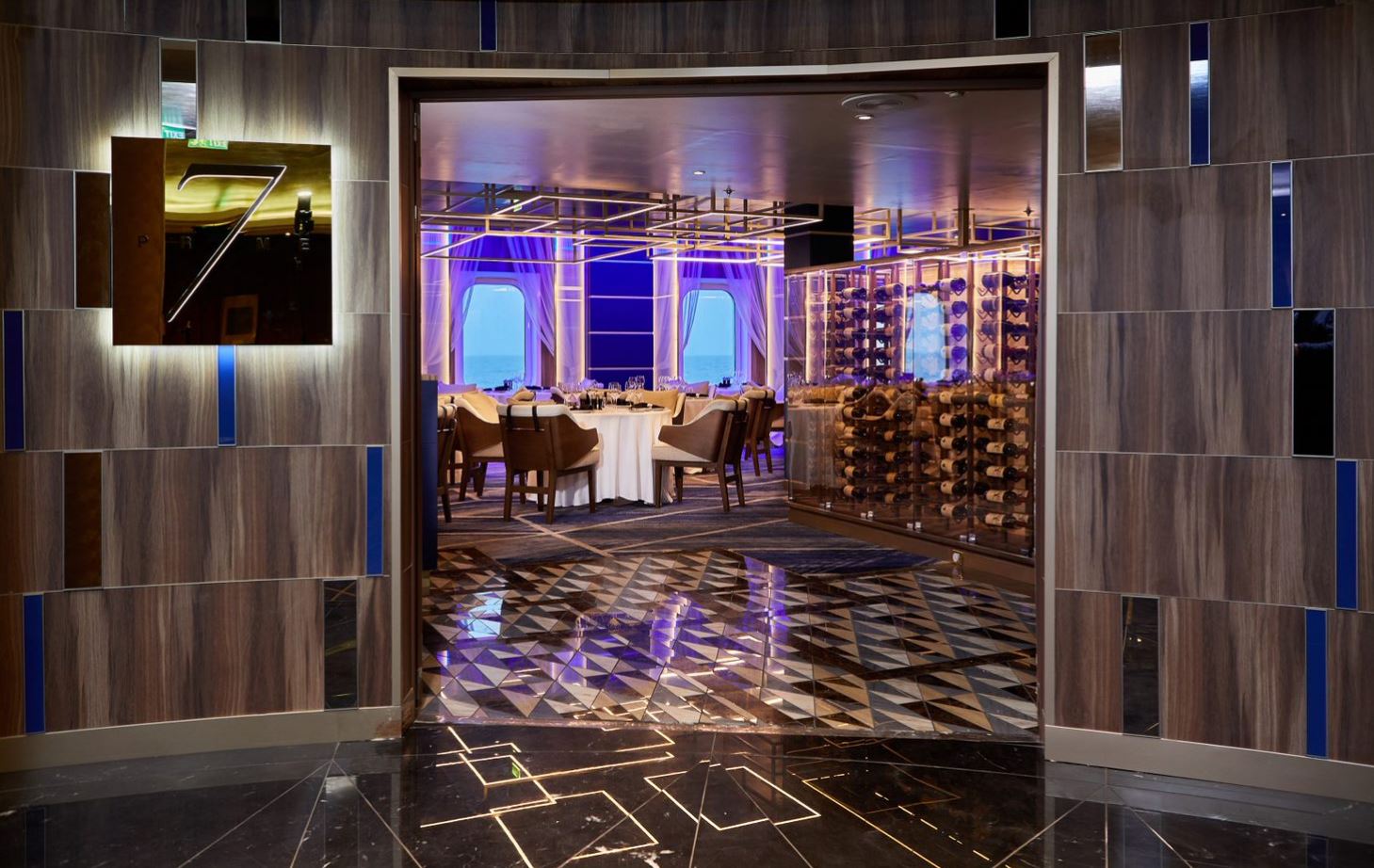 Photo credit: Regent Seven Seas Cruises
Passengers may reserve a dinner reservation at the elegant steakhouse PRIME 7 that is handsomely decorated with luxury leather wing-back chairs, burnished woods, rich blue, cream and earth-toned fabrics. This fine dining menu offers many signature dishes including Surf n' Turf and an American Cobb Salad. 
The Horizon Lounge offers afternoon tea from 4 to 5 p.m. Later the lounge offers cocktails and dance parties. The Observation Lounge offers 180 degree glass window views. At 4:30 p.m., guests congregate for daily trivia. This is a wonderful space to read a book and watch the world glide by.
Since this is an all-inclusive ship, meals, snacks, coffee, wine, champagne and well drinks are included inside the restaurants r bars and lounge areas. The enclosed Connoisseur Club is ideal for after-dinner cigars and Scotch.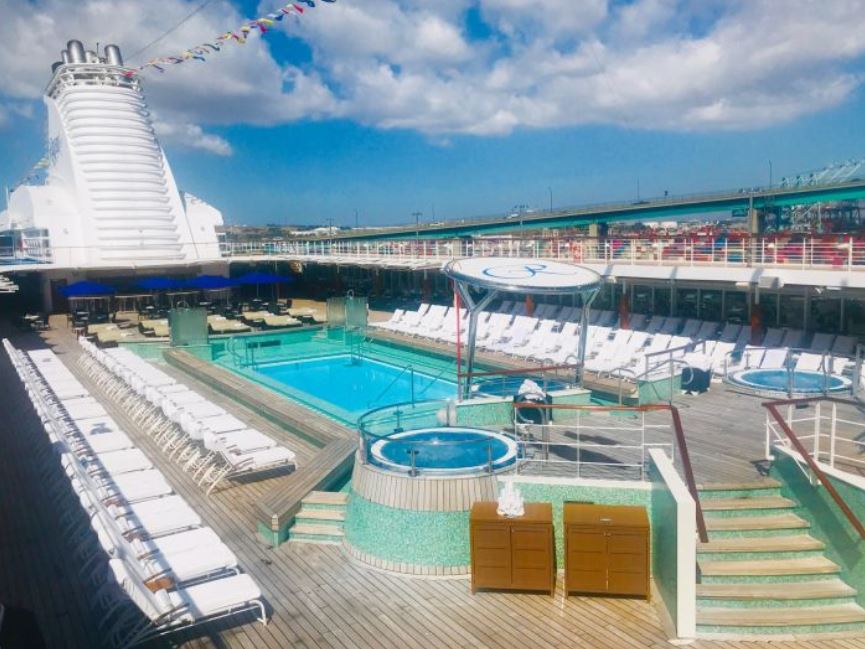 Jill Weinlein
Deck 12 offers a multitude of outdoor activities to keep passengers fit. Besides a full-circuit jogging track, there is a paddle tennis court and shuffleboard deck, plus a grass croquet and bocce ball area. Another green area offers a putting green. 
On Deck 11 there are three heated, bubbly whirlpools, and a saltwater swimming pool, plus a pool bar. The indoor/outdoor La Veranda buffet dining area is towards the front of the ship, and in the evening the indoor area becomes the Italian dinner destination Sette Mari at La Veranda.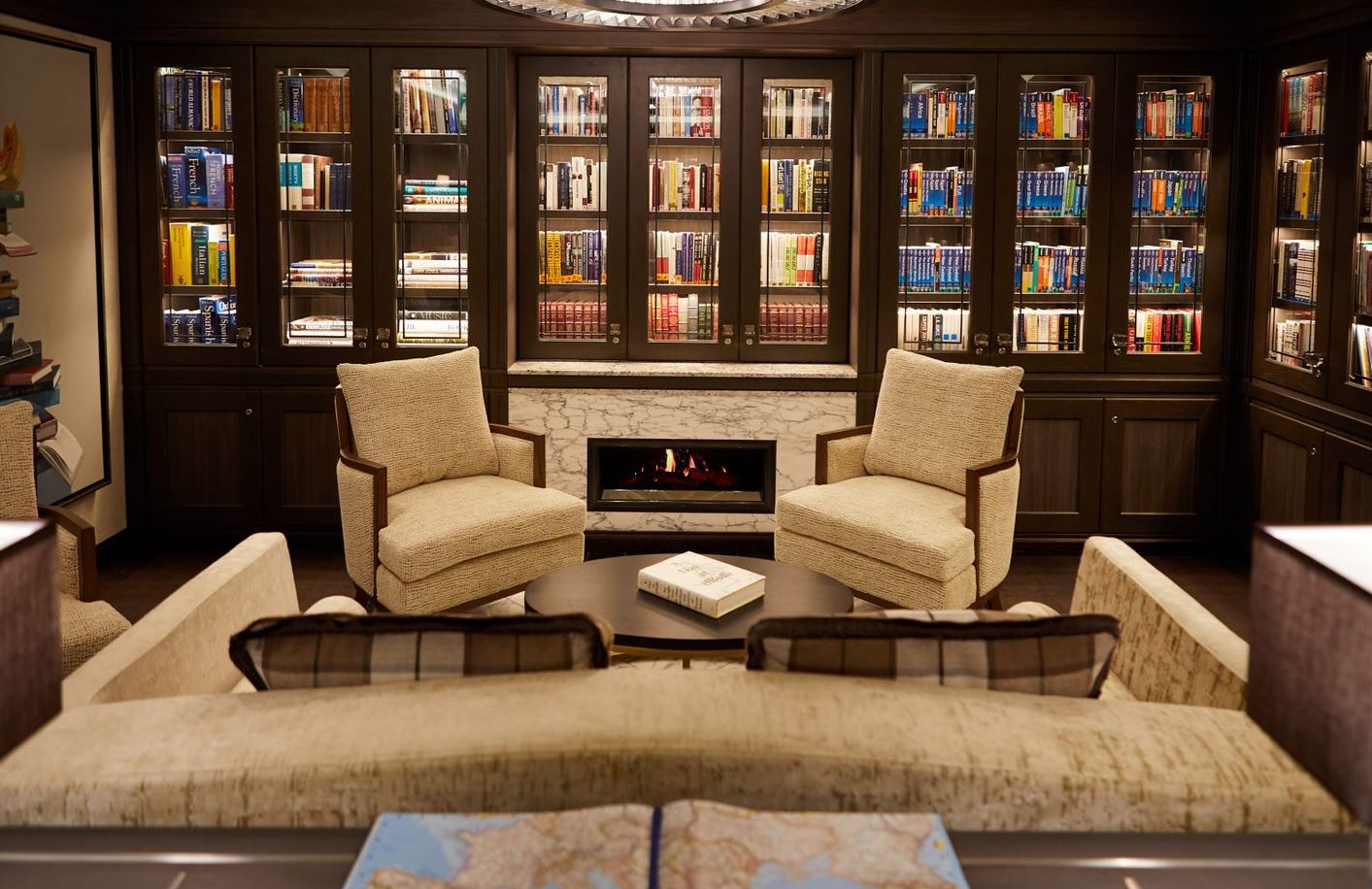 Photo credit: Regent Seven Seas Cruises
The ship offers a two-tier Constellation Theatre, which is special for a ship of this smaller size. Other indoor activities are located on Decks 6, 7, 8 and 9 with a full Casino and spiral stairs leading down to an elegant Stars Lounge. The nearby ship's library has a cozy video fireplace, and glass display cases holding books, games and a multi-media area with computers. The elegant Canyon Ranch SpaClub offers a variety of treatments, next to a full service Beauty Salon and fitness club.
The friendly staff is dedicated to providing exceptional service on all four Seven Seas ships and is looking forward to the Seven Seas Splendor arriving in February 2020.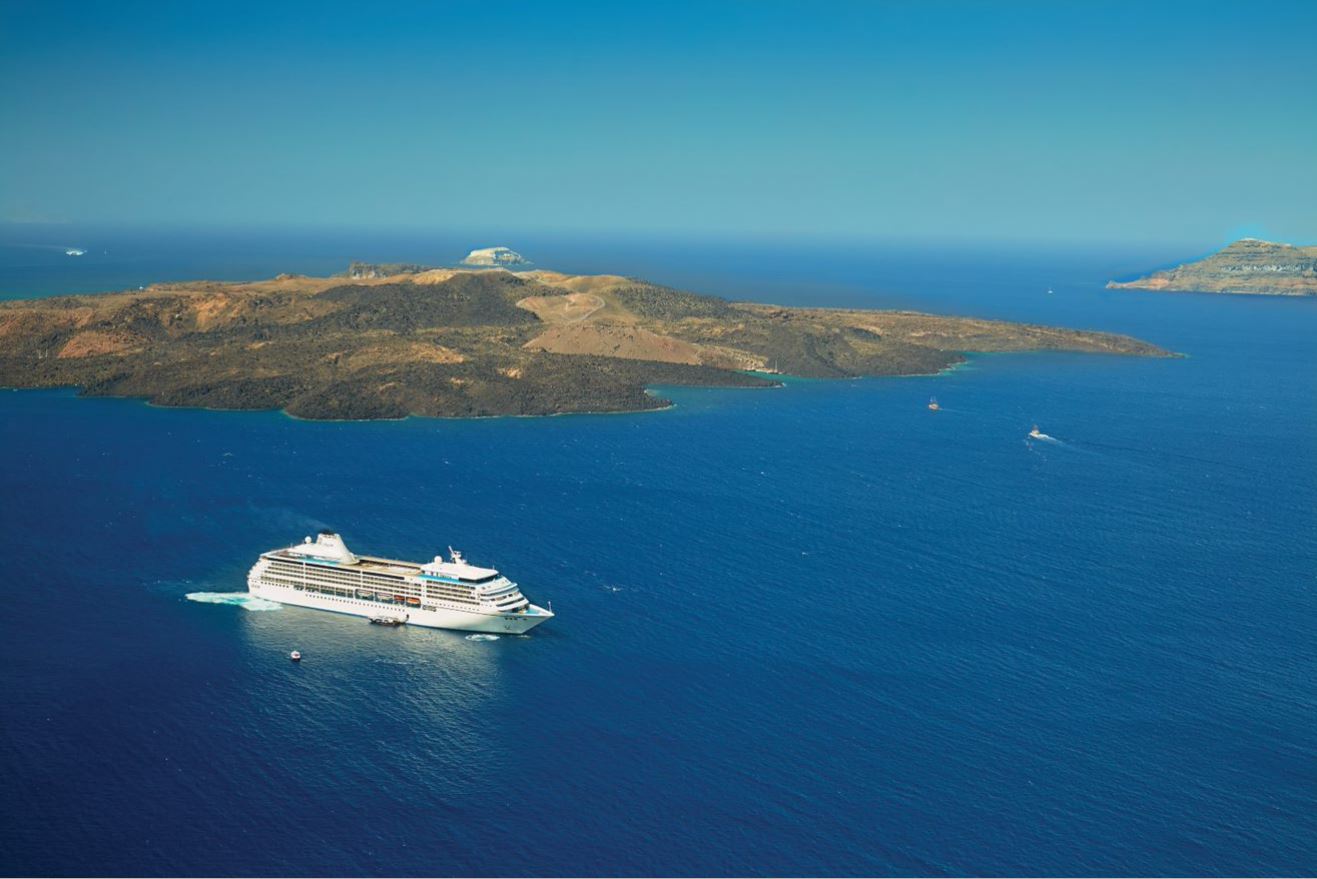 Photo credit: Regent Seven Seas Cruises
On Janurary 5, 2021, this 350 suite ship will sail 117 nights stopping in 60 ports and visiting 6 continents.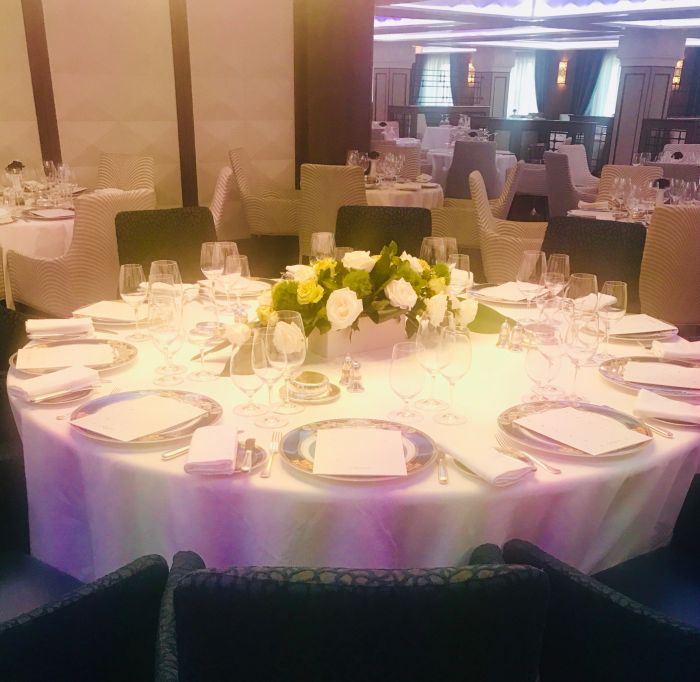 Jill Weinlein
Fine dining dinner options includes Prime 7, Chartreuse, Compass Rose and Sette Mari at La Veranda.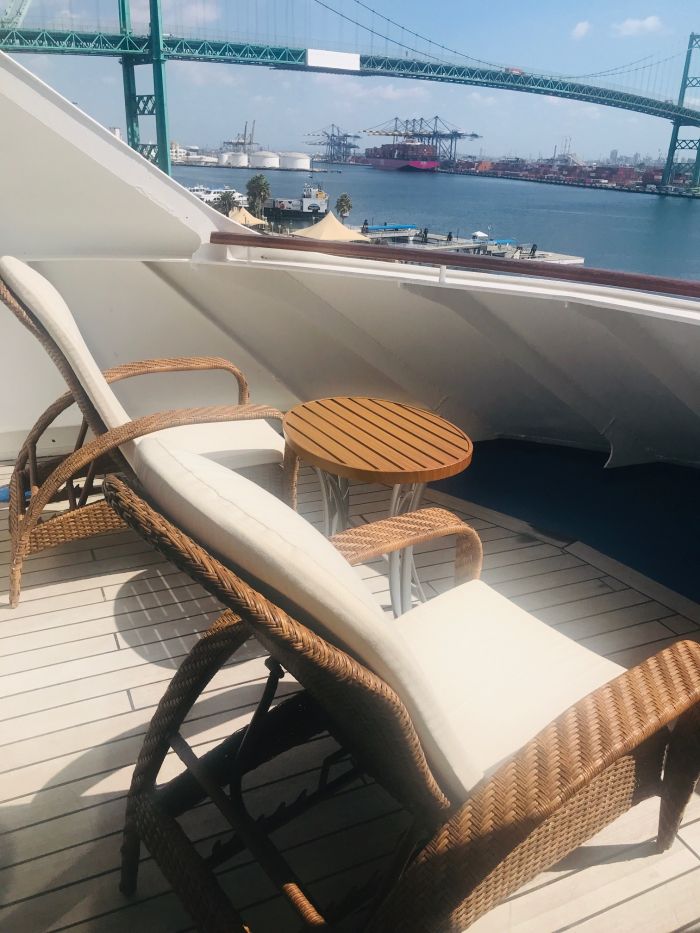 Jill Weinlein
All the suites have a balcony for resting, relaxing and enjoying outside views.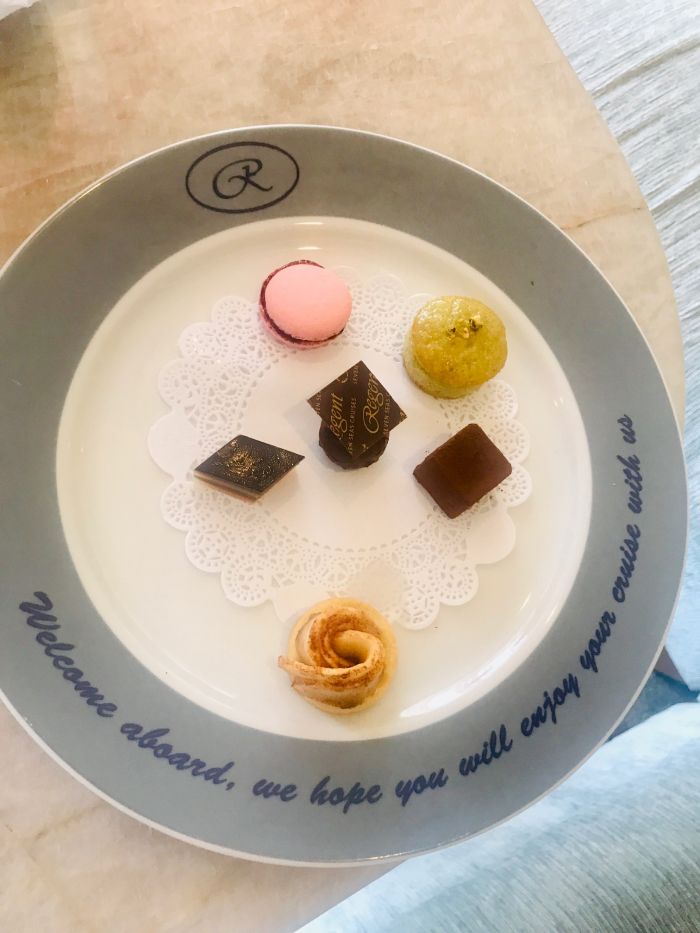 Jill Weinlein
Guests receive special treats throughout the cruise in their suite.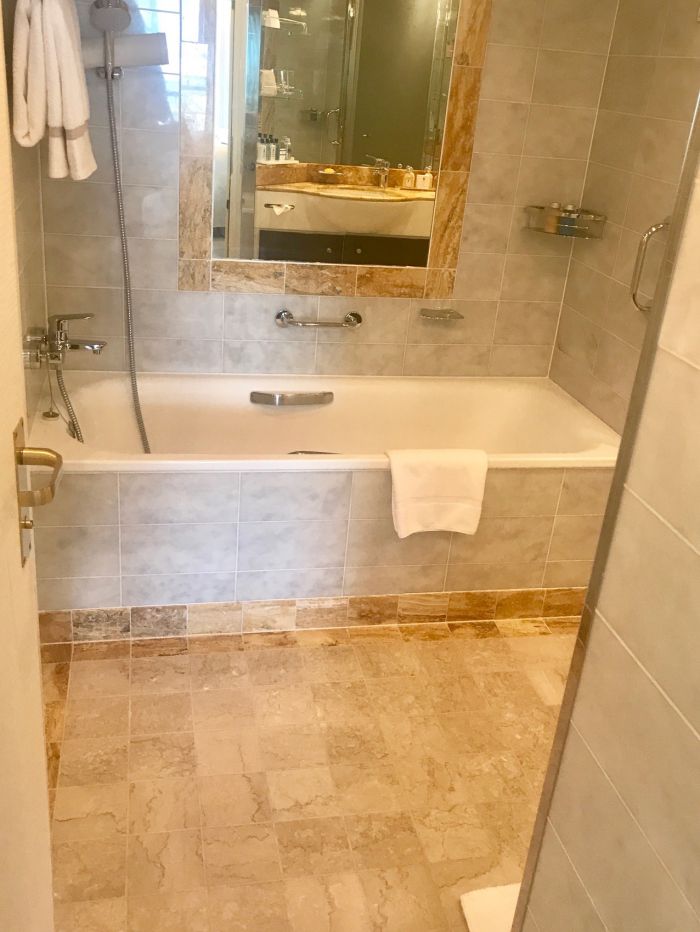 Jill Weinlein
Some of the larger suites offer an elegant soaking bathtub and enclosed shower.
Jill Weinlein
Suites are decorated with elegant fabrics and soothing marine colors.