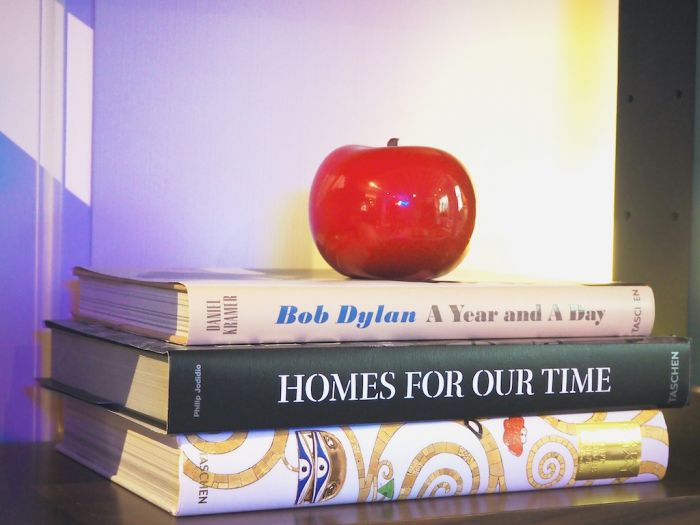 Columbia Hillen
A rewarding way to enjoy Paris is spending several nights on both banks of the Seine, Left and Right, and immerse yourself in two different atmospheres – and Nicolas Nonon, owner of Verneuil and Parister hotels, offers a golden opportunity to do so.
The first hotel, located on the Left Bank's chic Saint-Germain-des-Près neigborhood, is a classified historic building dating from the 17th century, making it one of the oldest in the City of Light. Previously a sailors' inn, it has been a hotel for the last 30 years. Nonon took it over eight years ago and gave it a makeover.
Columbia Hillen
Its 26 rooms over five floors were re-designed by Isabelle Stanislas, who was also involved in renovating the reception hall in Élysée Palace, home of the French President. The hotel was formerly the residence of acclaimed author James Baldwin, whose novel 'If Beale Street Could Talk' was adapted into an Oscar-winning film last year. 
Marie Antoinette gazes benignly upon you as you sit down at the reception desk, a marble bust of her decorating one corner of the room. Other vintage furnishings include an old clock and a concave mirror.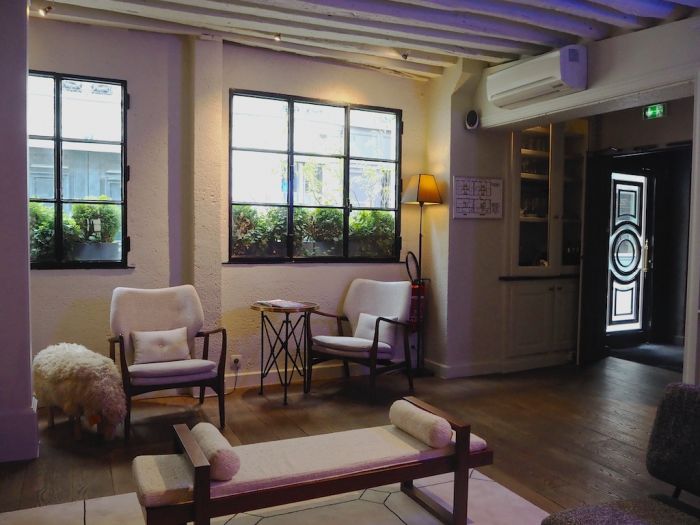 Columbia Hillen
Adjoining it is a comfy sitting room with a high, beamed ceiling painted white, armchairs, a sofa, smoked mirror, standing lamps, an open fireplace and shelves filled with books, some old and leather-bound. Street-facing windows are festooned with potted plants. The permanent resident here is cute-looking Jean-Sean, an ornamental stuffed sheep.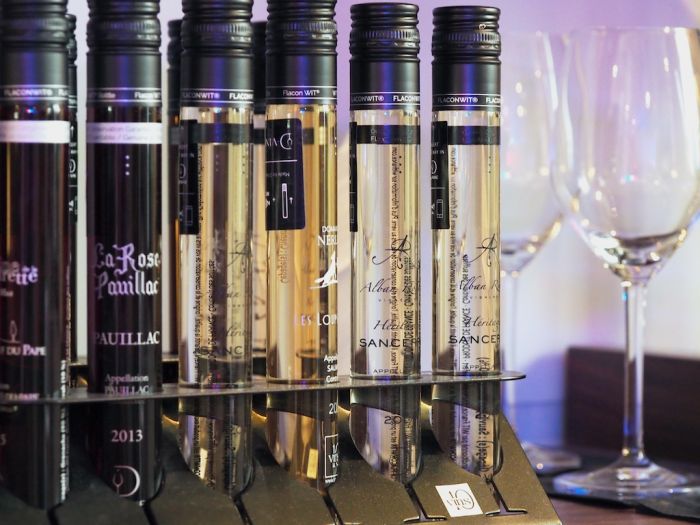 Columbia Hillen
An intriguing red, white and blue neon with the words 'Regarde les rire' by artist Claude Lévêque adorns one wall. It has an interesting backstory, ask for an interpretation. Enhancing guest leisure here is a D-vine wine dispensing system, as well as a small honesty shelf bar with Cognac, pastis, gin, and even Creme de Cassis de Dijon.
Breakfast is served in an intimate setting in the cellar which features an arched stone ceiling and is reached via a short winding staircase. Photographs throughout the rooms refer to the neighborhood's history and artists who lived there. The former house of French singer-songwriter Serge Gainsbourg stands in front of the hotel.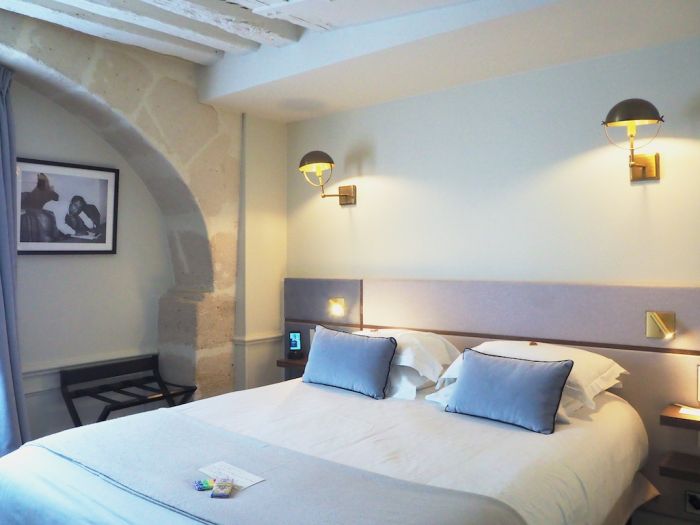 Columbia Hillen
Our room, 108, a junior suite, one of three categories, was more than adequate without being spacious, with painted white bare-beam ceilings with street facing windows decorated with flowering plants. It is also interesting to note that a single ground-floor bedroom is suitable for guests with disabilities. A twenty-four-hour reception service is available.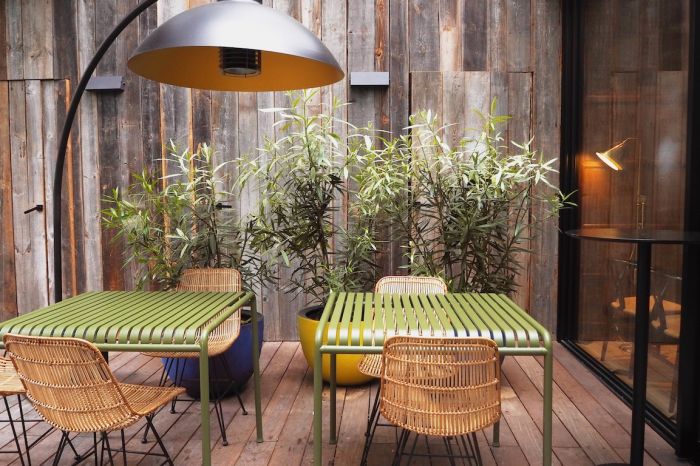 Columbia Hillen
Highlights of the Parister Hotel, located between South Pigalle (SOPI) and Grande Boulevards, just around the corner from the famed century-old cabaret music hall, Folies Bergère, are a sports area comprising a narrow 20-meter long swimming pool with ceiling skylights, a sauna and gym, with specialised training available including swimming, yoga, boxing and pilates in partnership with CYD (Conquer Your Day), as well as a secluded inner terrace where food and drinks are served. Designed by the architecture firm Beckman N'Thépé, Céline Boullenger advised on the hotel's interior decor.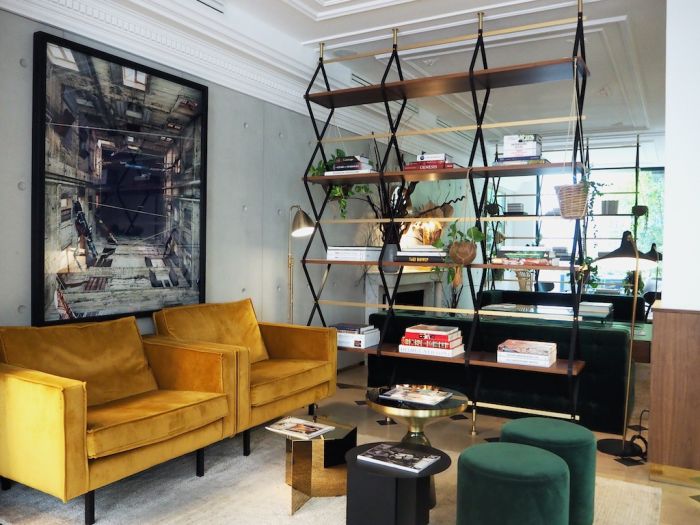 Columbia Hillen
The lobby is larger than that of the Verneuil, with dried strands of plants entwined around a trellis beside the reception desk, plush green velvet sofas, leather armchairs, an open fireside and stylish wood and metal shelving offering mainly illustrated coffee-table books on arts and artists such as David Hockney, Marie Bovo, Diego Rivera and Paul Outerbridge. One interesting book entitled 'Why LA? Pourquoi Paris?' by Diane Ratican with illustrations by Eric Giriat and Nick Lu highlights what is described as 'the Yin-Yang relationship of everyday life' in terms of architecture, icons, historical legends, fashion trends, and cultural peculiarities between the City of Light and Los Angeles.' There is also intriguing illustrations from 'Treasures from the Wreck Of The Unbelievable' by Damien Hirst to savor.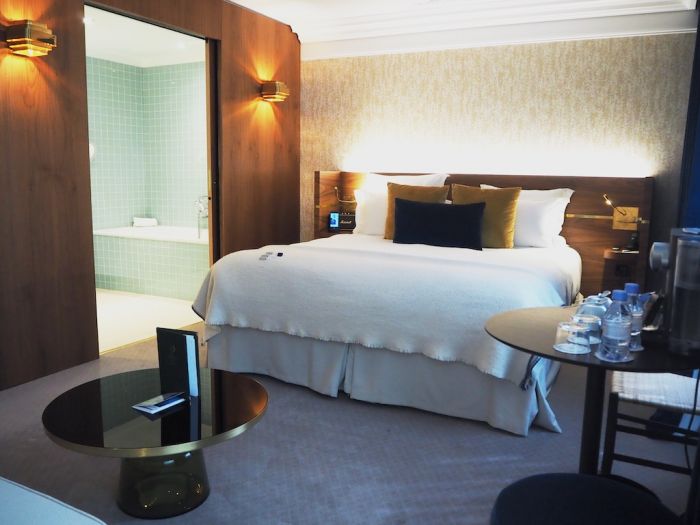 Columbia Hillen
Furnishings in our room, junior suite 108, included built-in cupboards, a wall-mounted TV, double sink, bathtub and walk-in shower, coffeemaker and a king-size bed and convenient reading lights. Comfortable robes and black plastic flip-flops were provided. Toiletries were Zenology. Floor-to-ceiling windows with blue velvet curtains overlooked the enclosed garden and there was also a Smartphone for free calls and GPS mapping facilities for outdoor use.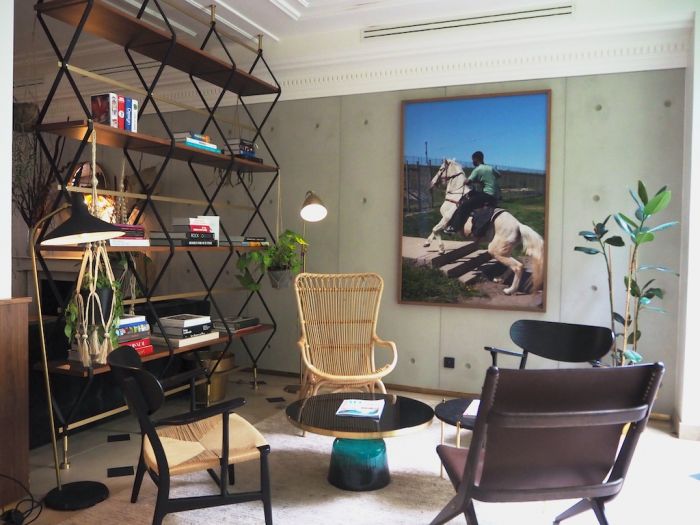 Columbia Hillen
My favorite place to relax was the inner courtyard, snug between wings of the hotel. Its natural wood flooring, wicker chairs and garden with hanging strands of ivy created a tranquil atmosphere. Herb boxes with parsley, thyme and mint supply the mixologist with the freshest of flavors for his various concoctions. The bar specializes in French whiskeys and often has live music to enjoy.
The surrounding district is one peppered with artists and local film-making studios. A five-minute walk brings one to Cadet Street, semi-pedestrian with cafes and local food shops selling fruit, cheese, meats and pastry.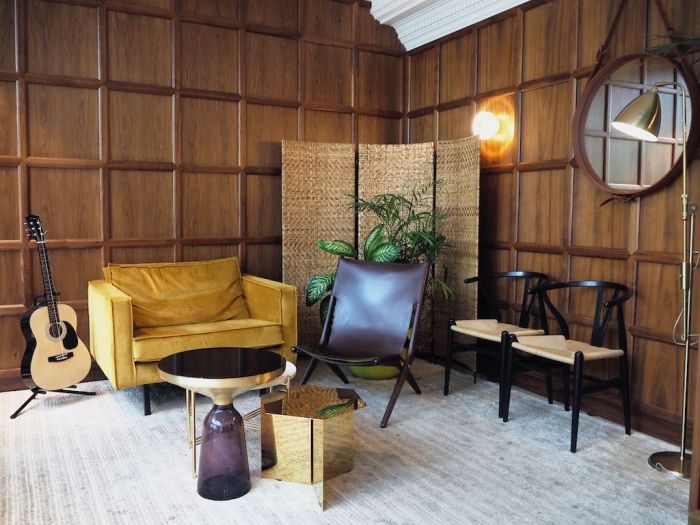 Columbia Hillen
So, for the Left Bank with the Eiffel Tower, Musée d'Orsay, Paris Catacombs, Montparnasse Cemetery and Luxembourg Gardens, you have the Verneuil. And for the Right Bank with the Champs-Elysées, Louvre Museum, Arc de Triomphe, Tuileries Gardens and Montmartre neighborhood, you have the Parister.