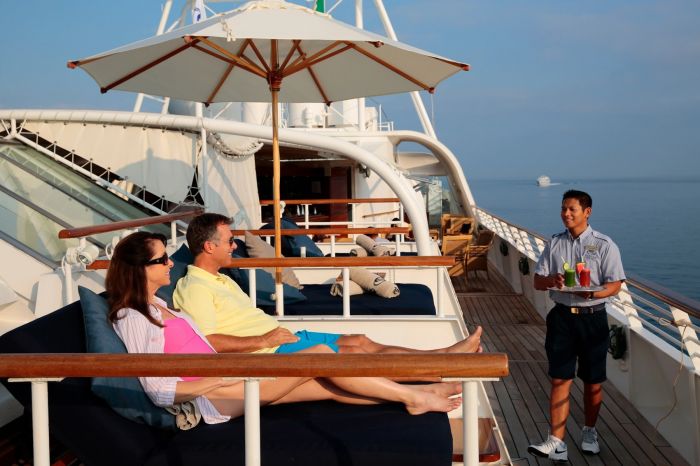 Images Credit SeaDream Yacht
A group of well-heeled passengers walk past rows of sparkling mega yachts onto the cobblestone streets of St. Tropez. They are led by their guide, in his crisp white chef's jacket, to the village's daily market while along the way he points out the market's abundance of  fish, clams, and oysters, all of which were caught just hours earlier. The tour reaches its destination at a wine cellar door in the middle of the market. There awaits a long table and wine barrels covered with the bounty of the region and trays filled with oysters, prawn and escargot as well as artisan cheeses, crudité, spiced olives and fresh bread. Our host is the wine cellar door's proprietor who immerges to present the star of the tour, endless bottles French rose to be enjoyed under the glowing sun of the Cote d'Azur. Without exception, these shipmates can only define this moment as living the good life. This experience is one of many that guest will cherish for a lifetime while on their cruise from Barcelona to Nice on SeaDream Yacht's Mediterranean Sea Wine Voyage.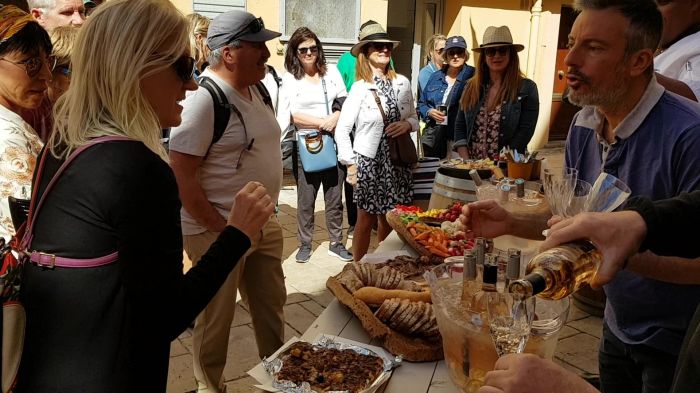 Image credit Glenn Harris
SeaDream is not an ordinary cruise ship, in fact it self-defines as a yacht and with good reason. This is a refined style of cruising on an elegant and stylish, 56-stateroom vessel. Each cruise features unique itineraries with immersive excursions and all-inclusive fine dining. These are small ships that can only accommodate 112 passengers with a ratio of staff to guests of almost 1 to 1 so expect personalized and attentive service from the day you arrive until departure. Staff instantly knows you by name, remembers if you prefer tea or coffee or the last cocktail you ordered. The staff is truly top notch and tuned-in.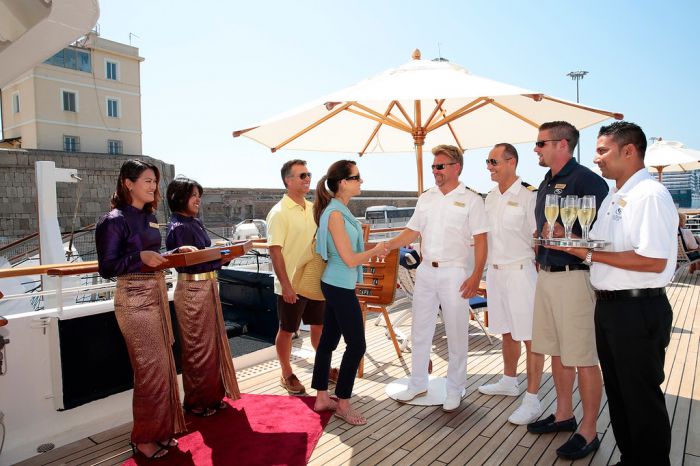 As these are small ships, they cater to various types of passengers. Groups of friends or large families will book out a section of the ship and for a reunion or celebration while romantic couples, and often solo travelers seem to favor these types of experiences and the intimacy of the cruise. Many will choose an itinerary as it relates to a specific passion such as the 7 day Wine Voyage.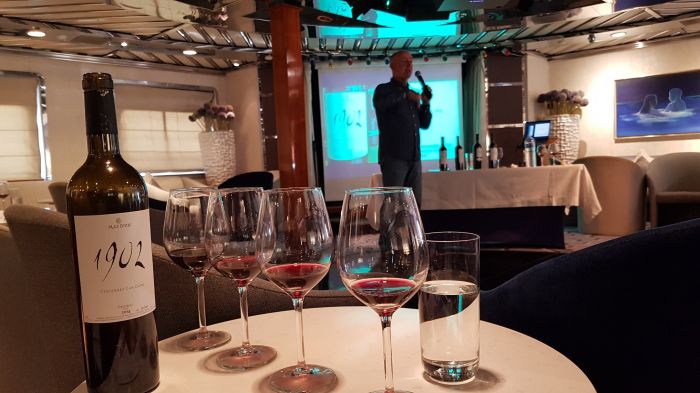 Image credit Glenn Harris
The Wine Explorers Cruise caters to the oenophile with numerous opportunities to sip, swirl and swallow the fine wines of the region. Wine producers join the ship throughout the cruise to host wine tasting experiences where guests, from the novice to the connoisseur, grow in their knowledge about the wines of the region as well as about the winemakers and their estates. Cruises include a wine immersion experience from producers such as Mas Doix which is a small family-run winery in the Priorat region, famous for its full-bodied, yet elegant and mineralistic reds. The wines come from their 100-year-old vineyards with vines tended to by hand and grapes selected and picked, berry by berry. The owner and winemaker of Mas Doix is Valenti Llagostera who joined the cruise for a few days to meet with guests and to talk about his wines. It's a chance to get up close and personal with the people who make the wines that we love and to learn about them, their wineries and to grow in the depth of wine exploration.  The winery owner will then host a wine maker's dinner which is a sophisticated gourmet degustation meal designed to be paired with the wines of the estate. After enjoying the wines in this setting, guests can order a case of two for their cellar back home or look for the label while out at their next fine dining restaurant, knowing the winery and that they met the producer himself. It is truly a wonderful evening at the height of epicurean pleasure and a highlight of the cruise experience.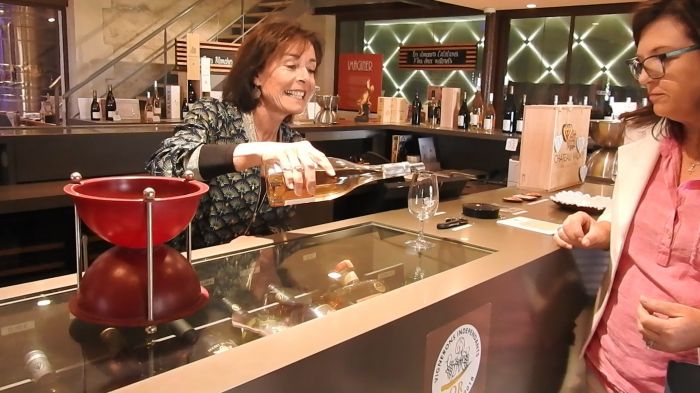 Image credit Glenn Harris
Beyond the tasting on board, this is after all France and Spain and the home of many of the finest old world wines. These lands along the Mediterranean are prime growing areas and offer a chance to visit the vineyards and wineries in person with SeaDream's Wine Land Adventures. Château Valmy is a charming winery and vineyard at the foot of the Albera Massif mountains overlooking the Mediterranean Sea and just a short drive from the ship's port of Collioure. Wine lovers on board took the short trip to visit the winery where they were met by the effervescent owner, Martine Carbonnell.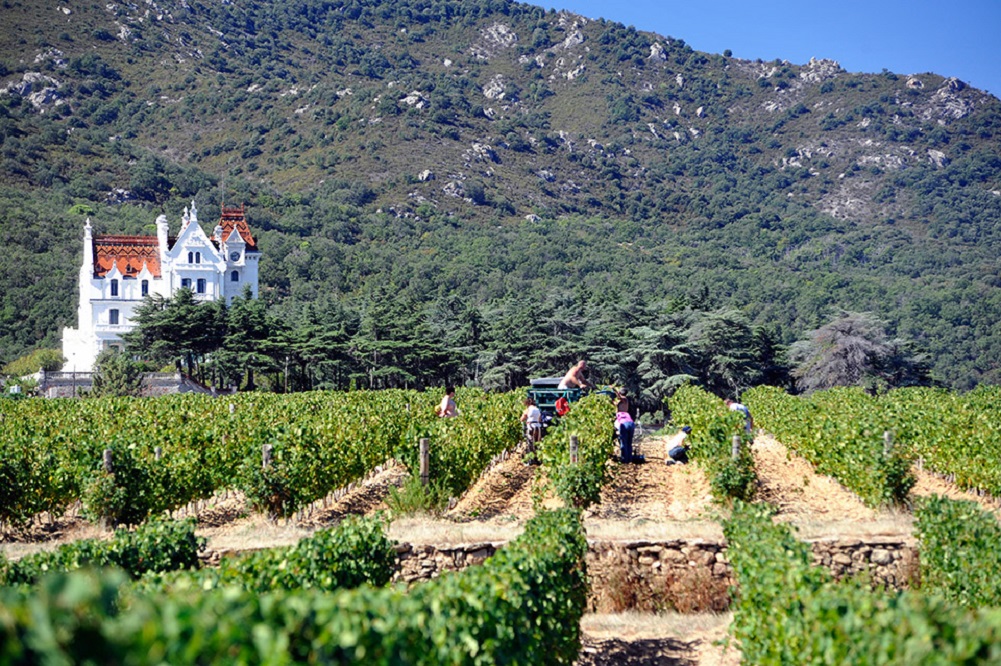 The estate is beyond gorgeous with its enchanting, fairy tale-like castle, built in 1888, which looms over the vast sixty acres of the vineyard. The matron of the estate hosted the group with a wonderful wine sampling of their award-winning wines. Not to be missed are the Valmy Rouge which is an exquisite blend of Syrah and Grenache which offers a fruit forward nose of dark berries with a full smooth palate. Les Roses Blanches de Valmy is a curvee' from a blend of Viognier, Marsanne and Grenache Blanc and is ideal to pair with grilled fish and seafood. This is, of course, the Cote d'Azure and the land of Rose so guests will definitely enjoy their Première Rose de Valmy which does not disappoint. This 100% Grenache is aged for five months in oak and an ideal complement to seafood as well. The visit to Château Valmy was a day to be long cherished by all the wine lovers onboard.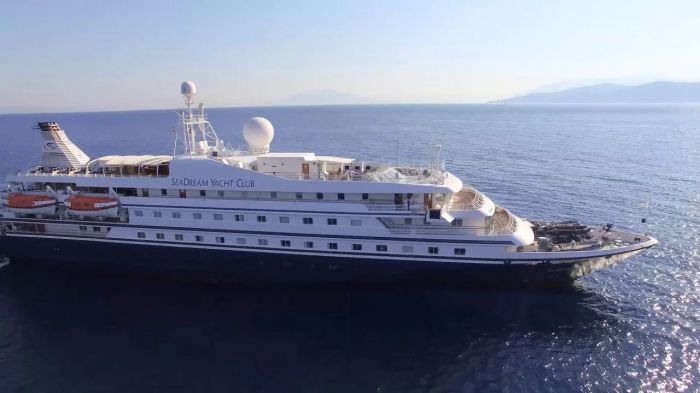 The SeaDream ships are elegant ships with a classic style replete with teak wood finishes, navy blue and white striped fabrics, and shiny brass banisters and fittings. Indoors are modern and contemporary with spacious common areas such as the main salon lounge that has a sitting area and platform where many of the group activities, lectures, and live performances take place.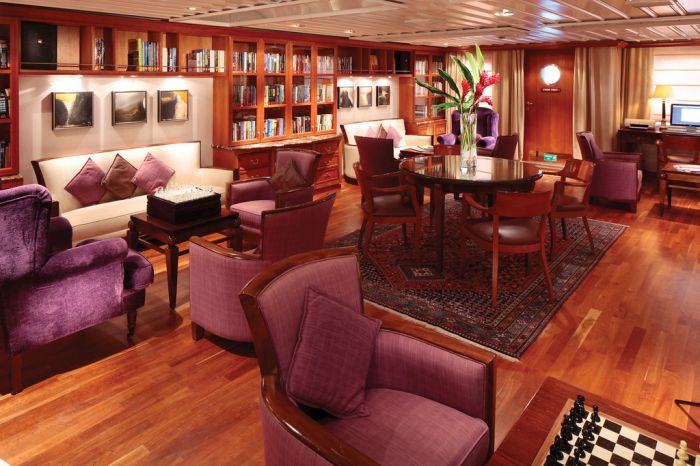 Most will seek the outdoor spaces around the pool and hot tub or on their signature Balinese loungers which are uber comfy chaise lounges that beg one to spend hours reading a book or embarking on an extended snooze. On the top deck there is an outdoor dining area as well as the Top of the Yacht Bar for cocktails al fresco while taking in the sights of the journey or an unforgettable sunset. There are plenty of areas on deck for stretching one's legs or take some fresh sea air.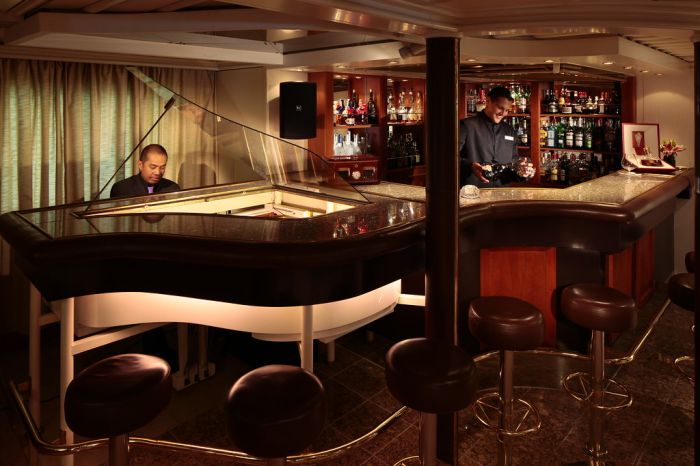 In the evening most guests will gather to reconnect with old friends or to chat it up with new ones. On the third deck there is the Piano Bar & Library entertainment area and most nights guests will gather at the piano bar for live music and a lively social atmosphere as the ship's talented singers will host a sing along. There's also a library and parlor room with games and for those who want to try their luck there is a small casino where guests play a round or two of blackjack.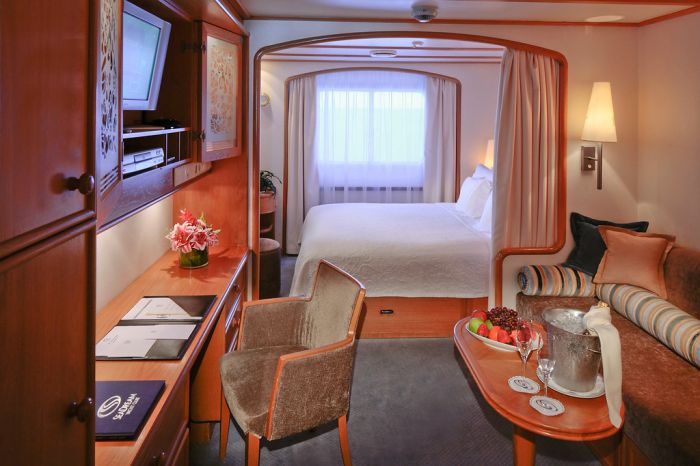 The cabins are comfortable with sitting area with sofa and long table and desk, a flat-screen television, comfortable bedding and a large ocean view window. The marble covered bathrooms are well equipped with shower and facilities as well as Bulgari bathroom amenities. The suites have more space and extensive features. Some of the extra touches that guests will appreciate are the stocked refrigerator with beer, soft drinks and water, the 24-hour small bites menu as well as the gift of SeaDream logoed pajamas embroidered with the guest's name.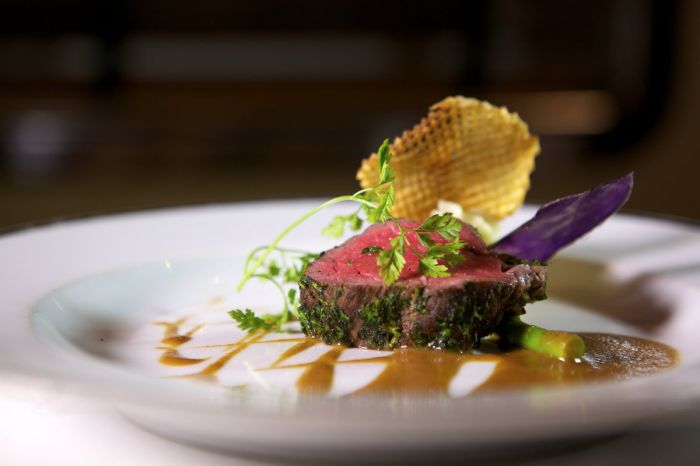 The dining on board offers an unforgettable fine dining experience. Meals are served al fresco at the top deck restaurant or indoors in their dining salon with a degustation menu expertly paired with wines from their extensive cellar. Other options include pan-Asian and western options with more casual options available as well. Lunch and breakfast are extensive as well with a buffet complimented by a la carte dishes.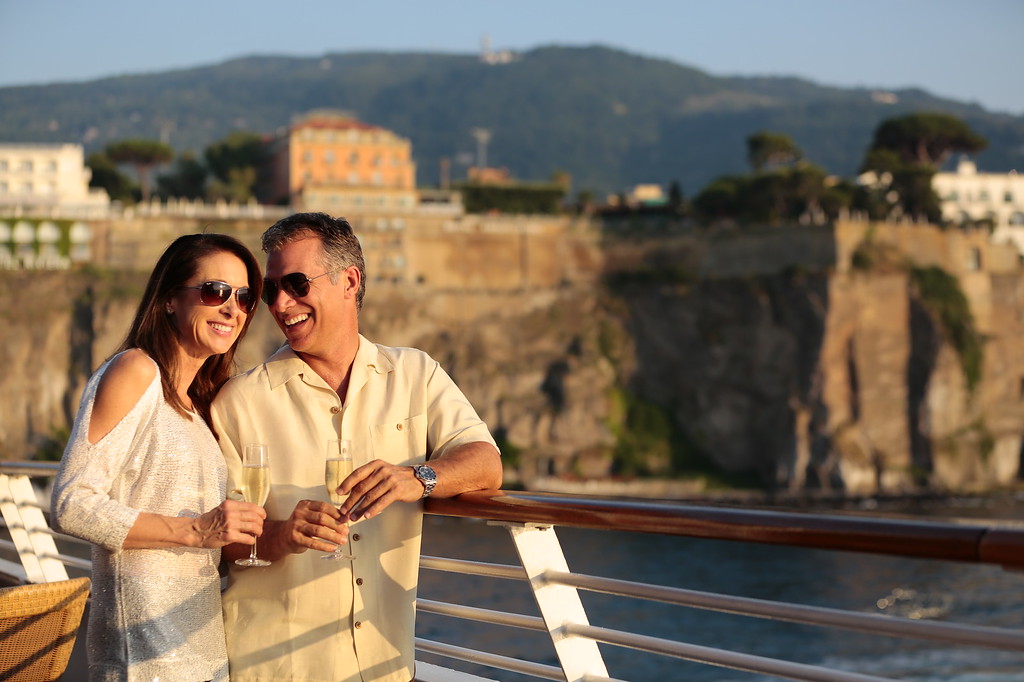 With each new port, the anticipation is akin to having a birthday party and you are the one opening a beautifully wrapped gift of unknown contents. The itinerary features several destinations that are somewhat off the beaten path as the relatively small size of the ship allows it to visit ports not visited by the massive cruise ships. The SeaDream is typically the only ship in port so there is no glut of cruise passengers following a flag bearing tour guide like a herd.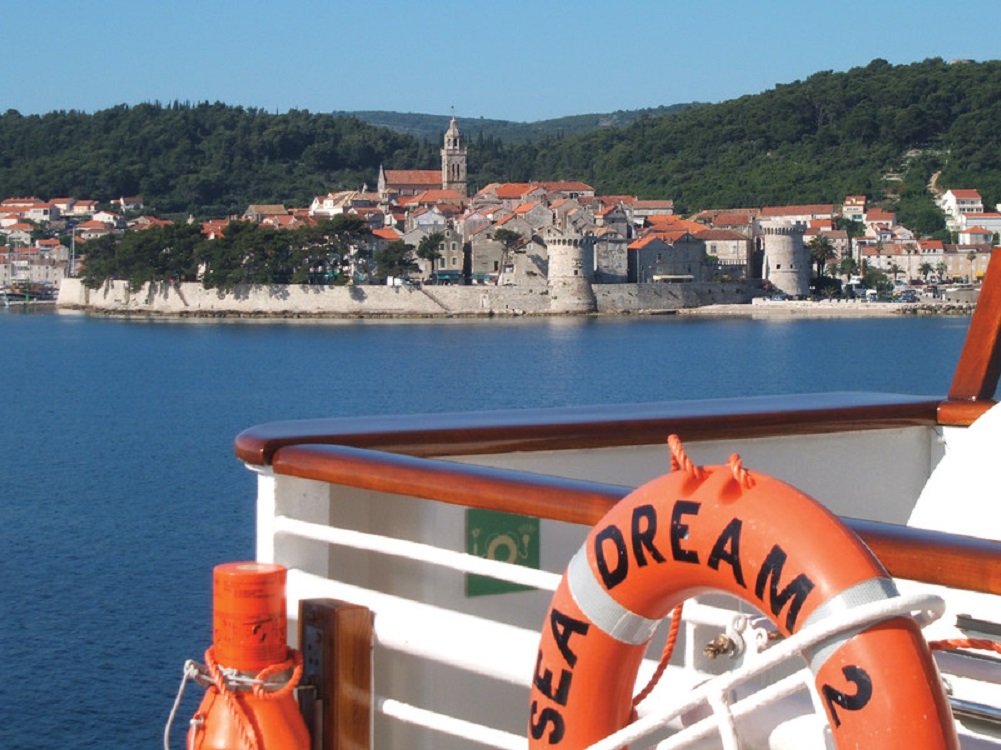 Barcelona is the embarkation point which allows guests to come in a few days before and explore the 12th most visited city in the world. This UNESCO Awarded City is spoiled for choice with endless options to visit from architect Antoni Gaudi's unfinished church of the Sagrada Familia, medieval romance in the Gothic Quarter, the Picasso Museum, to the walking malls of La Rambla.  Likewise, the debarkation city of Nice is also a great base to spend a few extra days on your holiday to explore its maze of shops, cafes and bars in its old town, famous seaside promenade, or hike up to the Castle Hill and overlook the dramatic city scape and coast below.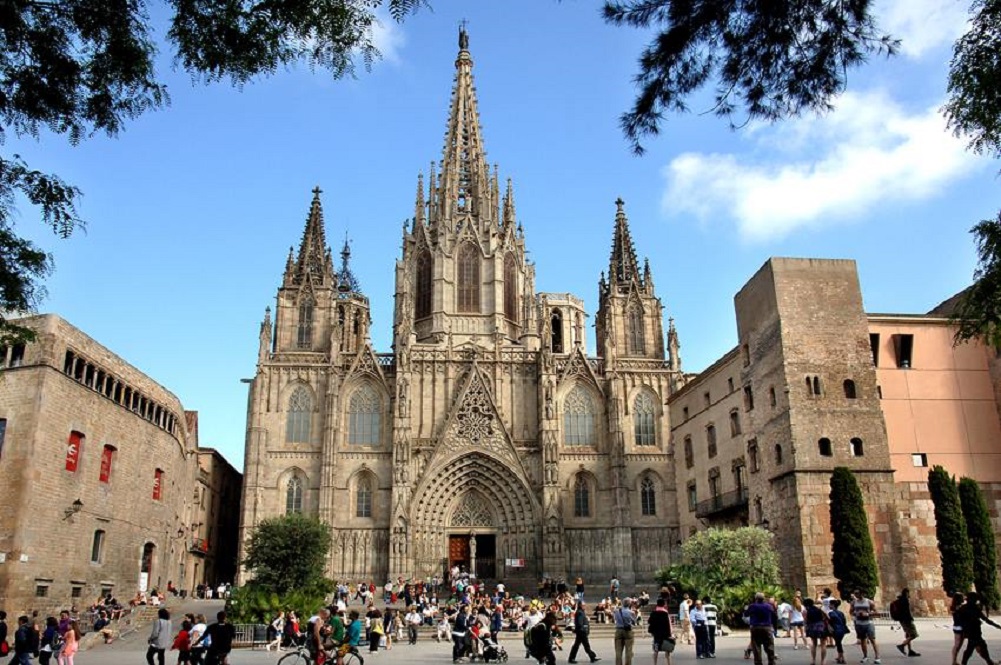 The cruise visits interesting and vibrant destinations along the Mediterranean Sea. Many ports of call have an experience or two relating to wine exploration. There are the medieval port towns of Palamos, Cassis, Tarragona and Collioure with well-preserved forts, iconic cathedrals, artisan food markets in addition to historic old towns with cobble stoned walkways to explore. Then there are the posh towns of the Cote d'Azur such as St. Tropez and Antibes, filled with their shiny mega yachts, marina facing bistros as well as a front row seat for people watching the countless fashion models, celebs, and beau monde travelers. After all this is the Med so each of the stops offers some amazing beaches to lay out and work on that perfect tan as well.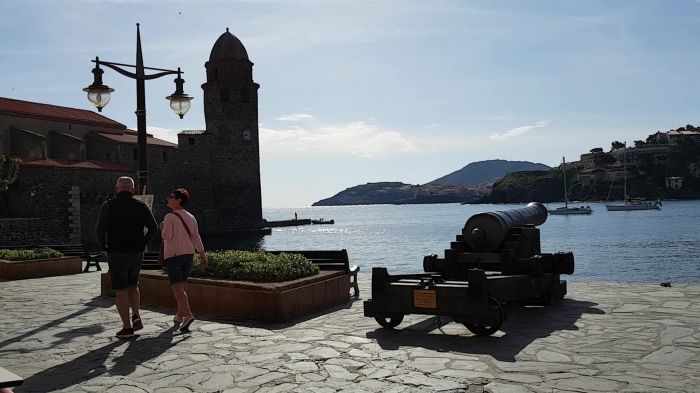 Image credit Glenn Harris
There are complimentary crew led hikes and walking tours in each port. Beyond that the Yachting Land Adventures & Activities are professionally guided intimate and immersive tours with only a small group of other passengers with no paddles to follow or, heaven forbid, headsets. There will only be a small group that goes on the tours with a local expert who shares the history and valued information on the destination.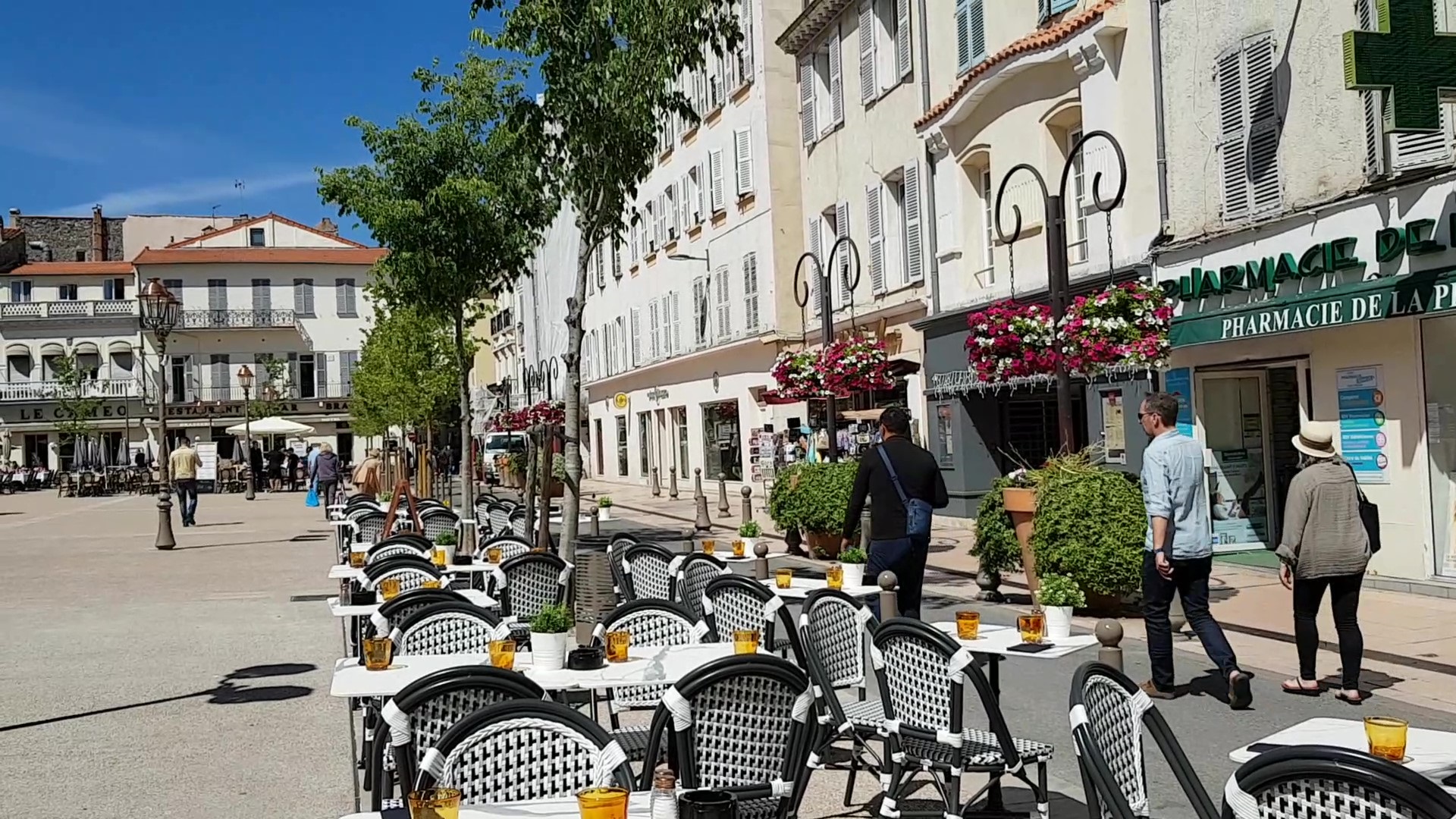 Image credit Glenn Harris
Beyond the organized tours, guests can opt to do their own thing. There are complimentary bikes to go off on your own after a map and advice from the concierge or the destination's tourism rep who often come on board. Guests will go off and explore on their own, head off for a day at a secluded beach, or visit a particular place they've wanted to see on their own.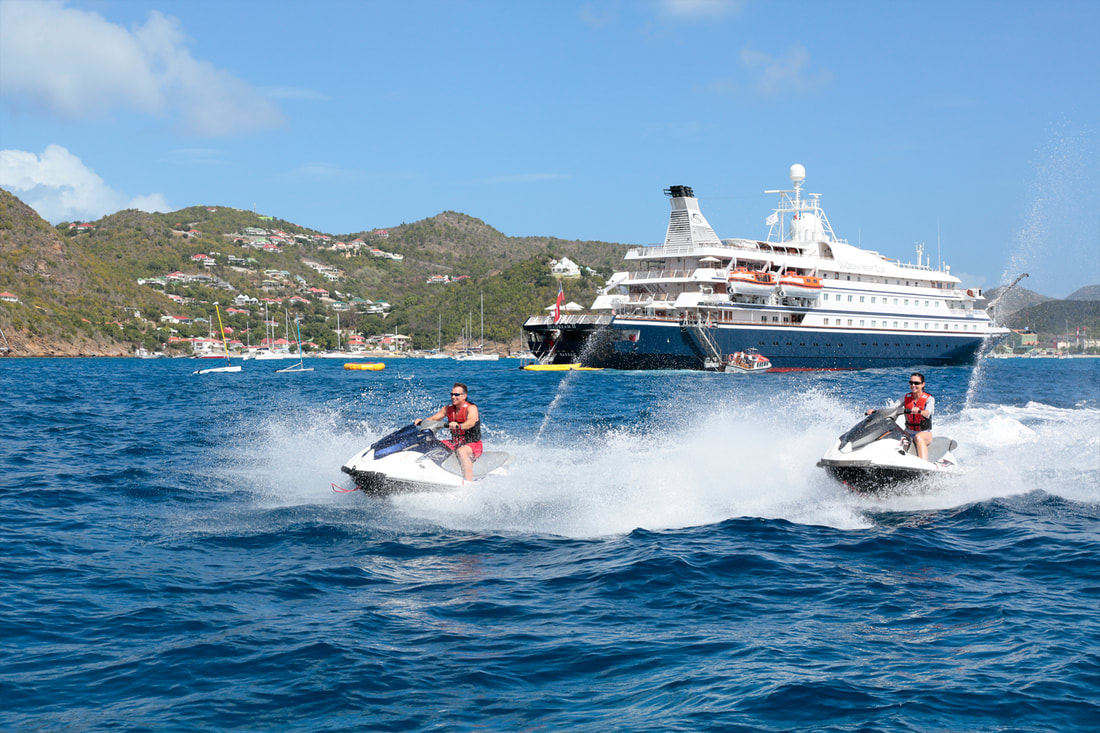 There's plenty to do beyond sightseeing right near the boat. In fact, it is just like it's your own yacht filled with all types of toys for grown-ups to enjoy the sea. In several of the marinas, guests have complimentary access to kayaks, sailboats, stand-up paddleboards, snorkel gear, floating island, and even jet skis. It creates another thrilling way to enjoy these incredibly beautiful destinations and the sea.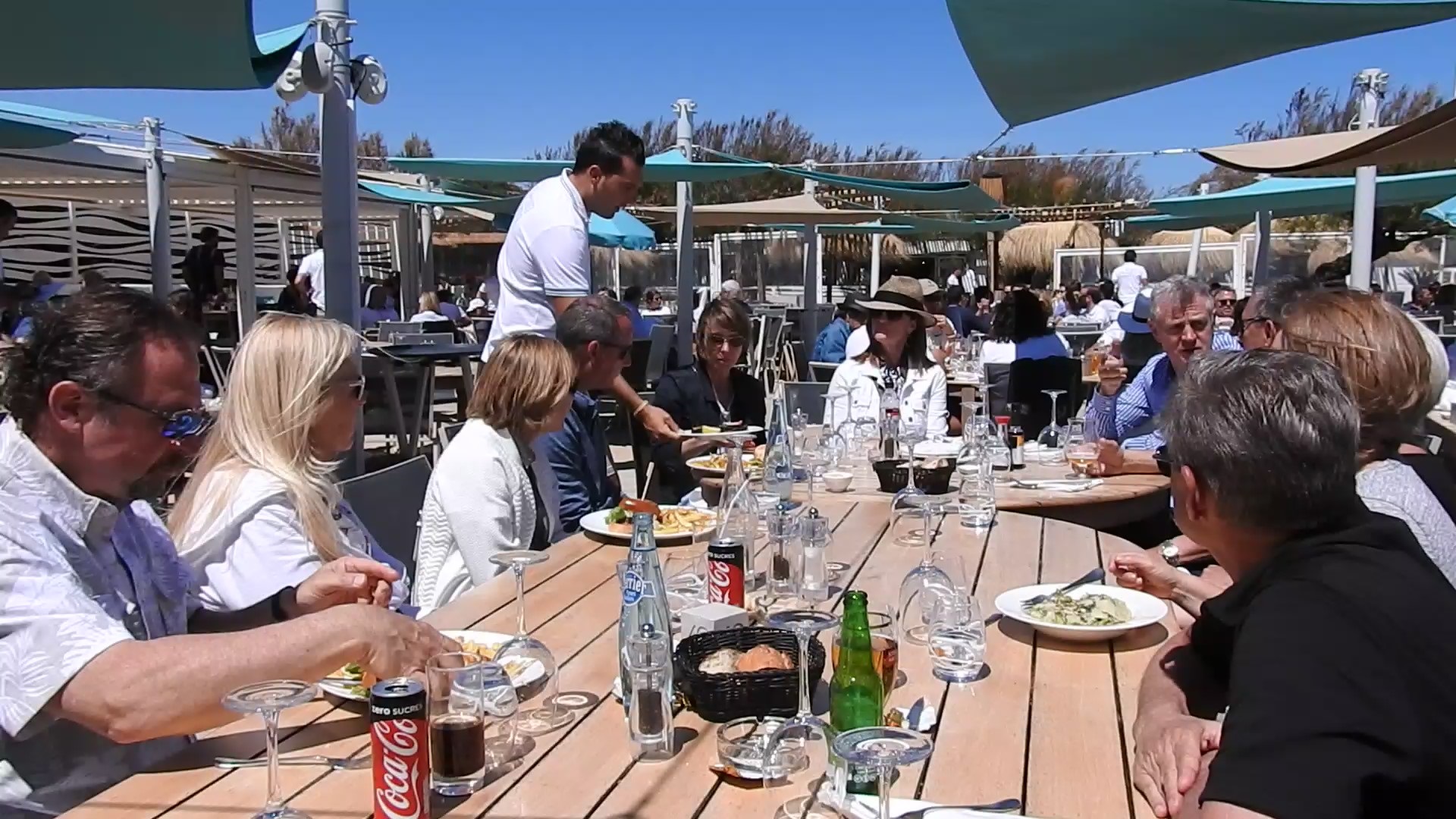 Image credit Glenn Harris
One of the highlights of traveling with SeaDream is the other guests that you'll meet over the course of the cruise. Most are kindred spirits who have reached a certain stage in their life where they no longer feel the need to follow the crowd.  Most are American followed by European with an age range from 30 something honeymooners to retirees with an average age of around 50. Friendly chats at breakfast turn into shared tours in the day and shared dinners and after dinner cocktails late into the night.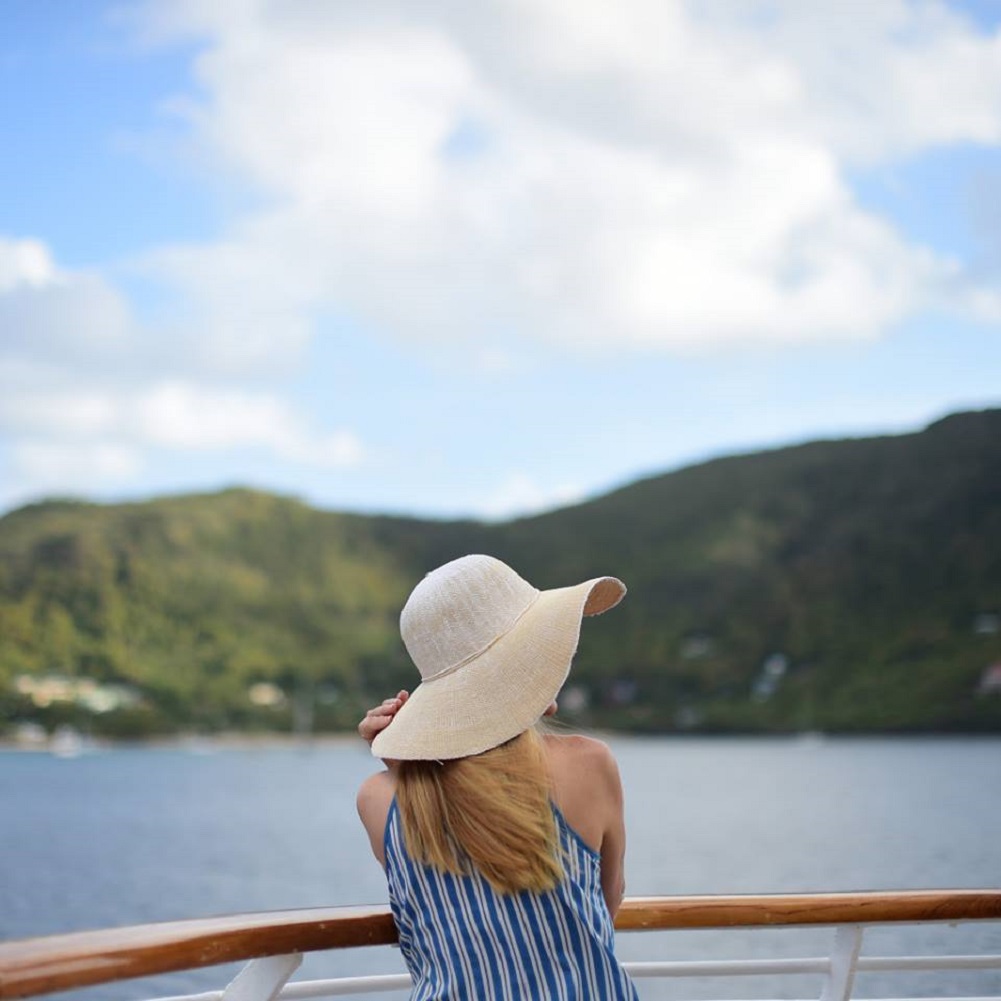 SeaDream has created a niche of travel experiences for a refined traveler who is looking for something a bit different. For the wine lover, the SeaDream's Wine Voyages provide wine tastings, the Winemaker's Dinner and Wine Land Adventures which are an exquisite way to learn about wines, the wineries and the region.  SeaDream provides an inspired travel experience with uncommon destinations to explore, gourmet dining, fabulous accommodations and service and a holiday that sure to be cherished for a lifetime.