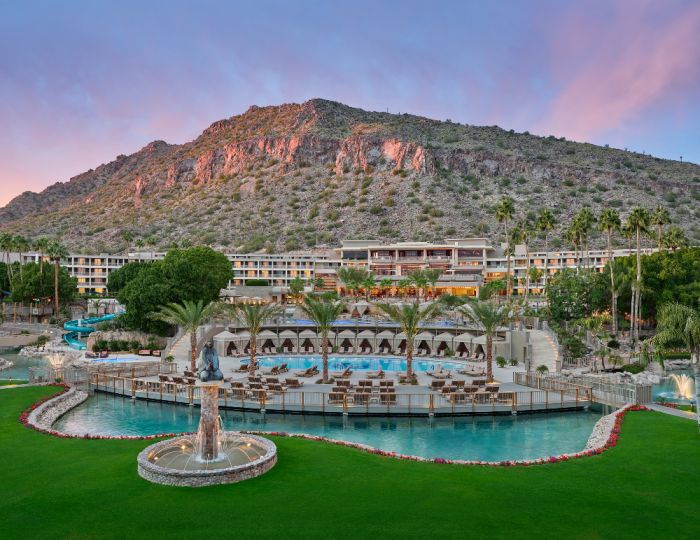 (credit: The Phoenician)
Offering three distinct experiences – The Phoenician, The Canyon Suites or The Phoenician Residences – The Phoenician, A Luxury Collection Resort, features 645 total accommodations across its 250-acre resort. After a recently completed three-year transformation, nearly every part of the property has been touched; with a guestroom re-design in summer 2016, public venues in summer 2017, along with its new Spa, Golf Course and Athletic Club in 2018. Following a short nine-mile ride from Phoenix Sky Harbor International Airport, guests walk through its grand entrance overlooking the remodeled Thirsty Camel Lounge and pool beyond to start their experience.
In the Main Building, 600 square-foot guestrooms feature warm tones resembling the surrounding Sonoran Desert, where guests can take advantage of the lanai decks and many other amenities. The one-and two-bedroom suites start at 1,200 square feet and offer sweeping views in The Canyon Suites – the boutique hotel on property – while the Casitas Suites feature hand-carved travertine fireplaces. For those feeling a bit presidential, the four Presidential Suites (two at The Phoenician Main Building and two at The Canyon Suites) are a stunning 4,000 square feet and are designed for royalty. From multiple balconies, an expansive living room, dining room and full-service kitchen, amenities at these suites also include a complimentary poolside cabana and roundtrip transportation to Phoenix Sky Harbor International Airport.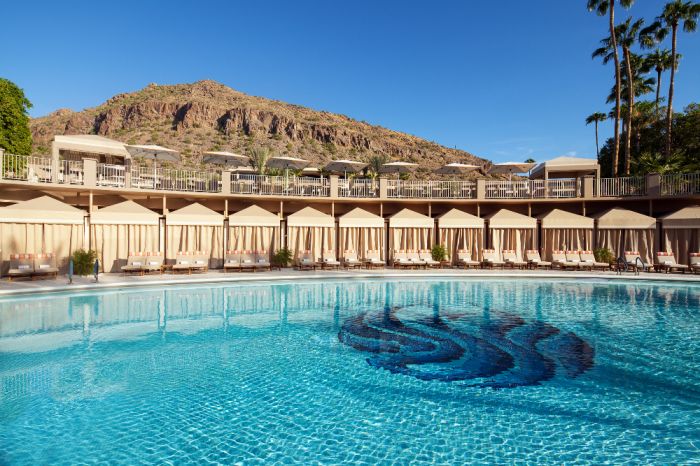 (credit: The Phoenician)
An alternative guest experience includes ThePhoenician Residences – a fractional ownership community consisting of two- and three-bedroom villas – which is located near the property's main entrance. When not in use by owners, the villas are open for nightly guest bookings. Visitors here also have access to all resort services and amenities, along with private plunge pools and spas, an outdoor kitchen with gas grills and more.
A sparkling oasis in the middle of the desert is afforded to guests at the enhanced pool complex. Featuring five pools, the three-tiered setting is highlighted by the hand-tiled Mother of Pearl pool on the lower level. With a center island offering reserved cabana and lounge seating for adults with an adult pool on one side; and family-friendly reserved seating with three recreational pools on the other; guests can relax and soak in the beautiful palm tree lined surroundings while children can also venture to the Kids Zone to enjoy the splash pad, treehouse and 197ft twisting waterslide. Featuring Mediterranean-inspired fare is the new bar & grill, Kalio Kabobery. For Canyon Suites guests, there is the Canyon Grill.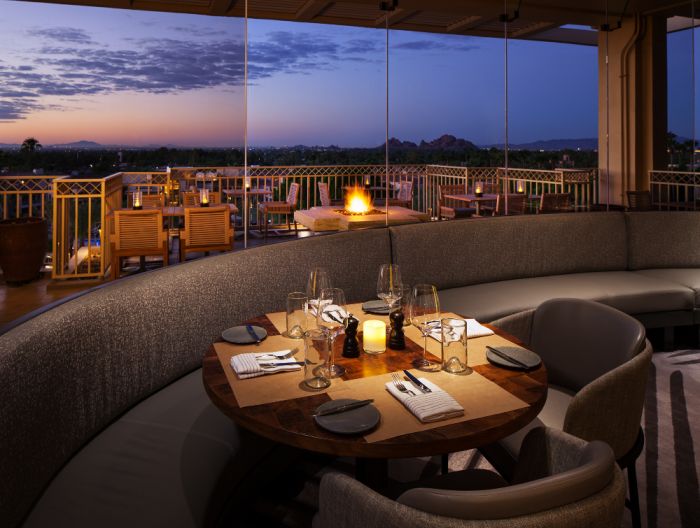 (credit: The Phoenician)
Along with poolside bites,The Phoenician presents numerous other food & beverage options, from casual to fine dining. Inspired by renowned Chef Jean-Georges Vongerichten, above on the fifth level, J&G Steakhouse features a seasonal menu of premium meats and select fish in its modernist designed interior and terrace overlooking the pools. Providing a dramatic setting for up to 12 guests, the Praying Monk is a working wine cellar and private dining venue located on the first floor with barrel-vaulted ceilings and European antiques.
For an everyday laid-back eatery, Mowry & Cotton features a bold menu of modern American cuisine and is open for breakfast, lunch, dinner and weekend brunch. In its redesigned lobby location, Afternoon Tea is served Tuesday-Sunday with seatings between 2-3pm, presenting a charming English tradition in an intimate setting. Located at The Shops at The Phoenician, The Marketplace is a European-style café serving a casual alternative during breakfast and lunch alongside hand-crafted confections, gelatos and specialty coffees featuring Fonte products. The Thirsty Camel invites guests to experience sweeping views of the resort and valley beyond with signature cocktails and Sonoran-inspired tastes while listening to live music. Just above the golf clubhouse, The Phoenician Tavern, which opened in March 2019, provides a variety of polished pub grub (think fish n chips and signature burgers) along with craft beers.  
(credit: The Phoenician)
After itscomplete redesign in 2018, The Phoenician Golf Club went from a 27-hole course to an 18-hole course showcasing the unique beauty of Arizona's Sonoran Desert. The course plays to a par 71 and offers five sets of player-friendly tees and when finished, players can grab a bite or cool down with a beverage at the 19thHole. The brand-new, bi-level Athletic Club features a 4,600sf fitness center with movement studio on the second floor, a game room and lifestyle shop on the ground floor, and outside – tennis and pickleball courts. Following a fun-filled and active day, make your way through the ornately carved doors of The Phoenician Spa to nourish your mind and body. With separate men's and women's locker rooms – each with a sauna, steam room and vitality pool which overlooks Camelback Mountain beyond – guests can book a wide range of spa services in one of the 24 treatment rooms. From the Aroma Design Bar to the Quiet Relaxation Room, the spa presents an authentic approach to renewal and overall well-being.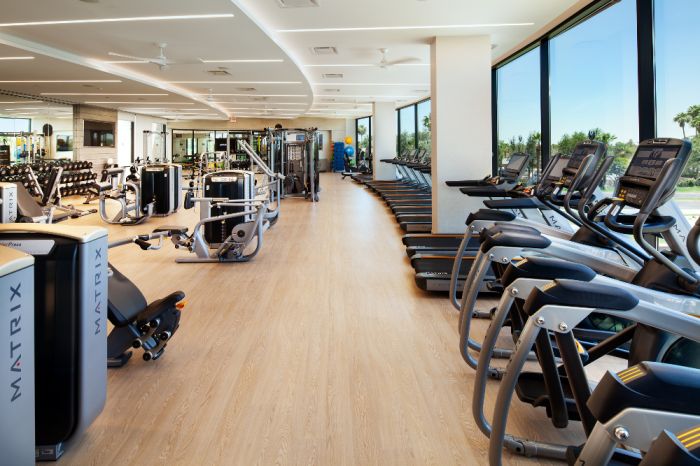 (credit: The Phoenician)
The Phoenician also offers a treasure-trove of signature recreational activities for guests to enjoy. From its Golf Course Safari, Guided Camelback Mountain Hike, two-acre Cactus Garden, Cocktail Mixology and more, guests can choose from these options or visit the Concierge Desk for a monthly list of special on-site and destination-related pursuits. The Shops at The Phoenician provides an enclave of boutique-style offerings featuring the latest fashions, logo apparel, athleisure wear and gifts.