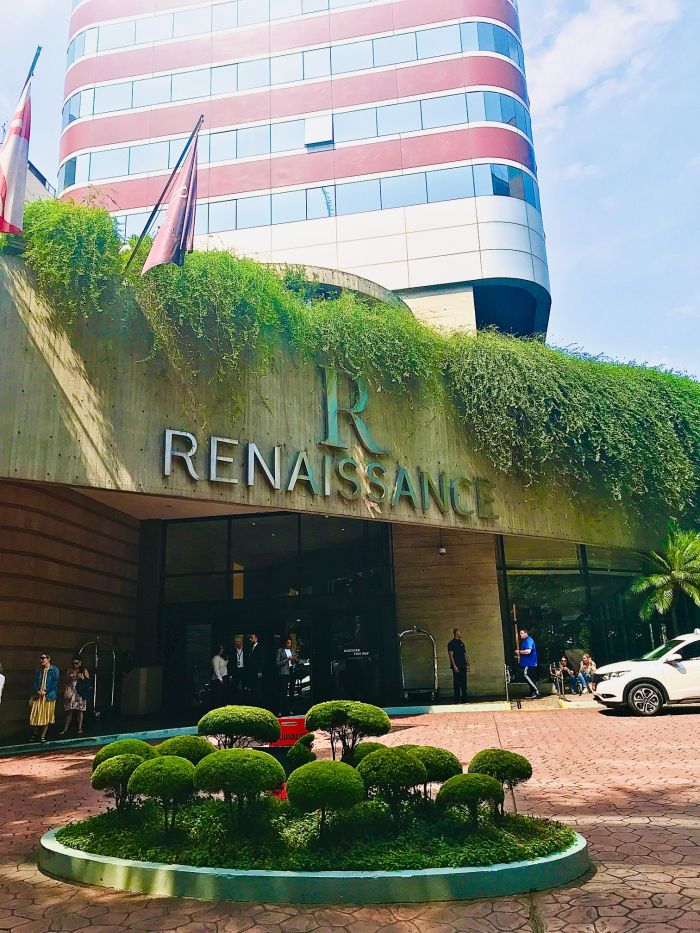 Jill Weinlein
Recently Brazil waived visa requirements for visiting citizens from the US, Australia, Canada and Japan, making it easier for tourists to spend the holidays and 2020 in São Paulo.
The Renaissance São Paulo Hotel offers an array of festivities during the holidays. Designed by famous architect Oscar Niemeyer and landscape designer Burle Marx, the iconic hotel is centrally located near the heart of the vibrant Ibirapuera Park, similar in size and beauty to New York's Central Park.
During the holiday season, a special package includes accommodations for two adults, a daily breakfast buffet with Brazilian specialties at Terraco Jardins, and a special Christmas Eve dinner with live music on Dec. 24. Guests have a choice of dinner at Espaco Havana or Terraco Jardins. Both offer an array of Sao Paulo favorites, plus beer, sparking wine, and special Brazilian wine caipirinhas.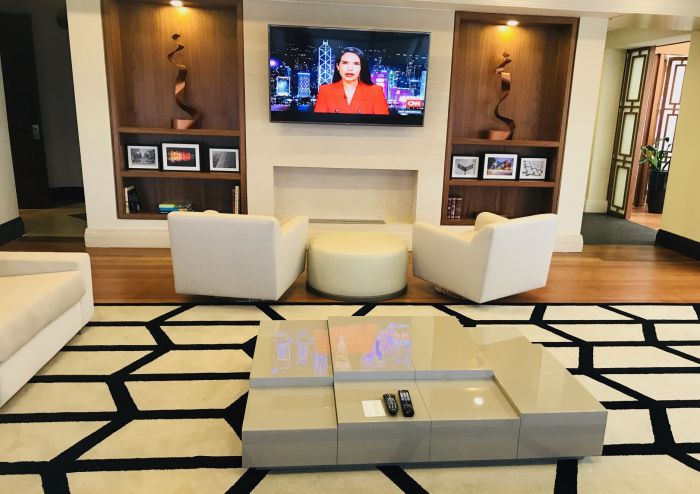 Jill Weinlein
Rooms range in size from a Deluxe with a king-size bed and city views, to Club Level Junior and Executive Suites. The most luxurious suite is the 3325 sq. ft., Presidential Suite. Every room offers city and expansive São Paulo views. Beds have a pillowtop mattress, featherbeds and high thread count duvet. The marble bathrooms have a bidet, seperate bathtub and shower.
In the Presidential Suite there is a formal living room with oversizes sofas, chairs and ottoman's in elegant white and black decor. The separate dining room comfortably seats 8 to 10 guests. There is an office with a desk and ergonomic chair.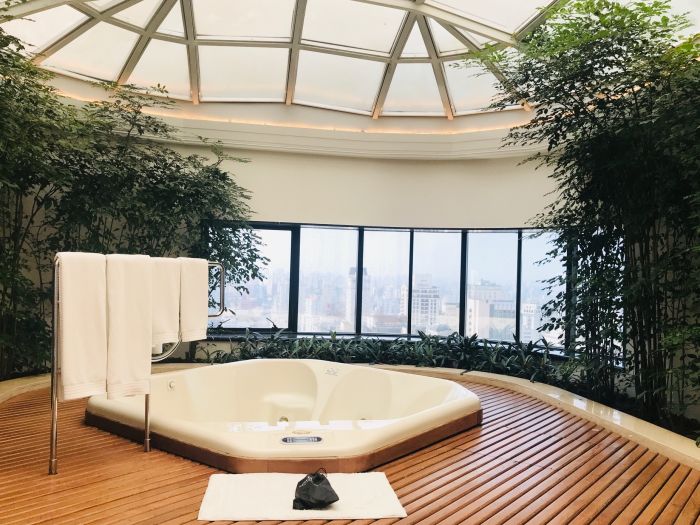 Jill Weinlein
What makes this suite extra special is a private massage table with its own bathroom and doorway leading into a private gym. After a day of shopping and exploring the city, guests return to relax in their own private Solarium. In the center of the room is a large soaking Jacuzzi tub in among greenery and wood decking. The glass floor to ceiling windows overlooks the lively city. 
The suite also offers walk in closets with robes and slippers provided to guests.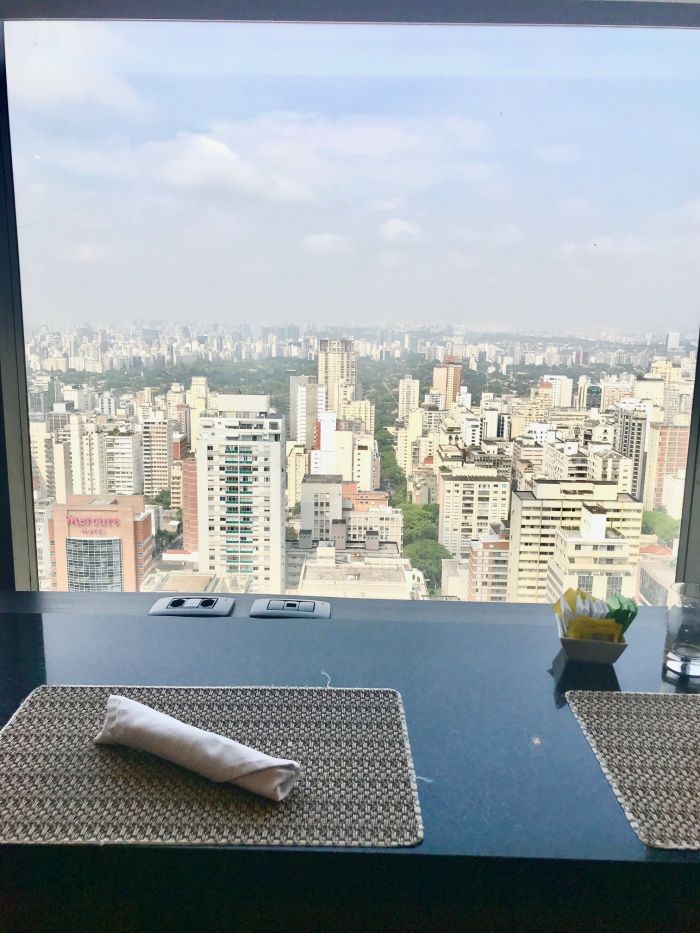 Jill Weinlein
Located on the 23rd floor, the private access Club Lounge allows hotel guests to relax and unwind while enjoying complimentary breakfast, midday snacks, afternoon tea, hors d'oeuvres, desserts, late night snacks, cocktails, beer and wine. There is a kitchen, meeting rooms and a business center in this luxury lounge.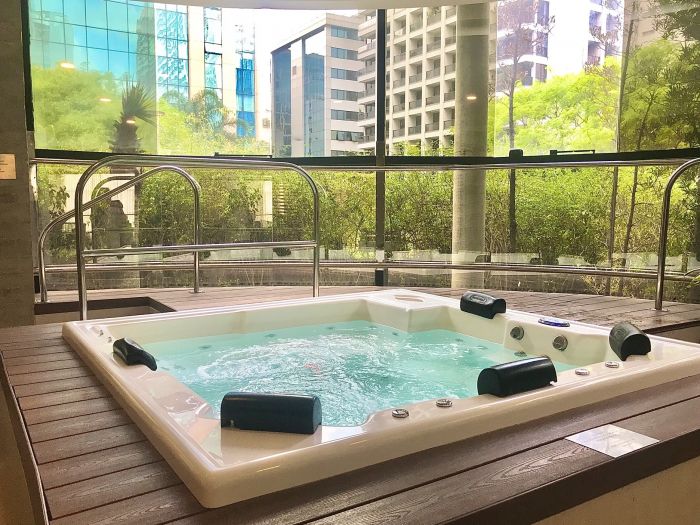 Jill Weinlein
Spend time inside The Spa inside the hotel's ZenZone. Start with a cup of chamomile tea in a ceramic cup, with a bite sized lemon cake and iced washcloth. The mutli-sensory luxury spa offers 10 massage and treatment rooms, men and women's locker rooms, a serene relaxation area, indoor whirlpool tub, dry and wet sauna. Visit the almost 3,000 sq. ft., fitness center offering an array of equipment, water, earphones, fresh fruit and towels for guests.
It's an ideal spot to visit before or after a flight to receive the best elements of Brazil to detox, rejuvenate and surrender into a peaceful bliss.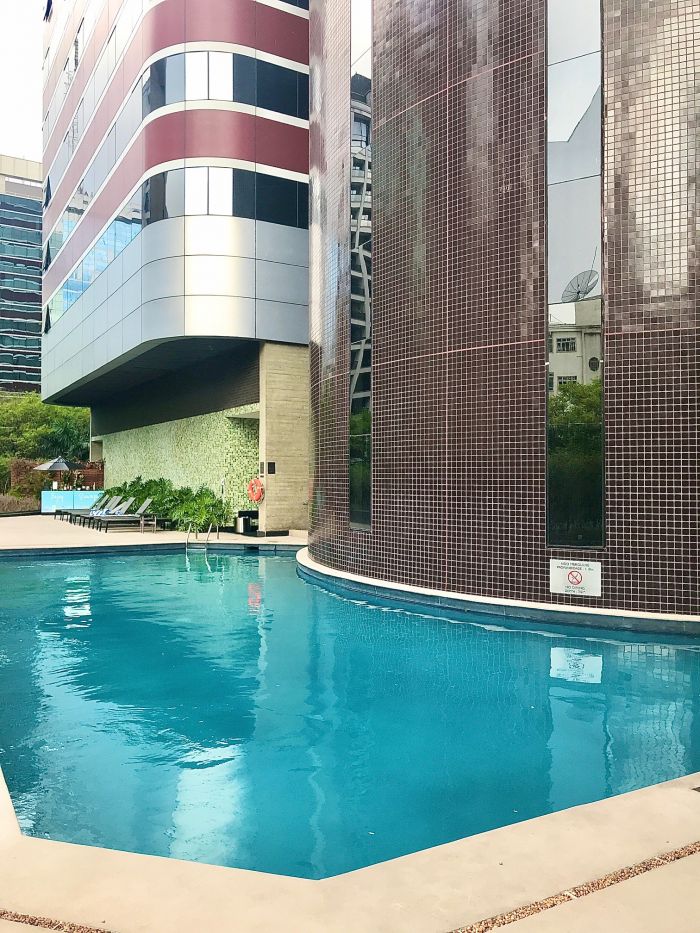 Jill Weinlein
Spa guests have access to the innovative designed outdoor heated swimming pool and deck area. Besides an array of lounge chairs, there are sunbeds, umbrellas and plush towels.
Nearby BYTES Cafe offers quick, light and nutritious food with fresh ingredients to appeal to all dietary requirements. They make low carb, low sugar, gluten free, lactose-free, high protein and organic items to be enjoyed throughout the hotel.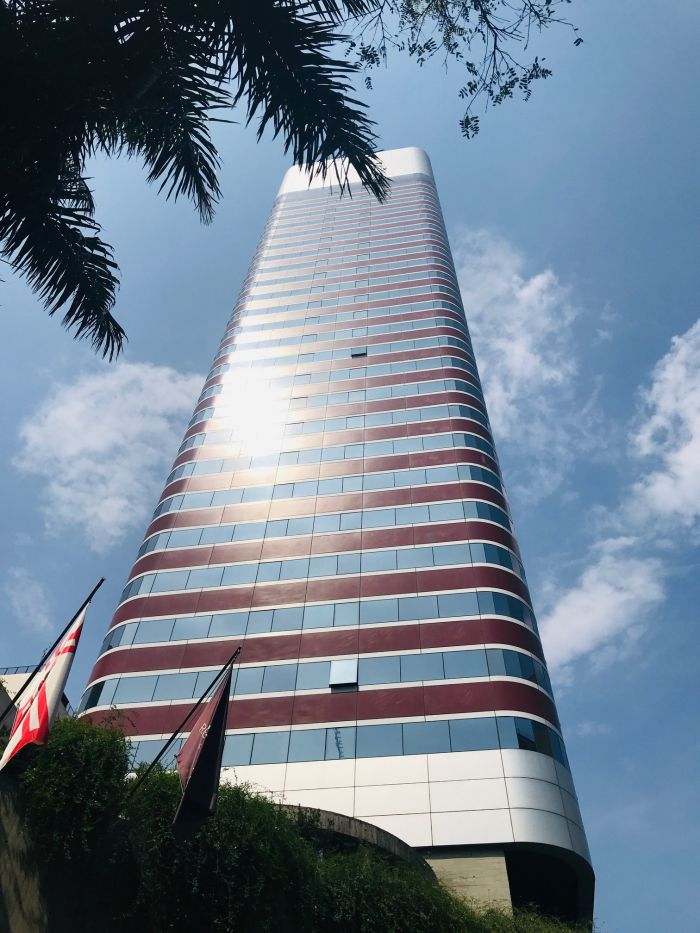 Jill Weinlein
The Renaissance Sao Paulo also has a lively bar area in the lobby. Mixologists will be making festive cocktails to toast to the holidays. In the evening they offer a special reception with a complimentary beverage for guests to enjoy in the Living Lounge & Sushi bar.
Renaissance is part of Marriott International and Marriott Bonvoy.