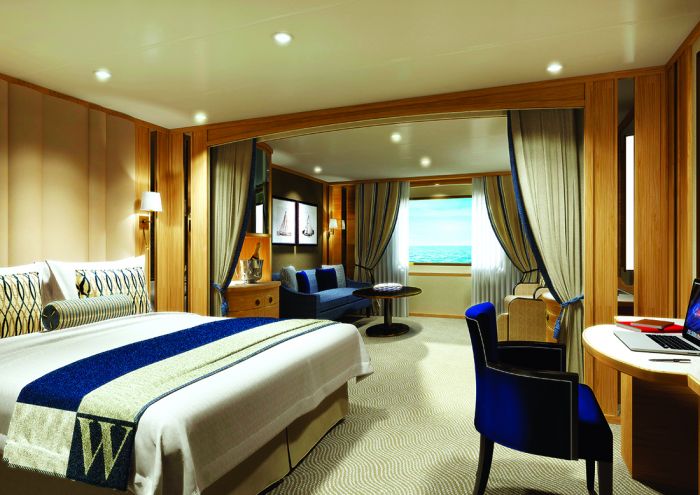 Courtesy of Windstar
The crisp, cold air greeted us as we arrived in Reykjavik, the clouds low and threatening to rain. As we made our way down to the dock, Iceland started to reveal itself to us: black, craggy lava rocks covered in vibrant, green moss. The Star Pride awaited patiently in the water, our adventure was about to begin.
Stick with me: there's a lot of nautical miles covered in this luxury journey.
I had never done a transatlantic crossing and was excited for the 15-day itinerary. Sealing the deal in my excitement was boarding for the first time and seeing my room, my home for the next couple of weeks. A well-appointed cabin, ample closet space, sliding doors for fresh air to my balcony, and comfortable sleeping and lounge space instantly made any apprehension from previous cruises (and watching the movie Brooklyn) with cramped quarters evaporate. I took a deep, happy and relieved breath, settled in and started to unpack my delivered bags. 
Journeys of the North Atlantic with Windstar began in Reykjavik, then sailed north to Grundarfjordur, followed by a stop at Heimaey Island. Crossing the Atlantic, the remainder of the cruise included scheduled ports of call at St John's, St Anthony Red Bay, Woody Point, Newfoundland; Halifax, Nova Scotia; Bar Harbor, Maine, and finally ending in New York City, NY. A staggering amount of stops to extremely interesting places.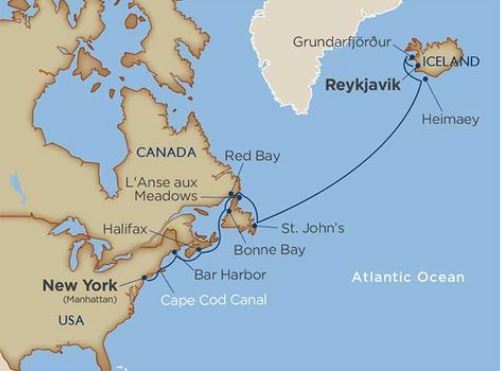 With marketing materials that suggest Windstar is "not the cruise line for everyone" I was at first was put off by the message. Now having experienced it, it's true; it's not for everyone. If you are looking for big, Broadway-style shows, thousands of fellow passengers and troughs of food with endless buffets open 24-hours, a large cruise liner is a better answer for you. You won't find a zipline past your guest room or a greasy, themed burger joint on Windstar ships. For me, I was enchanted by the bespoke experiences, smaller and more intimate ship which allowed for first-name service with the staff, getting to know fellow travelers and exploring ports that the large superliners cannot navigate. Having the lounge singer greet you by name and sing a song for a couple celebrating their anniversary as they slow danced on a starlit dance floor in the middle of the Atlantic all contributed to having this cruise "be the one for me." 
The Star Pride is one of the motored vessels in the fleet, versus the sailing ships the brand is also known for. The navigable design of the ship allows quick access to lounges, dining, a spa, decks galore, and outdoor bar (a perfect vantage point to view arrivals and departures of ports). Housekeeping services on the ship were quite sly, my room made up quickly and efficiently.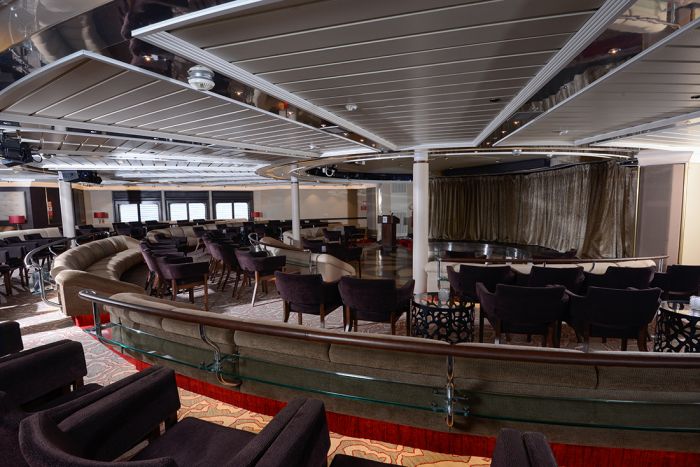 Chad Chisholm
The Lounge, where educational programs, entertainment, and shore excursion updates happen.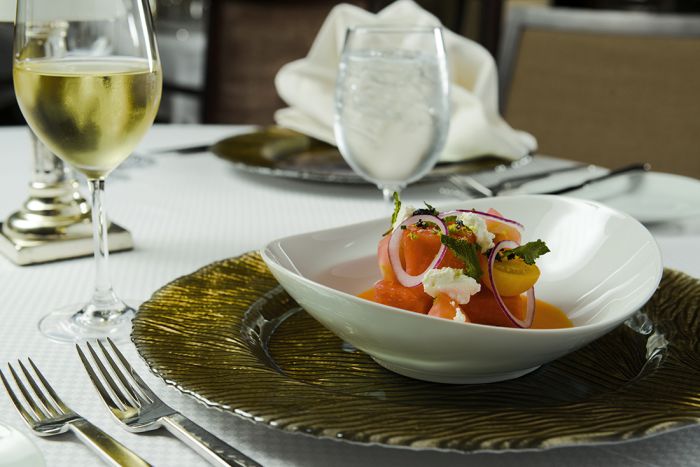 Tomato and watermelon salad with ricotta cheese, red onion, mint, oil-cured olives and tomato-sherry vinaigrette created by Chef Annie Pettry.
Dining aboard is unlike the pre-determined dining times on larger ships, with a few options available. My favorite was the dining room, which did not require reservations and had the option of sitting with your cabin mate or integrating into larger tables of fellow travelers. James Beard Award winning chefs' creations pepper the menu with unique and varying offerings nightly. 
The shore excursions include an excellent briefing on the offerings for the personalized, smaller itineraries prior to the ports of call. Specializing in the local culture and offerings, the carefully selected itineraries are a great way to make the most of time on shore and can be booked onboard easily at the shore excursions desk. 
Also of note on Windstar Cruises is the high staff-to-guest ratio of 1.5 guests per 1 staff, which lends itself to a high-touch level of service and personalization. 
First stop: Grundarfjordur 
Try saying that three times fast. Or after a Reyka Vodka cocktail. Arriving to Grundarfjordur, I already knew we were in for a treat. The West Iceland location is familiar to fans of Game of Thrones, where scenes were shot for the epic HBO series and is home to one of the most photographed and filmed mountains in the country. Waterfalls cascade from the surrounding peaks and the nearby landscape begs to be explored.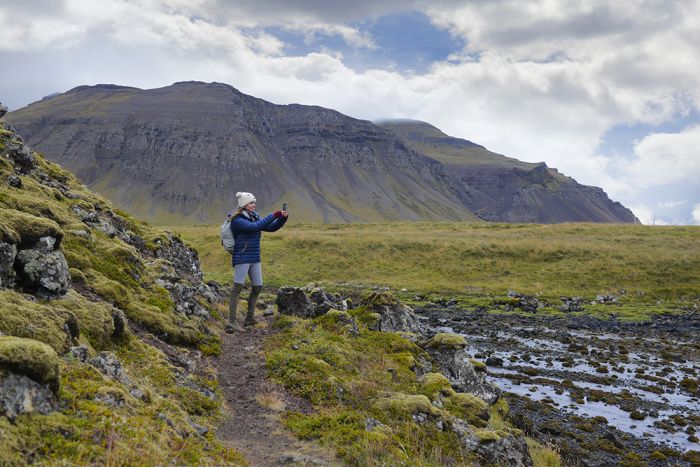 The scenic hike made for breathtaking vistas in Iceland. Chad Chisholm
Stunning waterfalls in Iceland: Chad Chisholm
Opting for the Berserker Lava Field hike excursion, our local guides explained the story of a berserker warrior who fell in love with a local farmer's daughter. Figuring he could rid himself of the suitor, the farmer promised his daughter's hand if the berserker cleared a road through the lava field (thought to be an impossible task). Completing the road, the farmer was then faced with having to honor his side of the deal, but instead killed the berserker and his compatriot who helped clear the road. Locals thought it was an urban legend, until the ancient remains of the two men were found on this scenic trail. Far from the grisly tale of murder in the lava field, the hike meanders the beautiful coastline and ends with a trip to a waterfall, a wonderful way to see some of the countryside before heading back to the ship.
Heimaey
My favorite spot: the island of Heimaey. Off the south coast, this picturesque destination is home to emerald islands poking out of the ocean, puffins roosting on the cliff faces, a golf course and walkable town. A volcanic eruption in 1973 almost destroyed the population of the island, but stormy weather the day before had all fishing vessels in the harbor, saving the entire populace of Heimaey and expanding the footprint of the island with flowing lava into the surrounding waters. 

Heimaey is breathtakingly beautiful. Chad Chisholm
A Ribsafari boat tour is an excellent way to see the island in a one or two hour excursion. Adrenaline-inducing RIB speedboats jet around the island with music booming in a literal soundtrack to the tour. See the beluga sanctuary (previous home of Keiko of Free Willyfame), puffins, caves and lava flows from a unique perspective.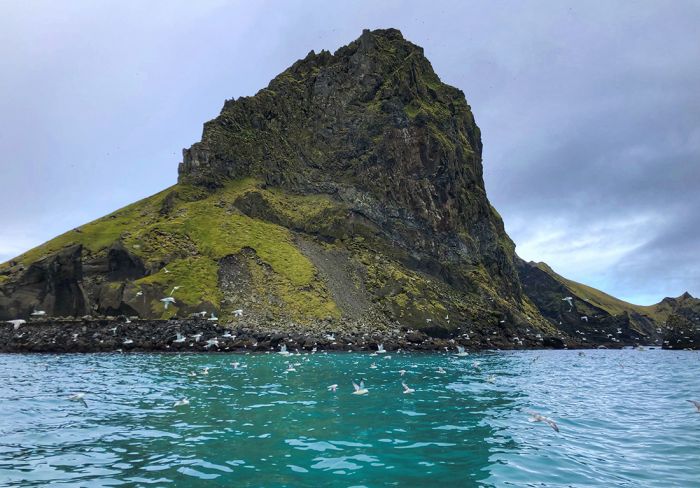 The shore from our RIB speedboat tour. Chad Chisholm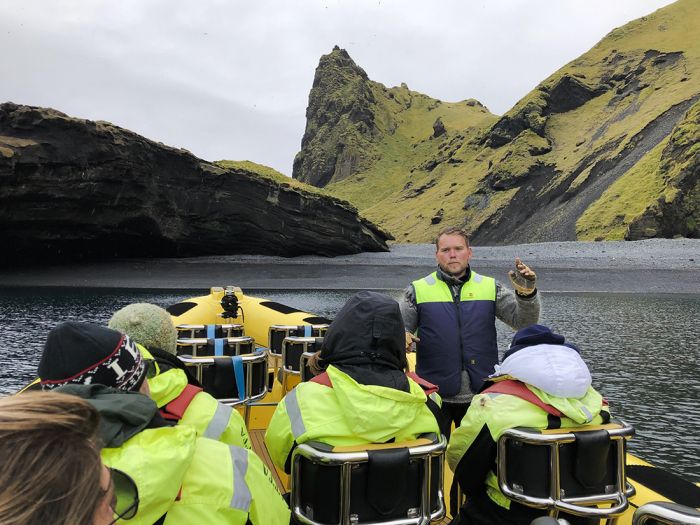 Our tour guide explaining the local area in Heimaey.Chad Chisholm
The crossing
The transatlantic crossing wasn't as bad as I thought it might be in a smaller ship. Sure, there were swells but they were manageable. Onboard activities, games, entertainment, and in-room TV or DVDs from the media library kept everyone amused.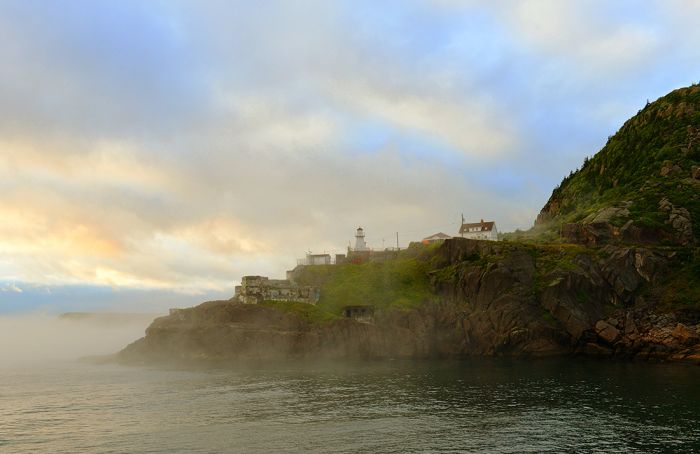 Land ho! Our first glimpse of Newfoundland after the transatlantic crossing: Chad Chisholm
Newfoundland
Seeing dry land again after three days was a welcome experience. Puffin watching aboard a small boat with a singing tour guide, meandering the streets of St John's (where, if you have the opportunity, I highly suggest a fish and chips from The Duke of Duckworth), and brightly-colored homes cling to the hillsides for a picture-perfect city. The quaint towns and harbors a charming setting and perfect re-entry to terra firma. Kristina even found a Newfoundland dog to pet while visiting.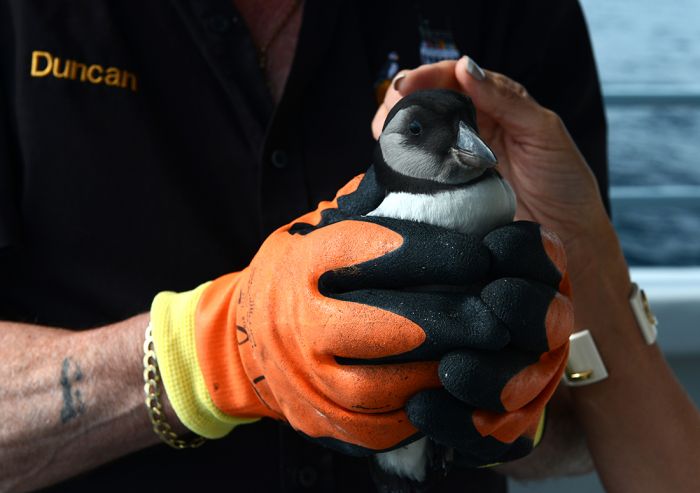 Chad Chisholm
Young puffins, or pufflings, sometimes get lost and are returned to sea. This puffling was released from our boat back home. 
Watching puffins on the cliffs from our sightseeing boat: Chad Chisholm
Hurricane- it happens
Hurricane Dorian was roaring its way through the Caribbean while we were crossing the Atlantic; charging up the coast and lessening to a smaller, tropical storm by the time we were to be face-to-face with the weather event. 
Here's what I took away from the occasion: it's much better to be in a safe port than out at sea in a tropical storm or hurricane. Some disgruntled passengers were sad to not be able to experience the ports of call we'd miss in taking this precautionary approach, but I give major props to the staff and crew aboard the Star Pride. Furthermore, I believe it is a testament to boutique cruising as they were able to pivot and create brand new itineraries and shore excursions working with the weather that was beyond their control. The cruise director was able to not only pull from his expansive knowledge of the local areas and ports that we would now be visiting, but having personal relationships with tour companies to book last-minute shore excursions for the guests. Hats off to the entire staff, and well done.
New plan: St John's and Saint John
Two different places, who knew? Saint John is where we docked to wait out the storm. A torrential downpour didn't stop us from taking a walking tour of the city and enjoying the local indoor market. Braving some gusty winds, we also got to enjoy some Thai cuisine near to the dock. The following morning, as the storm passed, we were greeted with blue skies and a photography tour of the area.
Bar Harbor, Maine
I had lobster on the mind as we anchored at Bar Harbor. The tinder boat ferrying us in to an adorable dock where we boarded a tour bus. Getting the local history from our guide, our bus took us up Mt Cadillac to take in the panoramic view of the bay below. Following a lobster boil lunch, we continued through the area with tales of millionaires such as the Cornelius Vanderbilt, JP Morgan, and John D Rockefeller, from a bygone era and the history of the carriage roads that were part of a land donation from Rockefeller and still in use today. Modern celebrates such as Martha Stewart and J.J. Abrams have homes on the island and frequent the area.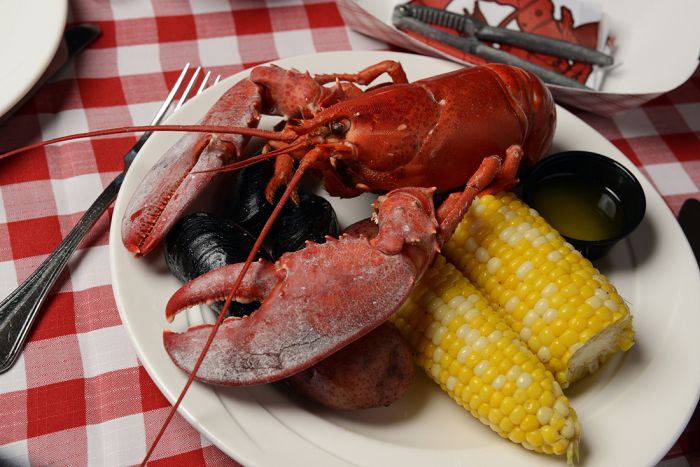 Chad Chisholm
Our lunch during the lobster boil in Bar Harbor.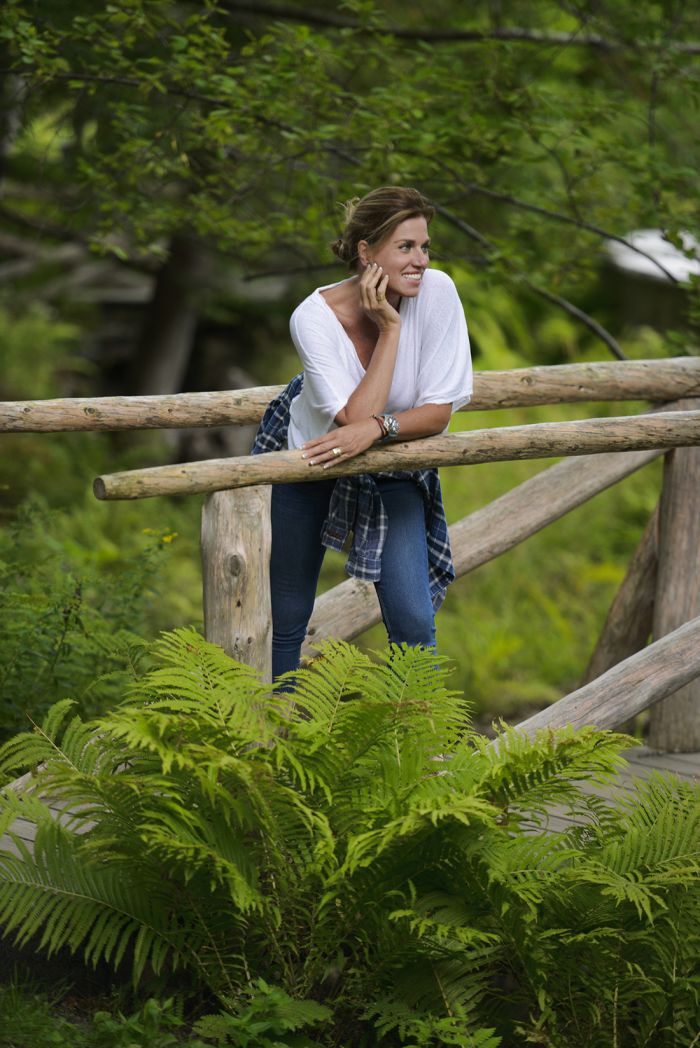 Acadia National Park: Chad Chisholm
Exploring Acadia National Park, the forested area brings a sense of peace and quiet to the soul. Birds chirping, the ocean crashing against the rocks below, the area fairly uncrowded and serene; this is a far cry from a cattle call experience on popular cruise destinations. Taking a deep breath of fresh coastal air and listening to the crunch of leaves underfoot, the tour reenergized me through a full day in nature and hidden spots I never would have been able to find myself.
Portland, Maine
One of the unexpected stops and now on our new itinerary: Portland, Maine.  The cute coastal town affords visitors shopping opportunities and some excellent dining. Taking a quick lighthouse tour in the morning, we took to the cobbled streets for the afternoon, where we discovered one of the best brown butter lobster rolls I've ever had at Eventide Oyster Company. So impressed with the rolls, clam chowder and fresh oysters, we made reservations for dinner at the adjacent sister restaurant, Hugo's, were we were treated to fresh, foraged, amazing fare as well.
Final stretch
Navigating the Cape Cod Canal, which I'm embarrassed to say I had no idea was in existence, our final stretch to New York was bittersweet; having spent over two weeks aboard, the ship had begun to feel like home. A crew talent show only further showed how everyone had gotten close to their new friends, guests cheering on their bartenders, housekeeping, spa and deck staff as they dazzled the lounge with unknown talents of dancing, playing instruments and a vocalist tackling Whitney Houston and Lady Gaga tunes in one fell swoop.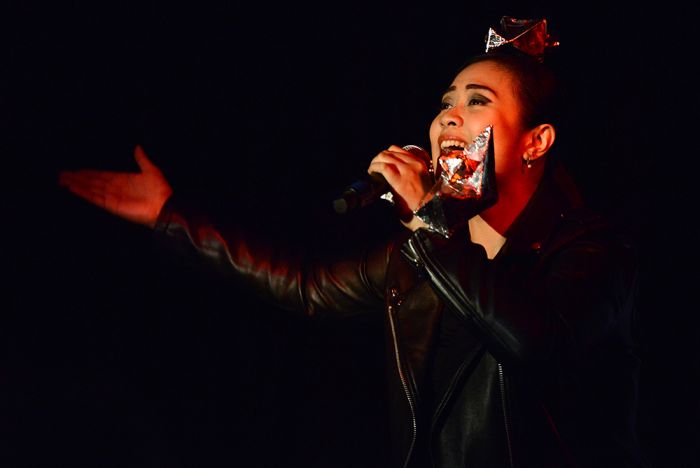 The staff talent show showed off incredible hidden talents of the crew
While some cruise goers arranged to stay on for the next leg, the majority of the passengers disembarked in New York. After sailing by the Statue of Liberty, enjoying one last breakfast and mimosa on deck, and taking in the Manhattan Skyline from the unique vantage point on the water, we all said our goodbyes and arranged for our luggage at the port. A wonderful dream aboard a robust vessel, our group of travelers had traversed seven different ports of call in our 15 days together. Something I won't soon forget as an excellent experience. To book your own Windstar Cruise, visit www.windstarcruises.com with itineraries offered around the globe. 
On the horizon
 The Star Pride is undergoing a major renovation, emerging in 2020 with two new restaurants, 50 new suites, all-new bathrooms, a new spa and fitness center and more eco-friendly engines that allow even more maneuverability. The over $250 million Star Plus Initiative will insert 84 feet to the midsection of the ship, joining its sister ships Star Breeze and Star Legend in offering the guests even more of what they love about Windstar.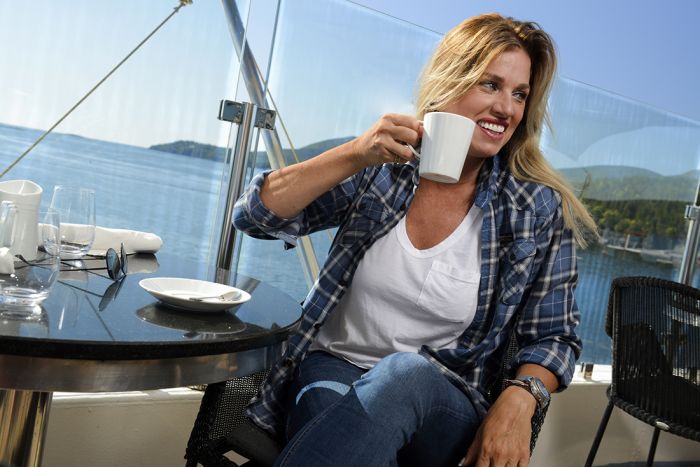 Catching some coffee and sun on the deck before heading ashore
What to wear
Unlike other cruise lines that have formal nights, themed conga lines, etc, Windstar has a much more lax and approachable dress code. Yachtwear and appropriate shoes, semi formal dinner wear and appropriate shore excursion clothing options are all you really need to bring. I highly suggest the laundry service, which was quick, efficient and dependable. 
JustLuxe insider tips
Purchase a Captain's Exclusive Package, which includes unlimited cocktails, unlimited WiFi, laundry service, and gratuities.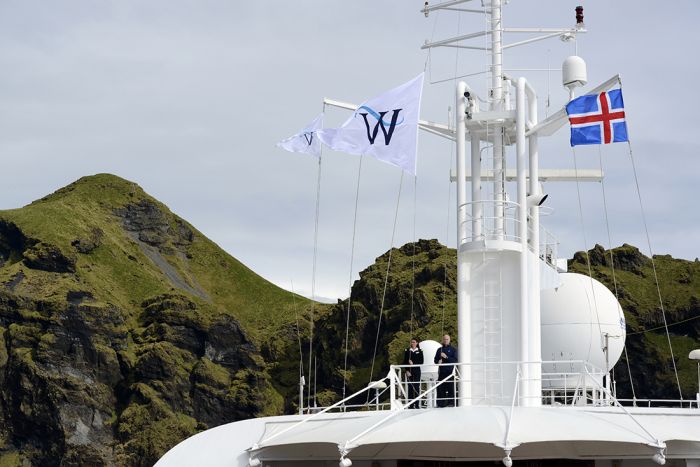 Chad Chisholm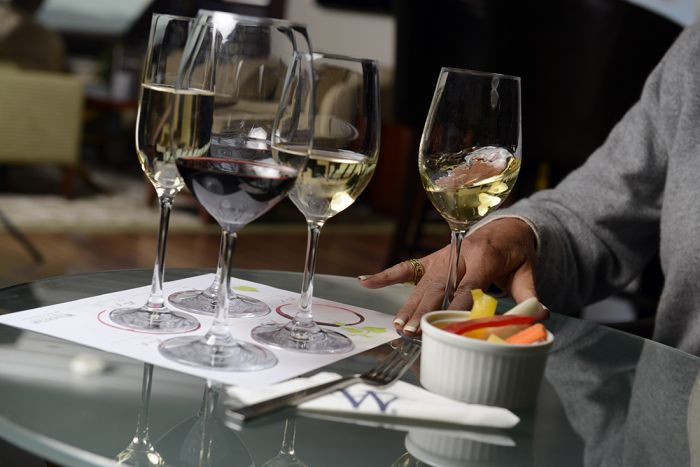 Chad Chisholm
A wine tasting on board took guests on a specatuclar wine journey.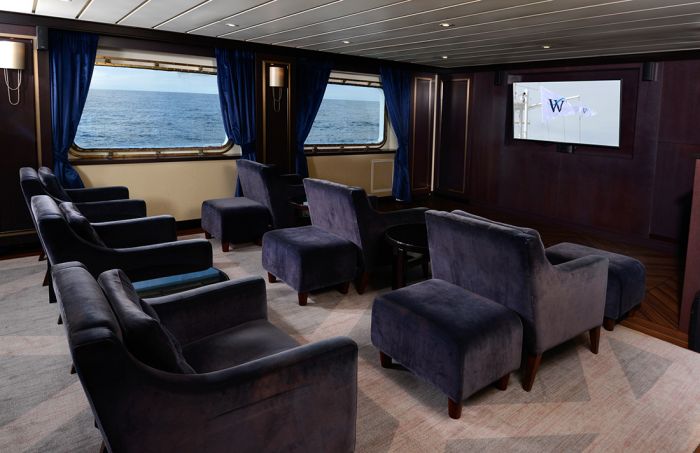 Chad Chisholm
The Screening Room where movies can be enjoyed, as well as a game of chess.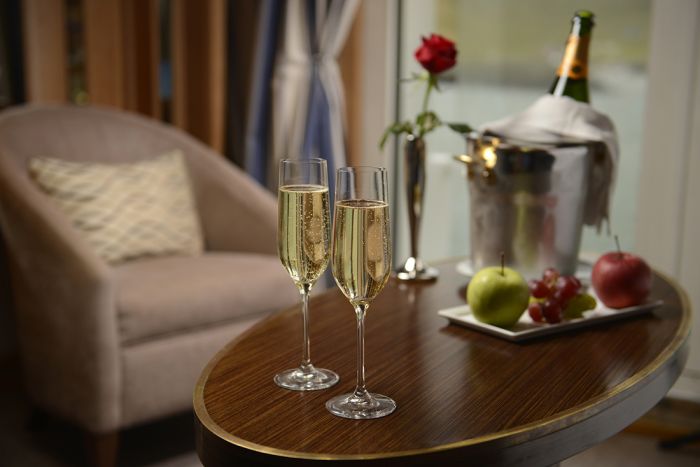 Chad Chisholm
Whether enjoying the shore or your cabin, there is plenty to experience.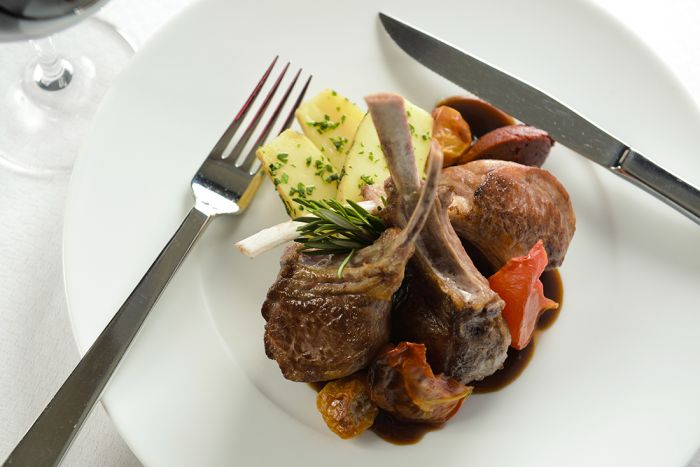 Chad Chisholm
Mouth-watering dishes abord the ship.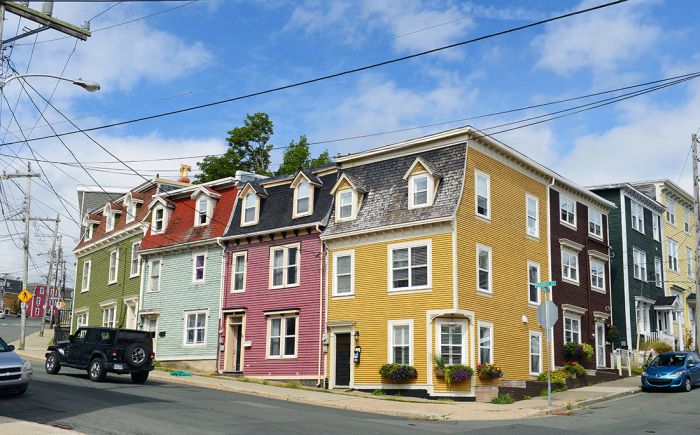 Chad Chisholm
Cherrful houses and buildings in Newfoundland.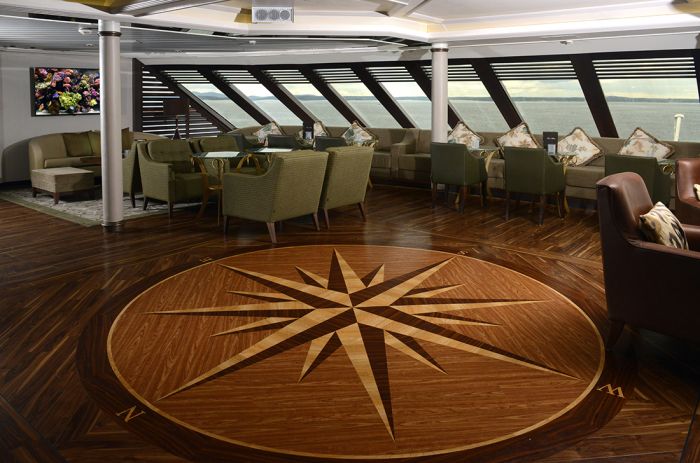 Chad Chisholm
Compass Rose lounge, a perfect spot for reading, playing cards, or enjoying live entertainment at night.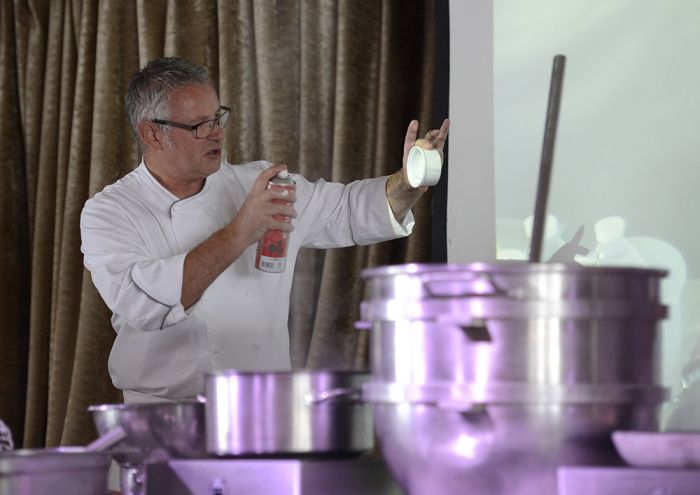 Chad Chisholm
Corporate Exective Chef Graeme Cockburn shows guests how to make the perfect souffle.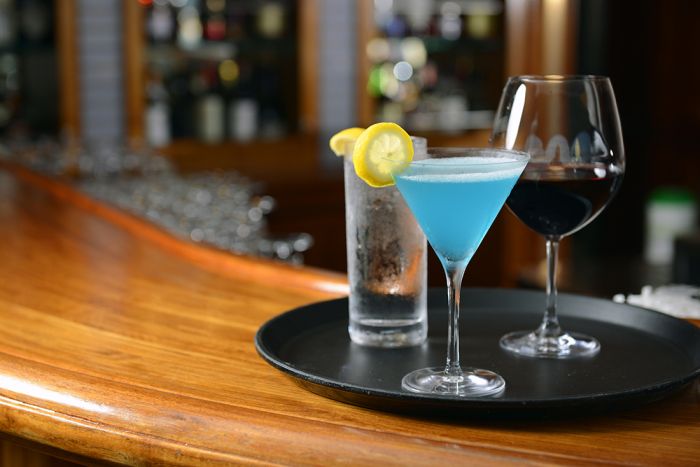 Chad Chisholm
Enjoy a Captain's Exclusive Package for cocktails on board.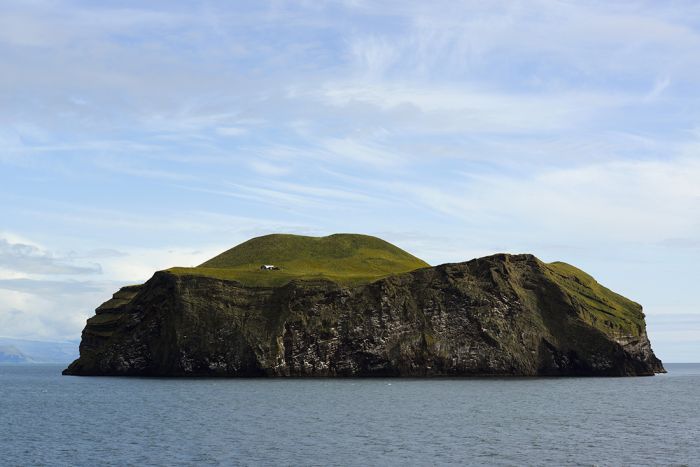 Chad Chisholm
Stunning views from the ship afforded by the smaller ports and unique experiences of boutique cruise ships.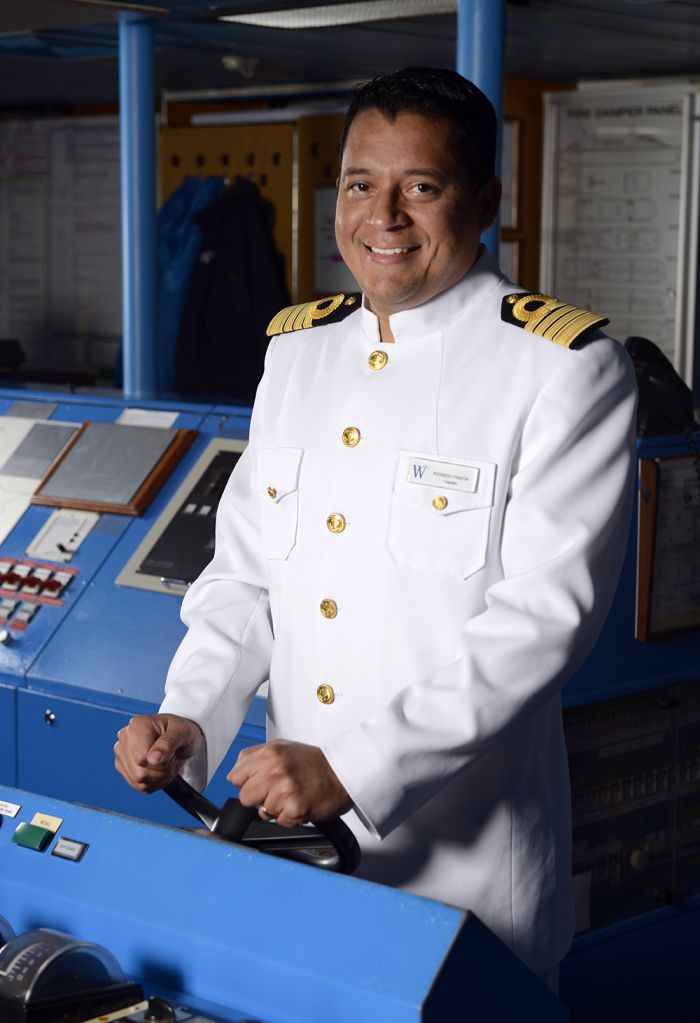 Chad Chisholm
Captain Ricardo Pinzon of the Star Pride.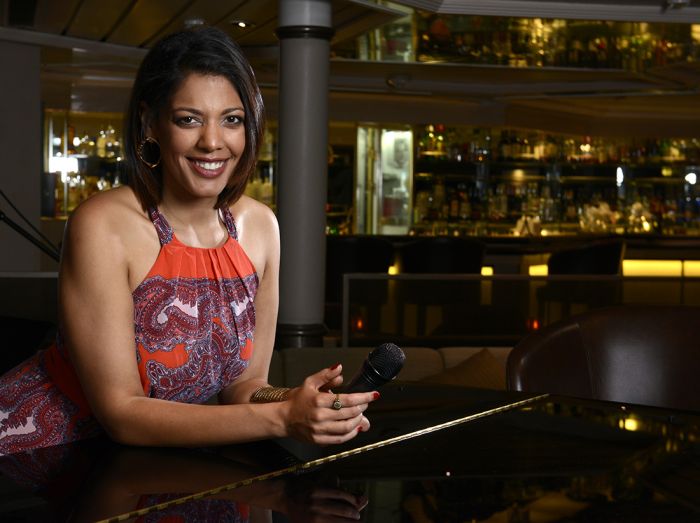 Chad Chisholm
Vocalist Megan Francis enchants audiences with her dynamic voice across the globe.