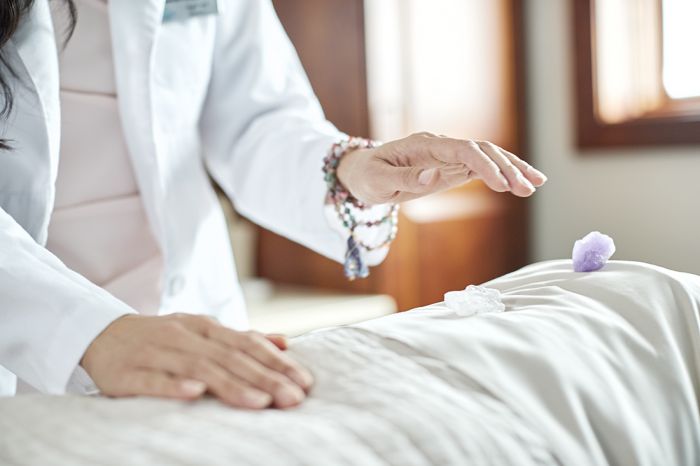 Photos Courtesy of Garden of the Gods Resort and Club
Sometimes you need to take a deep breath and relax. Sometimes you need an entire weekend to get your head on straight through mindfulness, meditation, spa-going and healthy eating. For the latter, head to Garden of the Gods Resort and Club in Colorado Springs, Colorado. Attending a Mindfulness for Men retreat, I emerged anew, with some unexpected life-changing practices that I will forever be grateful for.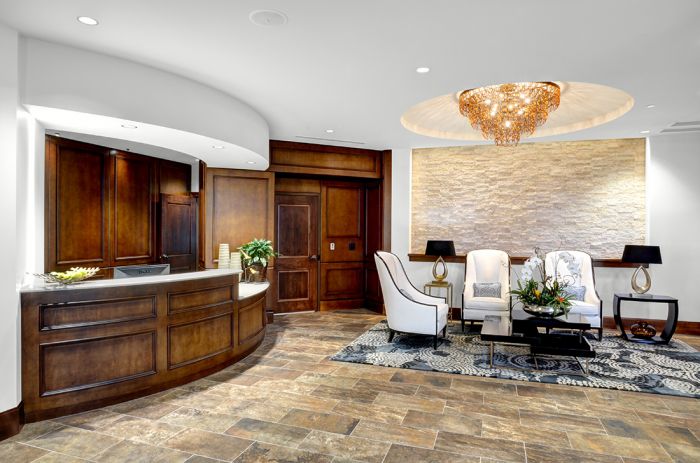 Courtesy of Garden of the Gods Resort and Club
I know that's a grand exclamation, but it is true. From literally learning how to walk and eat mindfully, to an extended meditation and energy work, the practices learned through my weekend will eventually change my path of wellness. Integrated with the offerings at the Strata Wellness Center, the Garden of the Gods Resort and Club is so much more than a charming luxury resort with unparalleled views of the Garden of the Gods Park, a National Natural Landmark. 
First up on our retreat was a visit with Ron Apgar, LPC, CEAP "The Blank Canvas" roundtable where we discussed self-growth through creativity, self-awareness and getting beyond the blocks from everyday life. Channeling the creative impulse, Apgar, an artist himself, typically will have a canvas for participants to emote on during the session, engaging in creative expression and uncovering creative shifts. The Blank Canvas is a metaphor for the self, helping to recognize the inner creation versus the changing of externals around the individual. Thought provoking and approachable, the session was not only interesting but inspiring and sparked creative consideration.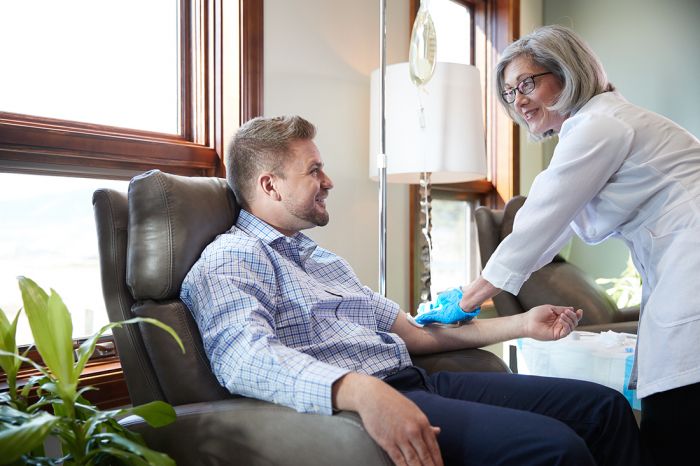 The Strata Integrated Wellness Spa is a marvel in integrated services.
The Strata Integrated Wellness Spa is a marvel in integrated services. Upstairs the well-appointed spa and friendly staff welcome guests to a plethora of services. Booked for a Strata Signature Massage, I was guided into the locker room where a Himalayan sea salt sauna is not to be missed and steam room highly recommended before any treatment to gain additional benefits and relax the mind. The massage was excellent and a wonderful way to usher in a weekend of wellness. 
The following morning, the day of mindfulness began with Charlene M Wang, MS, RD, CHC, CHTP, a registered dietician and energy practitioner. Here's where I started to get excited about the workshop: a vow of silence for the duration of the program and reflective journaling after each of the stages. There weren't going to be any trust falls, or deep eye connections, or humming with your neighbor; it truly was about discovering what was within.
First learning how to mindfully walk outside led to a meditation in nature in silence, walking heel to toe in an unconnected circle with fellow participants. Returning to the room for a guided meditation and singing bowls, the palatable calm and introspection with a still mind were almost shocking. Diving deeper into meditation, aligning chakras and experiencing stillness in the comfortable setting truly allowed all those in attendance to be in the moment.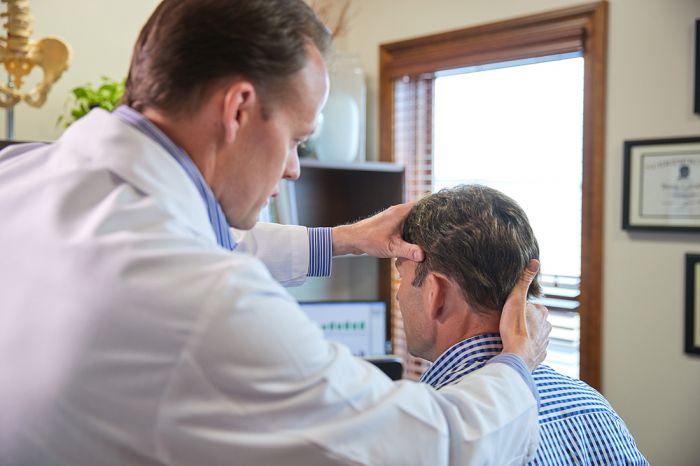 A multitude of health and wellness services are offered
Following a lengthy guided meditation practice, next up was mindfully eating. Mindfully eating? "I know how to eat!" I thought to myself. Turns out, I don't or I did and I had forgotten in a world of rushing to the next thing, holding conversation or playing with my phone during a meal. 
Organic, local foods were prepared and served. Even attentively pouring our sparkling water, tasting the flavors and experiencing the bubbles were all incorporated into slowing down and experiencing food as the nourishing essence for which it was intended.  As a food and travel writer, it really made me re-assess how I approach the food I report on, the sustenance and all those who are involved with getting said food from the earth to the plate and the skills each step of that process requires. Chewing until the vegan meal was almost liquid in our mouths (25-30 chews a bite!) the resulting proper and undistracted way of eating allowed for our bodies to let us know when full, instead of a visual cue of an empty plate.
Following an extremely satisfying session of mindfulness, the vow was broken and we could visit about our experiences: what we enjoyed, what we struggled with. The other men in the group had a wide array of familiarities and histories with meditation and what I found fascinating and simultaneously rewarding was a group of men being vulnerable, inquisitive, and open about their experience that day. It was honest, heartfelt and unadulterated; a space not readily available to me—or culturally encouraged to step into a susceptible space that required leaving ego, sports, machismo and emotional isolation at the door. 
The next stop on my day was acupuncture at Strata with Kelli N Miller, Lac, DiplAc, MSOM, MSPSY. After visiting about my health history we went straight to the needles, acupuncture and acupressure for some of my symptoms. Familiar with acupuncture before this treatment, I was reminded of how helpful the procedure can be, alleviating some lingering back pain and leaving me feeling more attuned. 
Continuing my alignment for the day, back to Charlene M Wang for some energy work; she pointed out areas right away to work through. I was amazed. Wang is a Healing Touch Energy Medicine Level V, and I'm a true believer. Healing Touch, or HT, is a nurturing energy incorporating gentle and intentional touch. Wang's expertise helps to balance emotional, mental, and spiritual well-being through her noninvasive technique. Feeling lighter, taller, and overall brighter after my session, the remainder of the day was copious amounts of water and a healthy dinner at The Rocks Bar & Lounge, and an early night of deep, restorative sleep.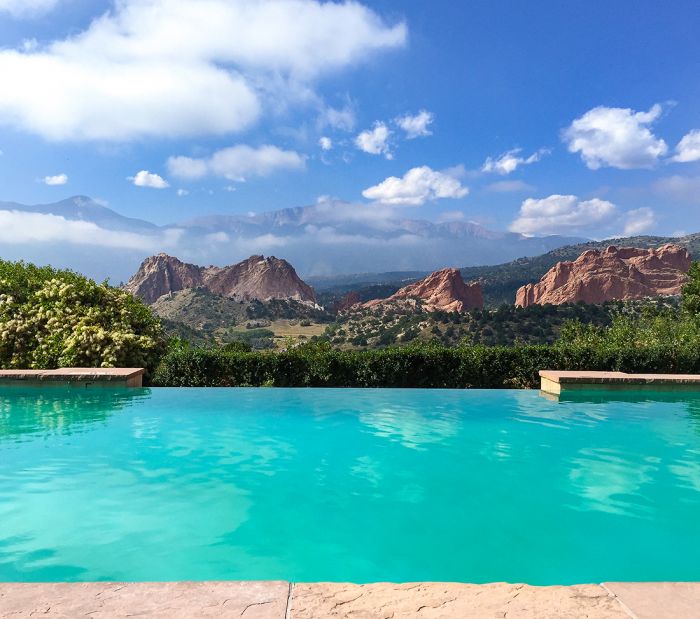 Take a dip in the infinity pool overlooking Garden of the Gods Park 
What I appreciate about Garden of the Gods Resort and Club's culinary offerings is the good work you do during your sessions can continue with conscientious eating on the resort as well; flavorful, wholesome food (without counteracting the good work you just did or spa experience that is aimed at flushing out toxins) all work cohesively should a guest choose to practice the through line of health throughout their stay. I especially enjoyed the smoothies that incorporate several anti-inflammatory ingredients without tasting like I have just dug up the garden and put it in a blender. 
The last day of my stay, I enjoyed a guided hike around the stunning Garden of the Gods Park, where indigenous peoples traveled through for centuries and the Ute tribe believing the red rocks contained a spiritual connection to the nearby Manitou Springs. Now, tourists traverse the park on bikes, horses, cars and on foot taking in the natural splendor.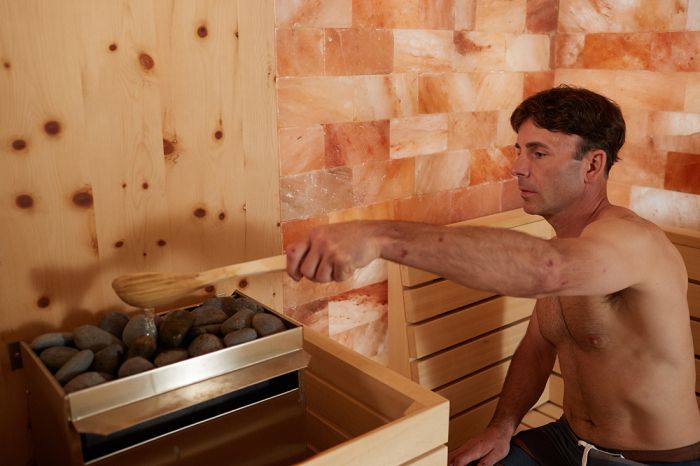 Courtesy of Garden of the Gods Resort and Club
The Himalayan Salt sauna should not be missed while on property.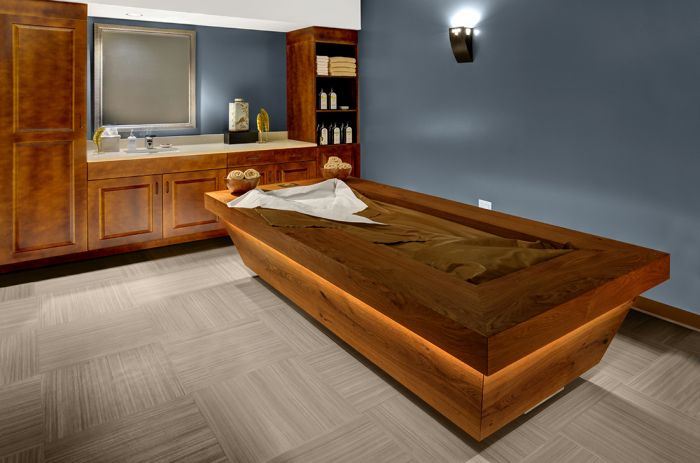 The Haslauer Pure Sense Soft Pack Bed Treatment is extremely unique. 
My final spa appointment included a Haslauer Pure Sense Soft Pack Bed Treatment. Don't worry, I had no idea what it was either. The best way to describe it is a plank that you are then wrapped up on top of like a burrito. Then, the middle of the plank is lowered and you are cocooned in warm liquid without getting wet. It is an experience like none other I've had in a spa; imported from Austria the treatment is extremely memorable. For men to keep in mind: the bed is best for individuals six feet and shorter, I just fit and would not imagine it to be very comfortable for taller individuals.  
Final thoughts: I not only enjoyed this getaway to the resort and spa, but it inspired me to take better care of my physical and emotional wellbeing through the guided experience I had at Garden of the Gods Resort and Club and Strata Integrated Wellness Spa. Suggested for any guest, I really found this focus on men's wellness to be touching and heartfelt, a true testament to the work being done at the resort. 
Read more about the resort here.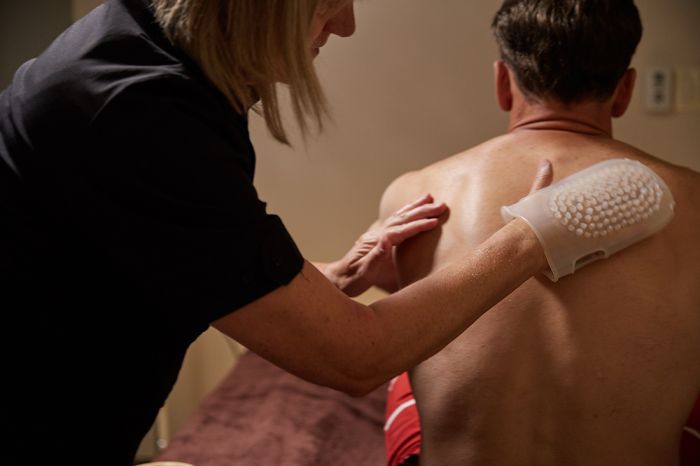 Courtesy of Garden of the Gods Resort and Club
Hydrating scrub before being wrapped on the bed.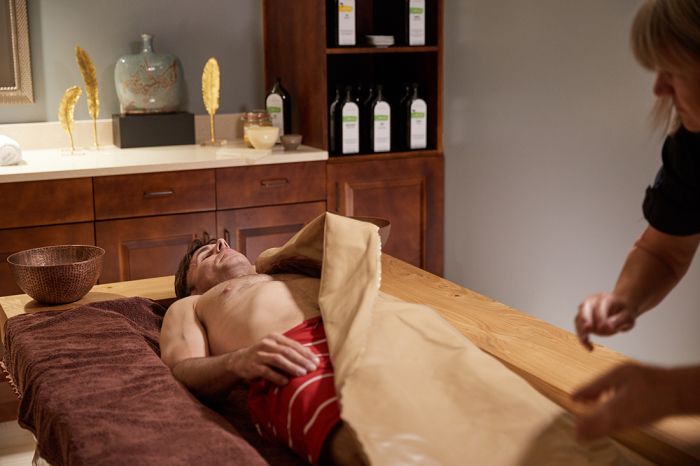 All Photos Courtesy of Garden of the Gods Resort and Club
A weightlessness is felt after being wrapped in the bed then floated for a deep relaxation.