Topnotch Resort
Vermont's Stowe region embodies what comes to mind when envisioning a quintessential Green Mountain getaway. Beyond its renown as "ski capital of the east" surrounded by wide open meadows and working farms nestled among rolling mountains that rise up in every direction, this region is the epicenter of VT craft food producers ranging from household names like Cabot and Ben & Jerry's to local favorites like Cold Hollow Cider Mill and Vermont Artisan Coffee & Tea. Can't miss eateries like Piecasso and The Bench are interspersed with a panoply of area breweries. In town, The Alchemist and Idletyme Brewing Company are good starting points on your quest for top rated local suds.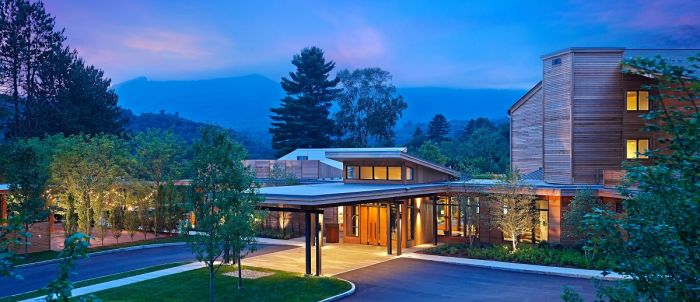 Topnotch Resort
Above Mountain Road (Route 108) just north of Stowe, AAA Four-Diamond Topnotch Resort is your ideal base camp for exploring it all or escaping the outside world entirely. Tucked into a wooded 120 acres overlooking Mount Mansfield's distinctive notch that gives Smugglers Notch ski area its namesake, Topnotch Resort first opened in 1959 as a family-owned inn with a small lounge and 24-seat restaurant primarily catering to skiers. A number of renovations freshened things up over the years but the latest $15 million overhaul in 2014 transformed all 68 guest rooms while common areas and the 2 onsite dining venues were reconstructed from the ground up.

Topnotch Resort
Despite this transformation, Topnotch magically retains its auberge charm while exuding the quiet sophistication of a luxury resort.  All rooms are mountain view while some have private decks, fireplaces, and pet-friendly perks like dog beds, canine turndown service, and doggie spa treatments. 17 two & three bedroom Resort Homes surround the main property offering all the perks of your own house while still having access to the resorts certified Tennis Academy with 4 indoor and 6 outdoor courts, an Equestrian Center offering private and group horseback riding lessons as well as guided English and Western trail rides, and Topnotch Spa.  The great outdoors lie at your fingertips just across Mountain Road in front of the resort on the Stowe Recreation Path or on nearby hiking trails like the Stowe Land Trust's Mill Trail to Bingham Falls.

Topnotch Resort
The centerpiece of Top Notch's 35,000 square foot Spa is the 3 pools.  Your swimming options range from an indoor lap pool complemented by a whirlpool tub outfitted with a cascading shoulder massaging waterfall to 2 outdoor pools overlooking the mountains, one of which is heated year-round. The Spa's Fitness Center sauna, steam rooms, and 33 treatment rooms are perfect for savoring rejuvenating massages like a Hops Massage with oils infused with hops sourced from nearby Ten Bends Brewery, The Mount Mansfield Saucha, and the Little River Stone Massage. Their curated "Pathways to Wellness" philosophy caters to your body's specific needs ensuring your bliss lasts long after you've checked out.

Topnotch Resort
In a blend of rustic and contemporary welcoming diners in either hiking boots or high heels, Flannel's spacious dining room has floor to ceiling windows overlooking the best views of Mt. Mansfield in all of Stowe. The menu promotes inventive seasonally inspired dishes likeHarrisa & Yogurt Charred Rack of Lamband their signature flannel Truffle Burgermade with Vermont fresh and local ingredients sourced from nearby farms like 1000 Stone and Naked Acre.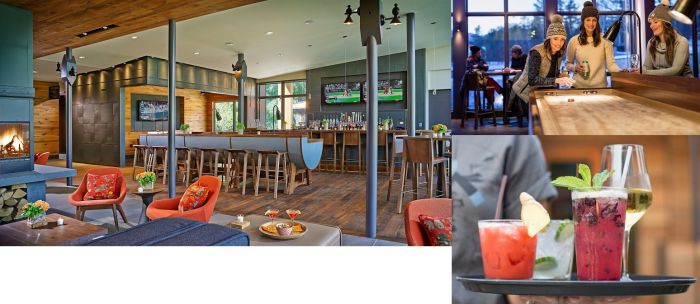 Topnotch Resort
More the cool evening hangout spot for drinks and small plates, The Roost features creative twists on pub dishes like Duck & Mushroom Flat bread and Reuben Egg Rolls usually served in shareable portions along with local Vermont craft beers and small-batch spirit cocktails. Lounging near the fireplace, listening to live music, or gathering around their custom-designed and built Vermont craftsman shuffleboard table are equally attractive pursuits.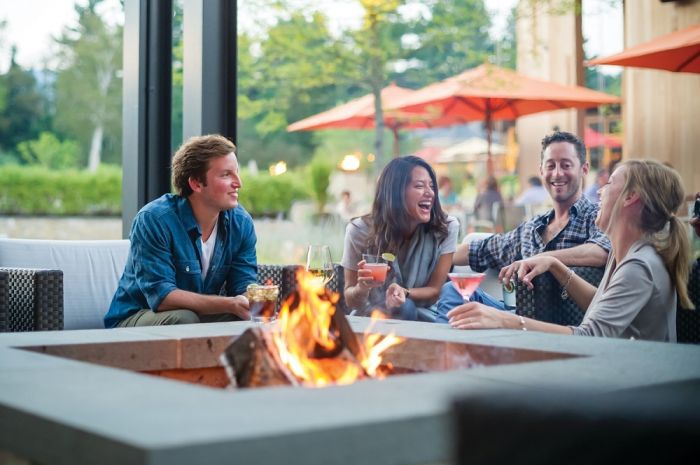 Topnotch Resort
Both restaurants include outdoor seating during warmer months but The Roost's is more extensive with a free-standing pergola crafted from a stone wall that remains from Topnotch's former lobby flanked by outdoor couches, fire pit, and Bocce court.
Coverage made possible by participating in a partially sponsored visit.