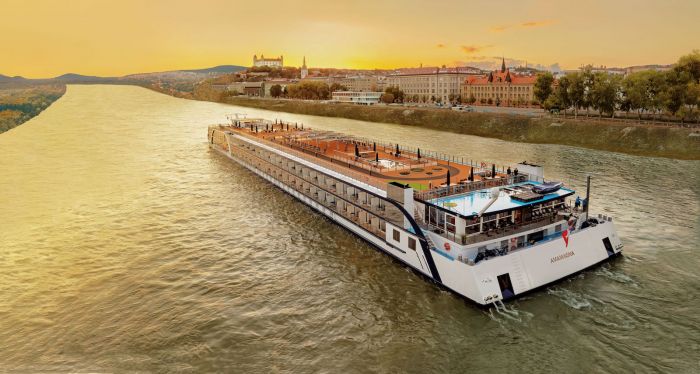 The AmaMagna. Photo, AmaWaterways
I admit, I am not a 'cruiser' and have never vacationed upon water. I've never felt the lure of an ocean liner, nor have I yearned for the gentle glide of a European river barge. My worldwide exploration has entailed air and train travel; but water? No thank you. Not my cup of tea. But after my recent experience on AmaWaterways' stunning AmaMagna, I declare myself a convert. Had I known what I was missing, I'd have pledged allegiance long ago. 
AmaMagna's experienced guests on this Romantic Danube Wine Cruise cautioned that I had started at the top of the river cruise ladder – that there is no better ship; that I'd reached the height of river cruising hospitality; that this was river cruising nirvana. And after seven days and nights of pampering, fine dining, exquisite wines, and pilgrimages to the sites of my favorite movie (the Austria based The Sound of Music), I knew their proclamations to be true.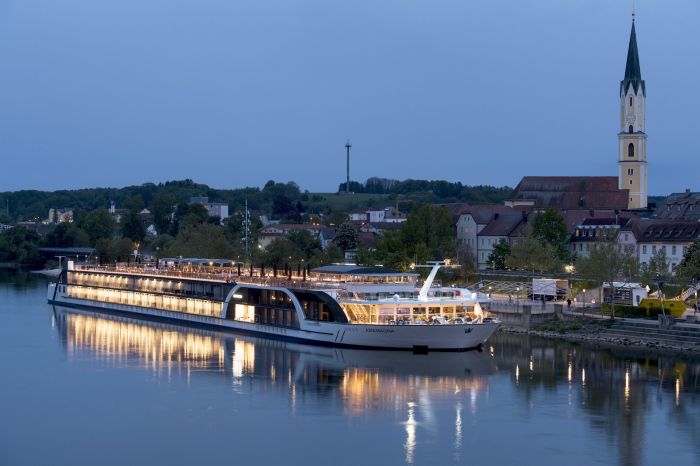 Embarkation in Vilshofen, Germany. Photo, AmaWaterways
The spectacular AmaMagna is twice the width of traditional European river ships. Designed by AmaWaterways' co-founder, co-owner, and president Rudi Schreiner, the ship offers more personal space, more unique dining venues, and more leisure opportunities than other ships on the Danube. Most of the accommodations are spacious suites measuring 355 to 710 sq. ft., each featuring posh amenities and most including full balconies. Common spaces feature luxurious fabrics and finishes. Further, an on-board Wellness Host and Zen Wellness Studio, an expansive sun-deck and whirlpool, and a fleet of bikes for ship-to-shore exploration add up to what is essentially a floating five-star hotel. The AmaMagna experience is truly extraordinary. To echo my muse Fraulein Maria, here are a few of my favorite things: 
Room to Breathe: The ship features a mere 98 state rooms for a capacity of 196 passengers, yet its size ensures that even when full, guests can easily find a private nook in which to read, or a chaise in which to sun. Two cozy libraries – one starboard and one port – are each warmed by the crackle of simulated fireplaces and are stocked with a variety of books and games. The central Lounge features enough seating for each and every guest and is the meeting spot for announcements and evening entertainment. And because state rooms are larger than average, many guests choose to retreat to the comfort of their own space – leaving even more room on board for those to roam freely.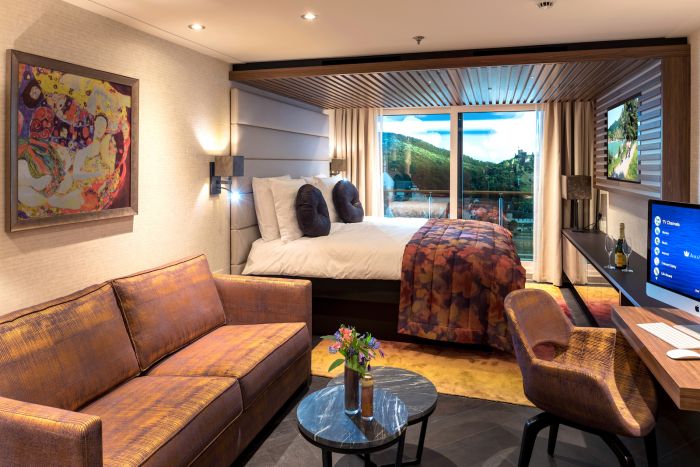 AmaMagna Stateroom. Photo, AmaWaterways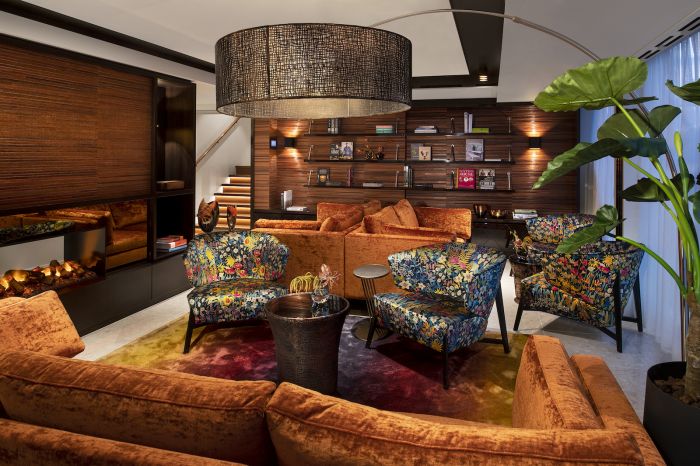 AmaMagna Library Portside. Photo, AmaWaterways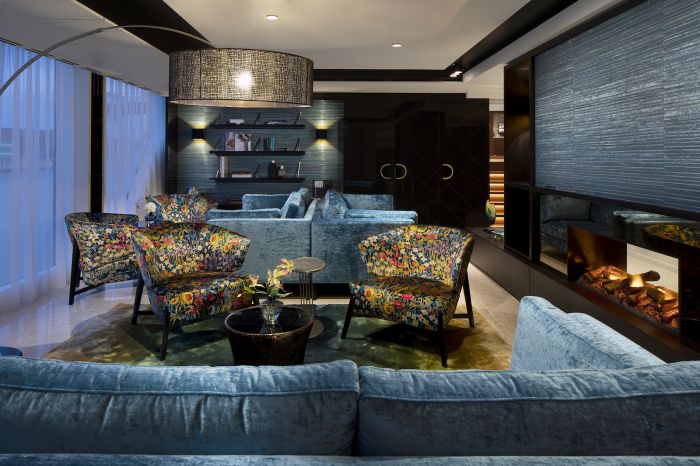 AmaMagna Library Starboard. Photo, AmaWaterways
Exceptional Excursions: Hike to a hilltop castle in which Richard the Lion Hearted was held captive, bike along the Danube, view the city sights from the comfort of a plush coach bus, or simply stay aboard and enjoy the scenic views. The AmaMagna provides enough excursion choices to please every activity level. Bike or walk through towns each more picturesque than the other; visit the Mondsee, Austria cathedral in which Maria and Captain von Trapp marry. An afternoon visit to Salzburg allows fans of the movie to find additional joy in walking through the same park where the Von Trapp children frolicked. (The Sound of Music theme is fully embraced by the AmaMagna's screening of the movie later that night in the onboard cinema.) Additional ports of call include the Austrian towns of Linz (and excursions to charming Durnstein), grand Vienna, and the brilliantly illuminated Budapest, Hungary.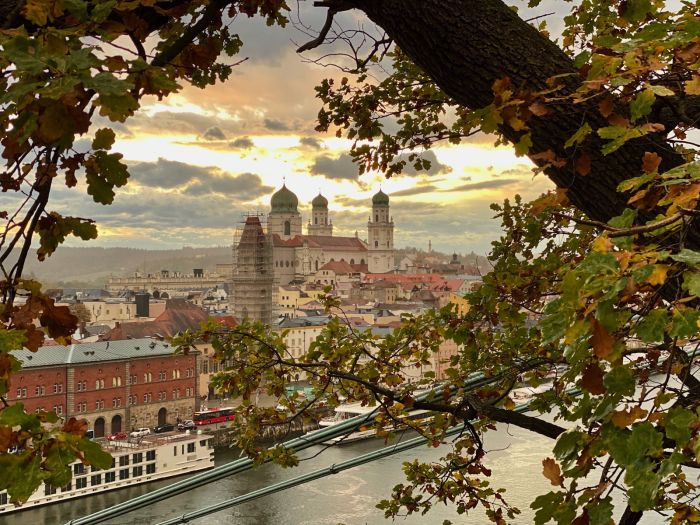 Castle hike view over Passau, Germany. Photo, Dan Miller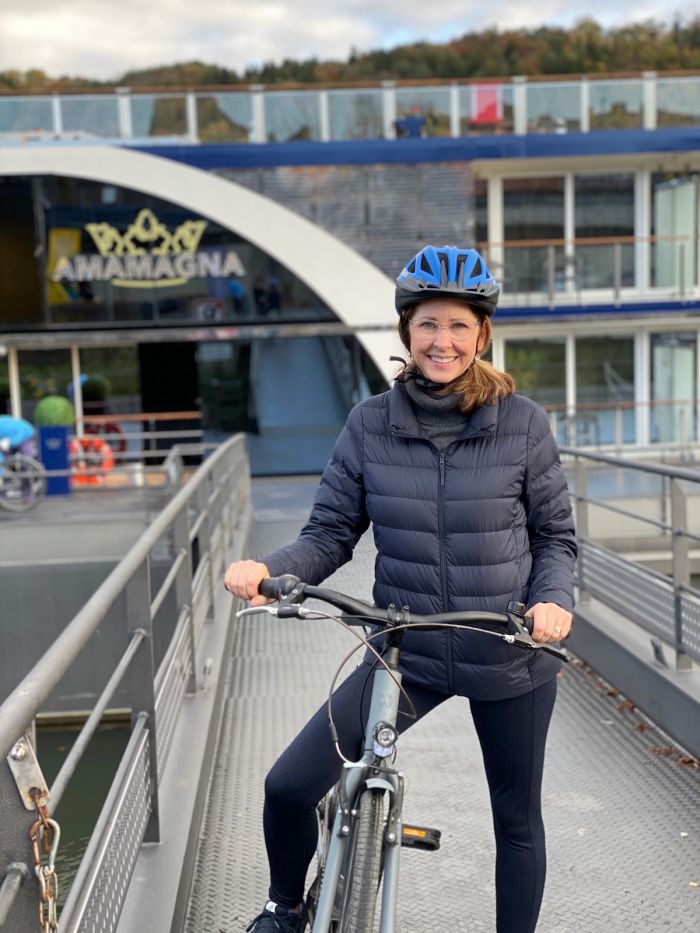 Biking excursion. Photo, Dan Miller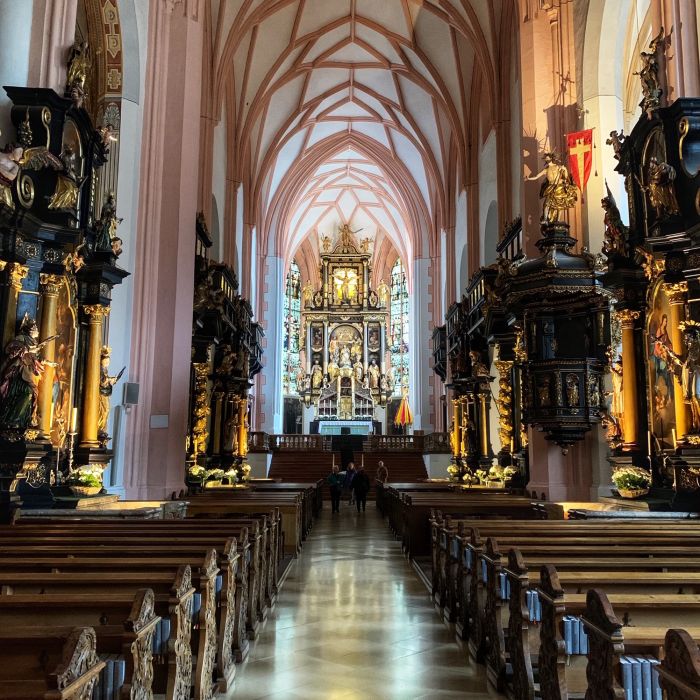 Basilika St. Michael, Mondsee, Austria. Photo, Fran Miller
Onboard Activity: From nightly entertainment reflective of each port-of-call, to Wellness Host Tiago's sundeck, line dance assemblage, AmaMagna activity ensures never a dull moment. The Zen Wellness Studio with state-of-the-art fitness equipment features an array of professionally-led classes. A nightly 'Sip and Sail' pre-dinner gathering in the lounge features 'Today's Special' cocktail. The cinema allows for a choice of movie screenings or video games. The sundeck whirlpool stands at the ready to soothe muscles fatigued from hilltop hikes, and every suite features a large screen television, a desktop Apple computer, and iPad. Additionally, this voyage being a wine cruise, wine host Mike Lewellen of Solvang, California's Lucas & Lewellen Vineyards offered a number of early afternoon wine tastings in which he contrasted local German, Austrian, and Hungarian varietals with his own.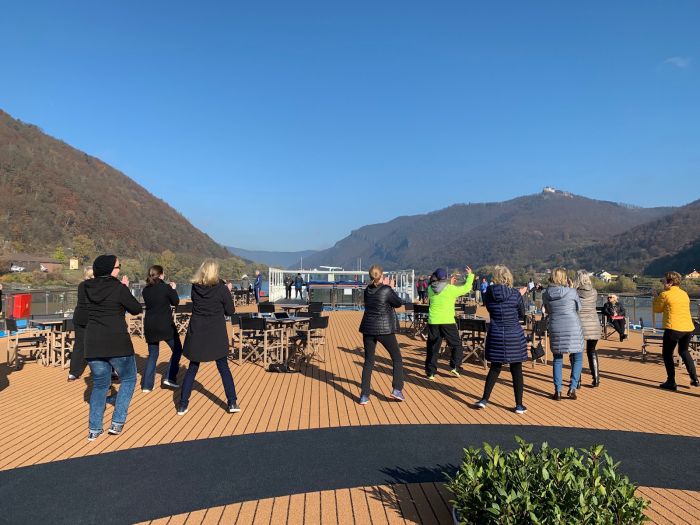 Entering Austria's Wachau Valley via line dance. Photo, Fran Miller
AmaMagna Cinema. Photo, AmaWaterways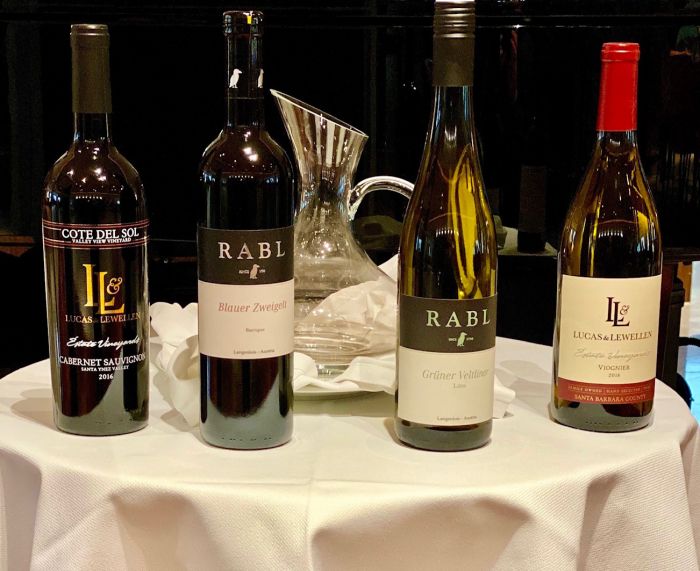 Wine tasting line-up. Photo, Dan Miller
The Food & Drink: In addition to its large Main Restaurant, AmaMagna provides dining choices with three additional restaurant options including The Chef's Table which provides a front row seat to the culinary action, Jimmy's, a congenial family-style restaurant named for AmaWaterways' late co-owner Jimmy Murphy, and the more casual Al Fresco Restaurant with retractable windows and outdoor seating. At every meal, guests are provided the option of dining solo or with others. And at every meal, delicious local wines are generously poured and is each is paired perfectly with the vast variety of gourmet cuisine.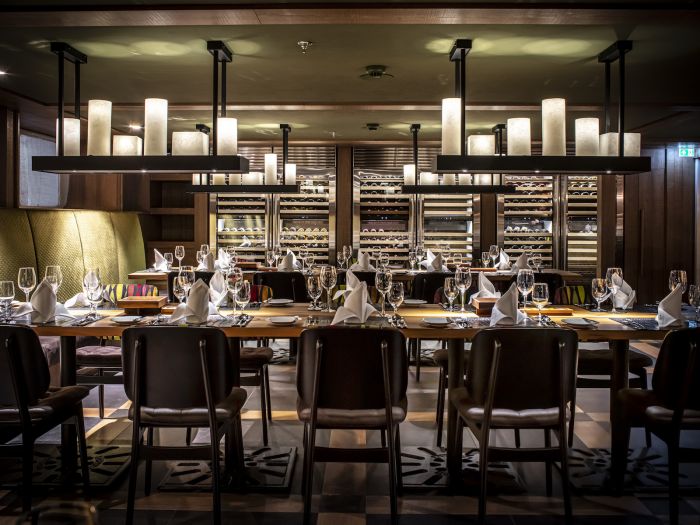 Jimmy's Restaurant. Photo, AmaWaterways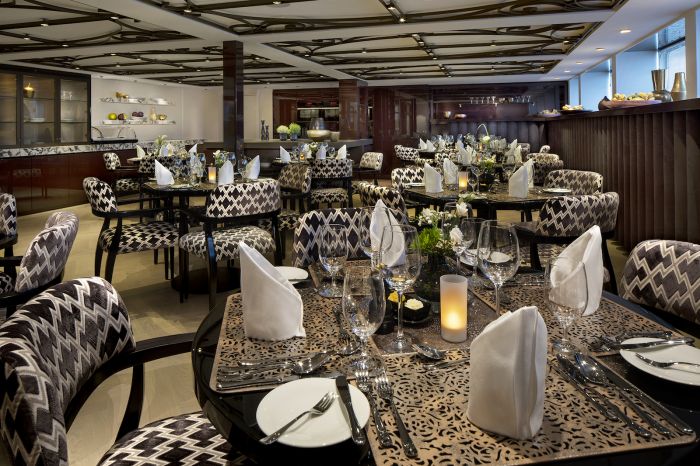 Chef's Table Restaurant. Photo, AmaWaterways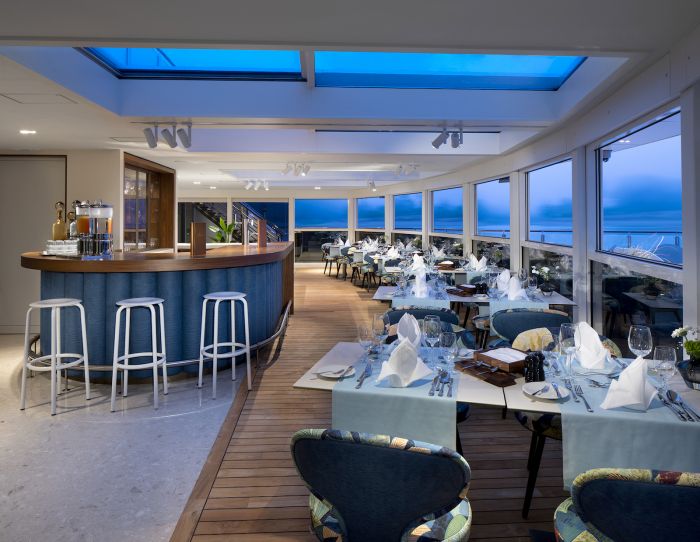 Al Fresco Restaurant. Photo, AmaWaterways
The Service: Last but definitely not least is a shout-out to the AmaMagna crew, all 70 of them – the heart and soul of this magnificent ship. From the captain who hands-out red roses at dinner, to the waiters who remember everyone's name and each specific coffee order, to the congenial cruise manager who organizes every excursion and patiently answers each and every query, this is a team to which the entire hospitality industry aspires. And though the AmaMagna and its excursions and amenities are indeed luxe, this crew is the true reason that AmaWaterways is continually rated one of the top cruise lines in Europe.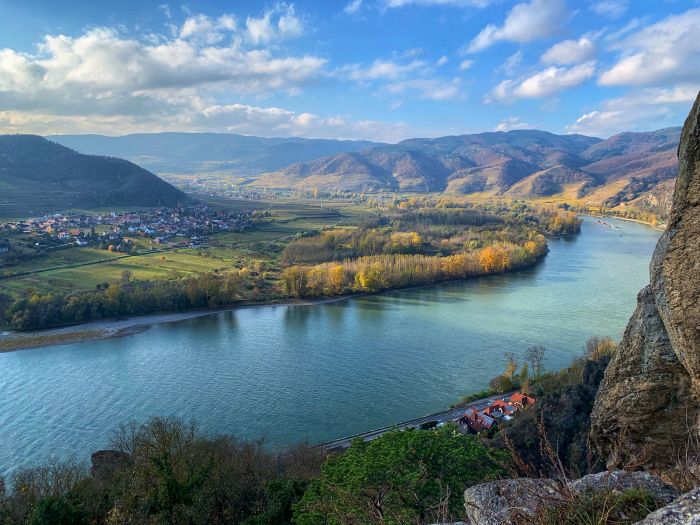 Castle hike view over Durnstein, Austria. Photo, Fran Miller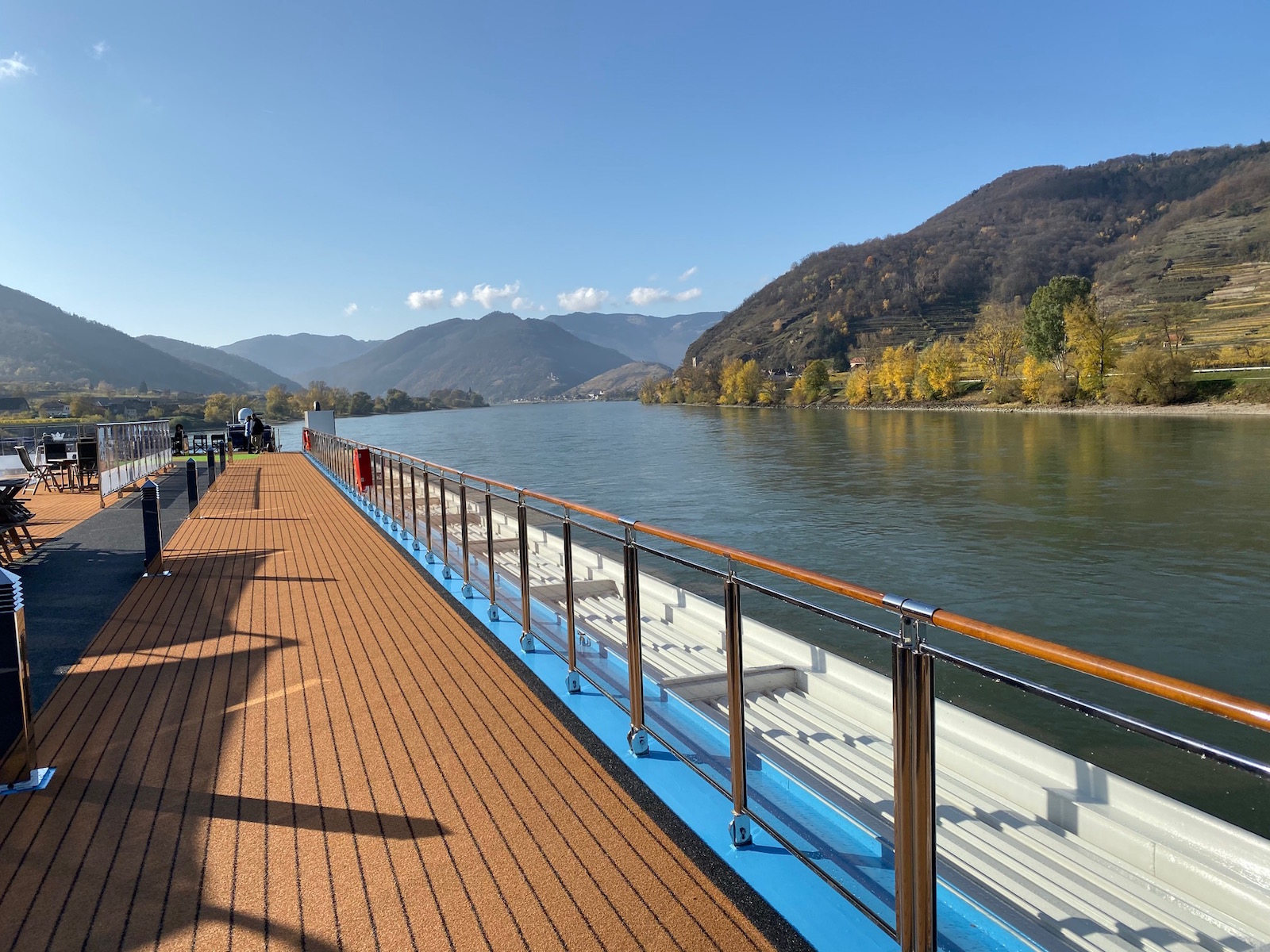 Entering the Wachau Valley, Austria. Photo, Dan Miller