All Photos courtesy of Select Sicily Villas – Essence
Words by Jessica Maggi
A true paradise of golden beaches, limestone cliffs, and historical sites, sunny Sicily tops our wanderlust list for 2023. Its quintessentially Mediterranean landscape made out of rolling hills covered with olive, fig, and citrus groves overlooking the cyan sea almost looks like a Photoshopped travel agent brochure, except it's real.
The dream scenario? A luxury villa to call your own, with a sleek swimming pool glittering in the sunlight, postcard-worthy views, and plenty of room for the whole crew. Still largely off the tourist radar, Sicily is a dream destination for a villa holiday, a trend that is on the rise. Choosing a private villa holiday in this gorgeous island all the way down off the tip of Italy's boot means you can make the most of every minute of your trip, whether you want to go sightseeing, snooze by the pool, or try a different water sport every day. And fear not – this isn't the crowded Amalfi coast or a tourist-flooded destination like Rome, Venice, or Florence.
We've teamed up with luxury vacation-rental company Select Sicily Villas, founded in the mid-2000s, to spotlight the finest villas for your dream 2023 vacation in some of the most beautiful parts of the island, including Sicily's under-the-radar western coast.
Whether you're looking for an ultra-luxe cliffside villa on its own headland above the Mediterranean Sea, an authentic baglio, or a mega-mansion with ten bedrooms and in-house private chef, Select Sicily has something to suit all tastes. Variety is very much at the heart of the company's eclectic collection of luxury properties. We've scoured the island for la crème de la crème, so, without further ado, here are the 5 best luxury pool villas in Sicily.
#1 Prestige – Siracusa, East Sicily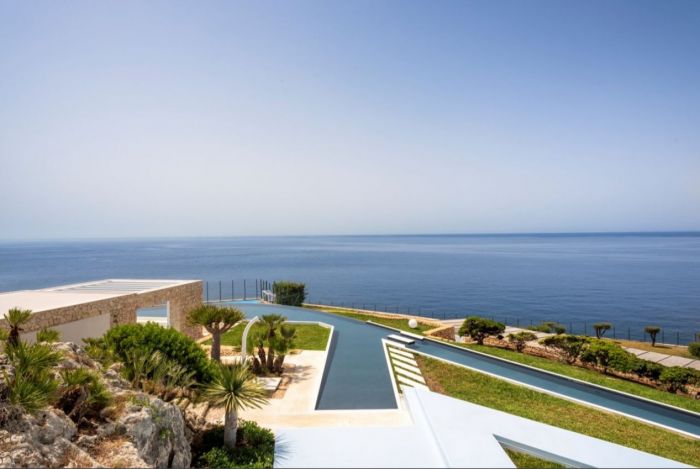 Prestige isn't in Malibu, even if its seaside tennis court, telescope for stargazing, and infinity pool with hydromassage jets and heated plunge pool – a boon if you're staying off-season – makes you think it might be. Many of this super-luxe villa's prime assets yell barefoot luxury – the extensive, manicured garden, the panoramic loggia, the outdoor shower – though the real reward is having direct access to the cerulean waters of the Ionian Sea.
The perfect destination for those looking for a hedonistic bolt hole by the beach, this one-of-a-kind, seafront villa can accommodate up to eight guests. Better still, Prestige is close enough to the historic city of Siracusa, renowned for its Greek heritage, so you can combine sightseeing with plenty of tanning time.
#2 Villa dell'Orizzonte – Scopello, West Sicily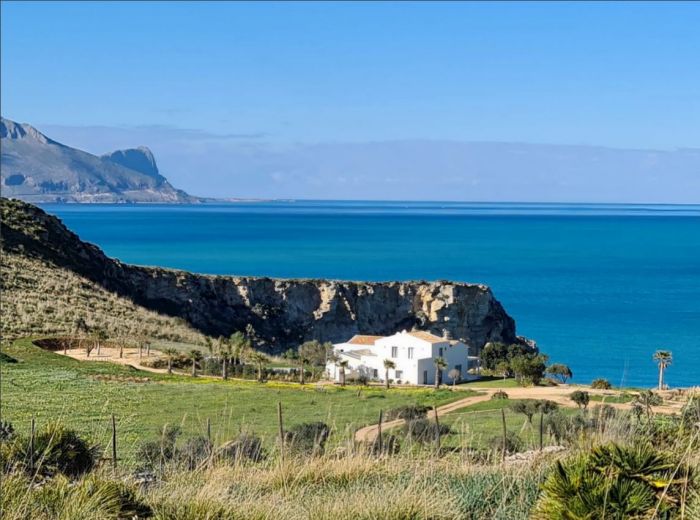 The name fits; the panoramic views over the horizon from this top-of-the-range, five-bedroom villa are absolutely breathtaking. Cradled by steep-sided, limestone cliffs and a protected nature reserve near the photogenic coastal hamlet of Scopello, Villa dell'Orizzonte has the get-away-from-it-all vibe that many high-profile vacationers dream about. One of the very finest properties available for rent on the north-western coast of Sicily, this high-spec, ritzy villa has been designed to ensure freedom, seclusion, and the utmost privacy.
It helps that there's a giant, free-form infinity pool, an open fireplace, an extensive well-manicured garden complete with walking paths, and a decked-out yard for relaxing, reading, and dining. Private sea access and a basement cinema room for movie nights all make for a truly VIP experience.
Tempted by an excursion or two? The Riserva Naturale dello Zingaro, a beautiful protected area of coastline running for five miles from Scopello to San Vito Lo Capo beach, is close nearby.
#3 Essence – Menfi, Southwestern Sicily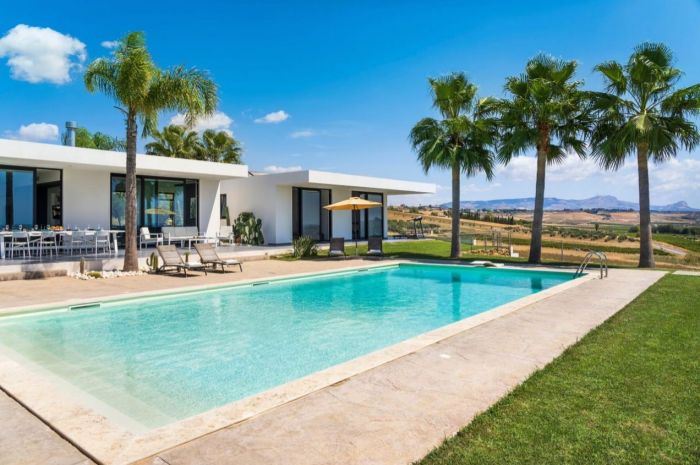 If you love wine-tasting, sand dunes, and pristine beaches, the exquisite, quaint town of Menfi, one of Italy's best-kept secrets, should definitely be on your travel wish list. Sitting amongst gently rolling hills carpeted with olive, and citrus trees, Essence is a stylish, clean-lined villa offering everything one could look for in a vacation home: super-fast Wi-Fi, satellite TV, sweeping sea views, a billiard table, a fully-equipped kitchen with a ginormous marble-top island, and a fabulous 40-foot-long swimming pool surrounded by lush palm trees.
For the restless, the never-busy, blue-flag Porto Palo beach, and the archaeological site of Selinunte are only moments away.
#4 Sea House – Cefalù, Northern Sicily
Sea House is an ultra-exclusive villa featuring four well-appointed bedrooms with en-suite bathrooms, a sleek jacuzzi tub, direct access to the sea, and an outdoor living and dining area providing both privacy and room for everyone to hang out.
Location-wise, this intimate, ultra-comfortable, upscale boutique property is on the island's northern coast, close to the thriving seaside town of Cefalù, also known as the Saint-Tropez of Sicily, designated a UNESCO World Heritage Site for its magnificent, terracotta-hued Norman-era cathedral with stout towers and zipper-toothed crenellations.
Sea House combines a secluded atmosphere with easy access to long sandy beaches, shops specializing in Sicilian handicrafts, and excellent trattorias serving traditional delights washed down with fine, local wine. Once stepping out of bed in the morning, you can walk straight outside into the glowing Sicilian sunlight and either sip a cup of Italian coffee on the charming terrace with superb sea views out across the Tyrrhenian Sea, or enjoy a dip in your own jacuzzi.
#5 Villa Sciutìa – Scordia, eastern Sicily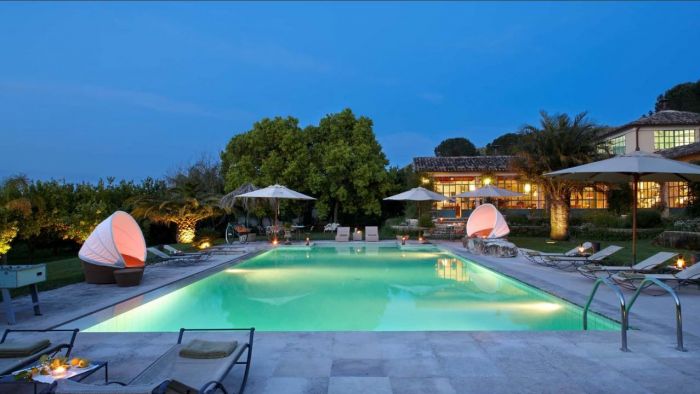 Picture a traditional Sicilian mansion, and you've probably imagined something similar to this. Ideal for a multi-family holiday and for groups of friends traveling together, Villa Sciutìa is a gorgeous, three-building estate hidden away in the countryside surrounding the pretty village of Scordia, near Syracuse. All in, this expansive manor house offering enchanting views of the smoke-pluming Mount Etna volcano has space for 22.
Bigger than many boutique hotels, Villa Sciutìa has its own citrus garden, wine cellar, Finnish-style sauna, library, and tennis court, as well as a hotel-size pool, a children's play area, and a wood-fired oven for pizza parties. A personal chef is available on request.
Got a favorite? For more information and reservations, visit the company's website www.selectsicilyvillas.com, or contact Select Sicily Villas at +44 (0)20 3239 9708. Be sure to book well in advance.