Bar the Tailor interior at Anantara Grand Hotel Krasnapolsky Amsterdam
Amsterdam beautifully blends its rich history with innovation and stylishness. So it makes sense that visitors select a hotel that artfully reflects this dichotomy. Featuring its own unique combination of history and contemporary luxury, Anantara Grand Hotel Krasnapolsky Amsterdam makes for an ideal "Venice of the North" stay.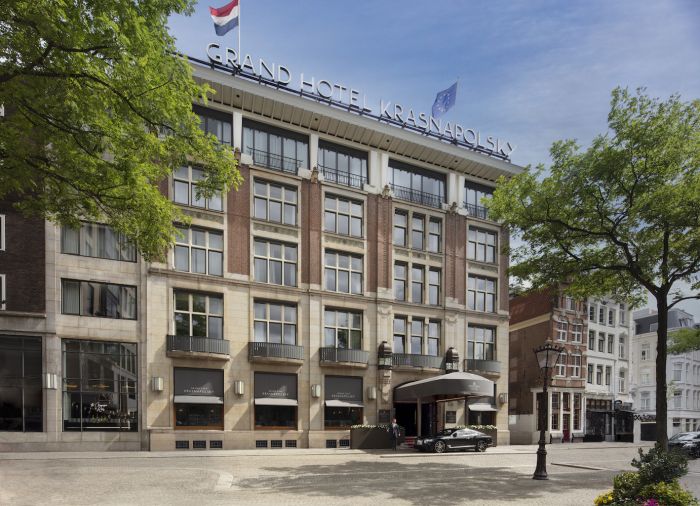 Anantara Grand Hotel Krasnapolsky Amsterdam
What was initially a simple coffee house, opened in 1856 by Adolph Wilhelm Krasnapolsky, is now a luxuriously renovated, 402 room hotel, the front façade of which overlooks the historical center of Amsterdam, Dam Square, and the National Royal Palace. On the back side, rooms are perched above the picturesque Oudezijds Voorburgwal canal where visitor-filled tour boats glide past. 
Back in the day, as Krasnapolsky's little cafe´ grew in popularity, he added rooms for rent, eventually rebuilding the space into a modern hotel, blending 55 buildings. Today, the hotel is part of the Anantara Hotels & Resorts portfolio, of which indulgent hospitality is de rigueur. At Anantara Grand Hotel Krasnapolsky, that indulgence is illustrated in high end cuisine, a pampering spa, and numerous little amenities that surprise and delight guests of all ages. On this visit, the lobby and on-site restaurants and bar teemed with multi-generation families, couples, and business people, all seeming to find contentment with the hotel's warm and welcoming offerings. (Rumor has it that French President Emmanuel Macron was a recent guest.)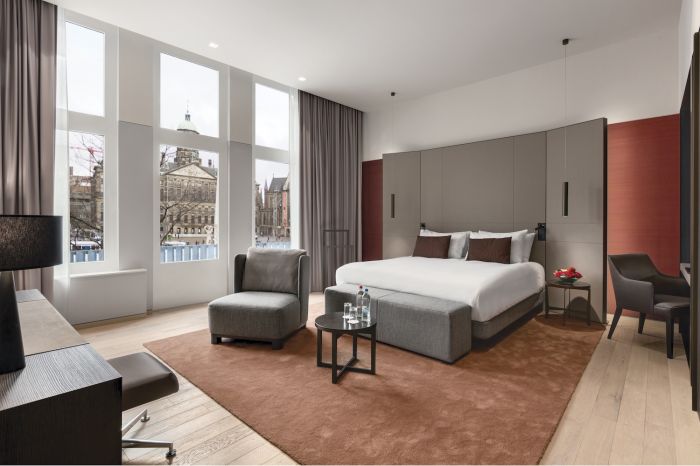 Anantara Grand Hotel Krasnapolsky Amsterdam Grand Deluxe Room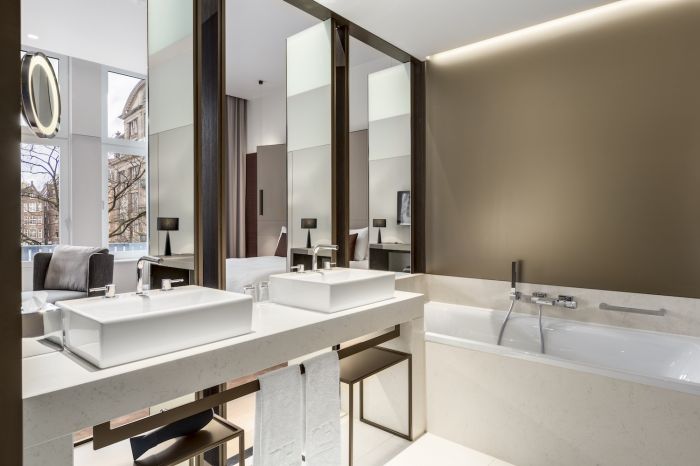 Anantara Grand Hotel Krasnapolsky Amsterdam Grand Deluxe Bathroom
Rooms and suites are spacious, and contemporary in décor and amenities (who doesn't love a Nespresso espresso machine?), and beds and linens are a step above the standard European variety. Our suite featured a full dining table, multiple televisions, bottled water, air conditioning that worked (IFKYK) and separate living room with pullout couch, ideal for larger families. (As is the expansive Presidential Suite which features a private jacuzzi.)
Choose a canal or Dam Square view; either provides a peek to the active vibrancy just outside the hotel doors. As does a window seat at lobby-located Grand Café Krasnapolsky and its Champagne Room, featuring the loveliest selection of the finest bubbles by the bottle or glass. Grab a flute, and sit at the window bar to people watch. Or indulge in traditional afternoon tea with all the accoutrements. In the evening, venture into the sleekly illuminated interior of Bar the Tailor (named for Mr. Krasnapolsky's profession as a tailor) to enjoy expertly crafted cocktails.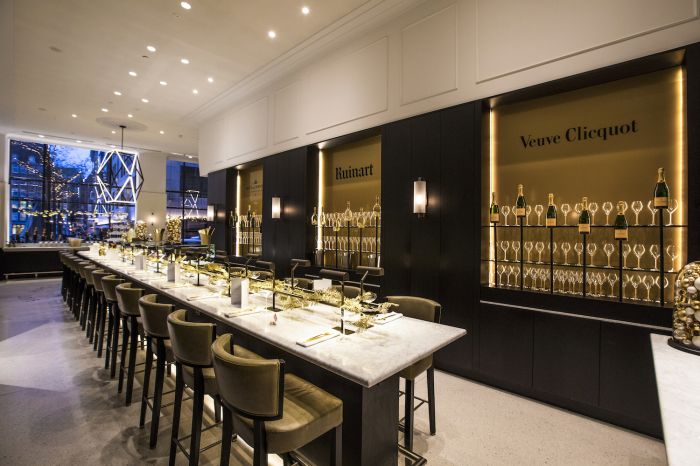 Grand Café Krasnapolsky Champagne Room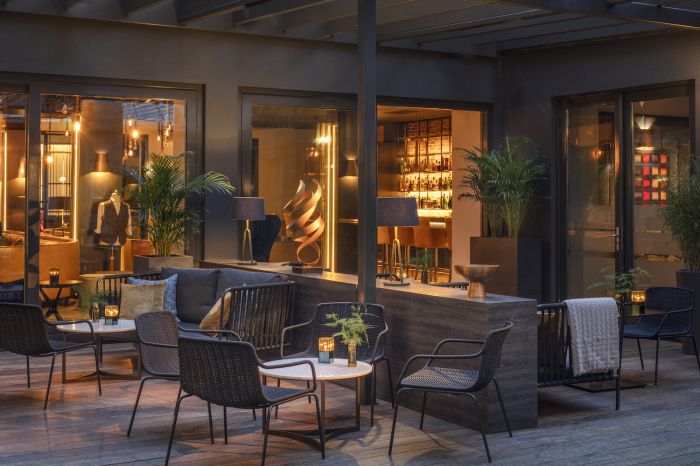 Anantara Grand Hotel Krasnapolsky Bar the Tailor Patio
Those seeking a truly memorable culinary experience need only step down the lobby hallway to the sumptuous, one-Michelin-starred White Room. (The name is derived from the restaurant's first 1885 iteration – 'De Witte Zaal.') White Room is likely the oldest Amsterdam restaurant in its original state and looks just as it did in the 19th century—elegant, and inviting. But Anantara Grand Hotel Krasnapolsky's most elaborate culinary offering has to be its complimentary breakfast, served within the stunning Wintergarden, a 19th century glass enclosed inner garden where chocolate fountains and freshly squeezed orange juice flow freely. There is something for every palate, from pastries, to meats and cheeses, made-to-order omelets, Asian dumplings, pancakes, Shakshuka, and fresh fruits, ideal for chocolate fountain dipping.
Anantara Grand Hotel Krasnapolsky Wintergarden. Photo by Dan Miller
Work-off your indulgent breakfast with a walk around town. Anantara Grand Hotel Krasnapolsky is ideally situated for exploration. All the major sites are within easy strolling distance: Rijksmuseum, Anne Frank House, the Van Gogh Museum, etc. Ask the concierge for help in securing hard-to-get reservations, but ideally, reserve weeks before your travels. Several popular sites book months in advance. And if you dare to join the bike-riding throngs (Amsterdam is home to more bicycles than residents), the hotel offers bike rentals. 
After a day of exploration, reward yourself with a pampering treatment at the hotel's Anantara Spa. Small yet sumptuous, the space features co-ed infrared sauna, Swedish sauna, and steam, as well as a lovely outdoor garden and sunroom in which to relax.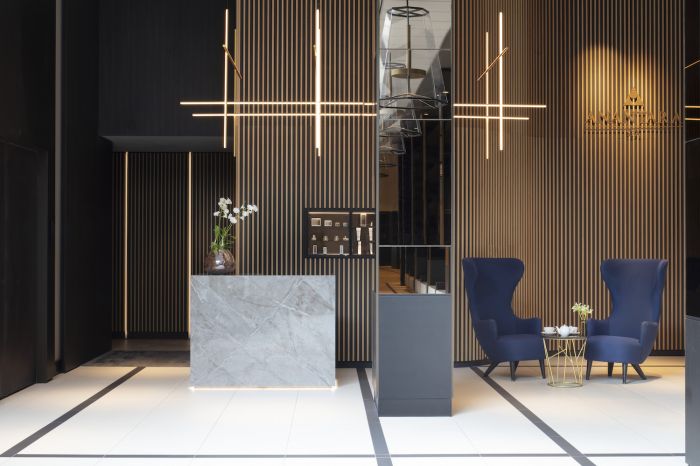 Anantara Grand Hotel Krasnapolsky Spa Entrance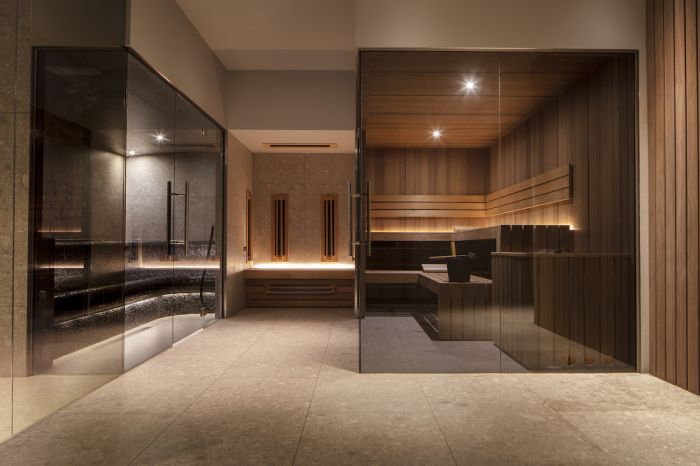 Anantara Grand Hotel Krasnapolsky Spa Interior
Finally, the expert service is worth noting. It's no secret that the hospitality industry has suffered a bit in recent years; staffing has been an issue worldwide. But Anantara Grand Hotel Krasnapolsky seems not to have missed a beat with its attentive front desk, concierge, restaurant and housekeeping staffs that served to make this guest feel welcome and appreciated.
Photos courtesy of Anantara Grand Hotel Krasnapolsky unless otherwide noted.